Written by Rastafoo69, edited by Otaku Apologist
Nymphomania Paradox, a corruption porn game developed by TechnoBrake. Released August 24, 2017. Download on DLsite for $13.00. For PC Windows. No voice acting. Censored genitals. Free demo available.
Ruriko is the top student at a prestigious academy for young girls, but hides a dark secret. She's an incurable pervert! This summer vacation, she's going to pursue men and explore her sexuality!
STORY
Ruriko Saionji is the smartest, most well-mannered student at the academy. She's totally sexually repressed as a result of her strict upbringing. She's been fantasizing about dick all her life. Now that she's free on summer vacation, she'll finally be able to make her depraved sexual fantasies into reality!
Depending on your fetish, this game can be a sexual harassment simulator, a classic corruption adventure, or even a netorare story. You can date the cute guy at school, cheat on him, and leave him an oblivious cuckold! You can have sex with homeless dudes and get pregnant. There's even an event where your nudes are leaked online! You can also be weird, and opt to remain virtuous and live out a safe, sexless life.
The story is completely open to player action. You have 30 in-game days to enjoy your vacation. Each playthrough will be different depending on your choices and the men you speak to. If you encounter something that isn't your fetish, the content is easy to avoid. Don't want cuck content? Just say "no".
A typical playthrough of the game is about 4 hours. If you want to see all scenes, start another playthrough and make different choices. Unlocking all the content will easily take over 20 hours. The game has 9 endings in total. There's even a special ending if you take no actions.
GAMEPLAY
Nymphomania Paradox was made with RPG Maker. Press CTRL to hide the dialogue box. Use the mouse, or arrow keys to move. Hold 'Z' key to skip dialogue.
Take on jobs to earn money for various items and activities. Whether you're donating money to charity or buying a new outfit, there's always a need for a well-paying job.
Your character has two stat values. Your sluttiness stat increases the more sexual encounters you have. Sociability stat will decrease as you get a bad reputation. A bad reputation will also stop you from getting certain jobs. Just like real life, these values will determine whether you experience a good, or bad ending.
A low sluttiness stat will prevent you from exploring new sex scenes. Ruriko needs to be spreading her legs to see more action! Decide what's more important, your reputation, or your short-term pleasure.
An example of this mechanic is using the in-game glory hole. If you want Ruriko to be really slutty, show her face to the man on the other side, and destroy her reputation. Make these choices wisely!
As Ruriko becomes well versed in the art of taking cock, she can start wearing more suggestive clothing. Whether it's getting a dark tan, or wearing tiny short shorts, you can customize her appearance to your desire!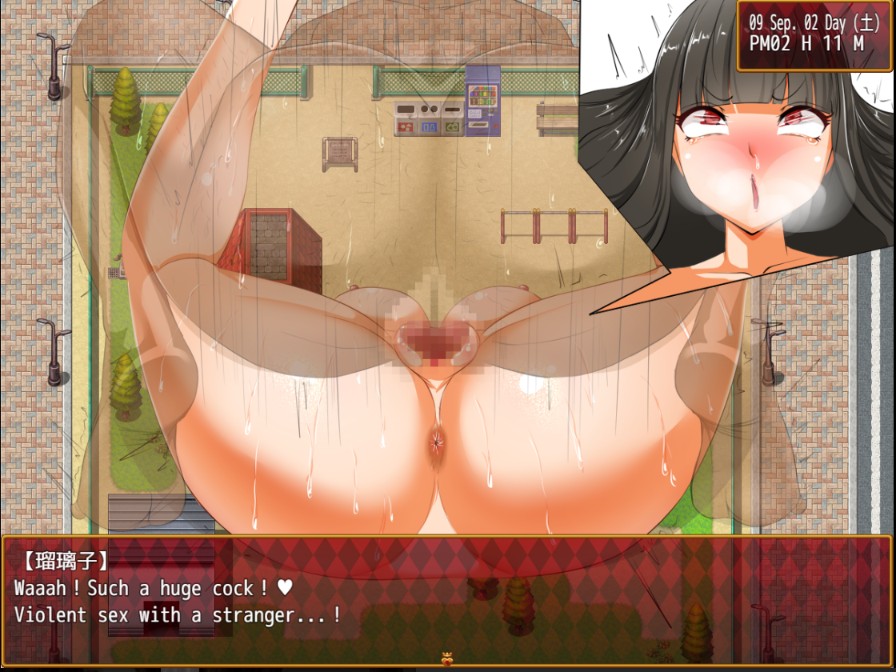 GRAPHICS
The art style is Japanese anime. There's over 40 unique images in total. The images stack on top of another, like a porn puzzle. This makes scene variations easier to achieve, but individual images look out of place.
The player can roam freely across the various districts of the city. From local convenience stores to skyscrapers, there's tons of variety in locations to keep players admiring the visuals.
The artwork is beautiful, but inconsistent. Certain scenes look like they changed artists or art styles midway. There are times Ruriko looks like your everyday anime girl, but her face and body proportions change between scenes. She has a cute round face during blowjob scenes, but other times, she has a thin face and a pointed chin. The inconsistency is obviously not good, but thankfully the art looks good regardless of style.
SOUND EFFECTS AND VOICE ACTING (SFX)
Nymphomania Paradox has no voice acting.
The sound effects are standard RPG Maker assets. You hear a 'ding' at menu clicks and a 'squish' when a guy inserts his penis inside of Ruriko's tight schoolgirl pussy. Most scenes in the game jump straight into vaginal sex, so there isn't much opportunity for other sounds. The audio design overall is okay, but forgettable.
MUSIC
There are 40 songs on the soundtrack. Most of them are never played. The core soundtrack is ten songs, all digitally synthesized with heavy emphasis on the electric piano. One track in particular uses three electric pianos with different settings for pitch to create a unique melody. A low pitch piano plays as the bass-line, a medium pitch piano keeps a solid background beat similar to drums, and the high pitch piano keeps the primary rhythm.
The soundtrack is an entertaining listen-through, but very generic due to its electronic nature. You could use a music program to come up with the same music in ten minutes. This music has no soul!
HENTAI
Nymphomania Paradox has 50 sex scenes with over 40 CGs in total.
As a corruption game, the lewd content starts small but becomes absolutely fantastic when Ruriko becomes a slut! Whether it's the bum in the public park or the priest at the temple, a slutty Ruriko can tempt any man to stick his rod inside her. This is not another game of your pure waifu being corrupted. Ruriko has been fantasizing about sex for a long time, and now she's finally taking action. Don't expect any long, dramatic romances. Ruriko wants to pick up boys and get her fill of dick!
The recollection room and wardrobe can be accessed from the player home. From that location, you can find the titles of sex scenes to serve hints on where to go next. For example, "Bob Scenes" outright tells you to speak to Bob, assuming you desire to fuck Bob.
From cuckolding her boyfriend by having sex with an old geezer, to pleasing a younger guy with no sex experience, Ruriko is doing everything her heart desires. Want to become a prostitute and sell your ass at school? Do it, bitch!
There are 13 sex paths ranging from getting groped to having sex with the boy you're tutoring. Each sex scene has unique variations depending on your skin tone and hair color.
My favorite storyline and ending has to be when Ruriko has sex with the black tourist from the United States! She falls in love with his cock and agrees to leave Japan with him. She even calls her boyfriend while engaged in raw intercourse with her new man. What a shameless slut!
CONCLUDING WORDS
Nymphomania Paradox is a fantastic corruption hentai game. The story is varied, the world is enormous, and there's a huge list of fetishes to explore. With a detailed stat and customization system to boot, this title is a must-play for one-handed gamers around the world.
I highly recommend Nymphomania Paradox to anime fappers of all genders and races. Download Nymphomania Paradox. If you want a similar game, check out our review of President Yukino.
Story -

70%

Gameplay -

70%

Graphics -

70%

Music -

50%

SFX -

50%

Hentai -

80%