Written by Rastafoo69, edited by Otaku Apologist
Horny Arcana, a hentai mobile porn game developed by Super H and published by Erogames. Released November 4, 2020. Play for free on Erogames. For Windows PC, Mac, Linux, and Android. No voice acting. Uncensored genitals.
A villain has used mind control magic to raise an army! The asshole plans to invade the Charde Kingdom! You are the only one who can undo the brainwashing with your magic dick! Work with Zoe and the other girls of the Peachy Troupe to save the kingdom!
I played this game without any use of premium currencies. It's still being patched with additional content, so please keep in the mind the date of publication.
STORY
You have the power to purify brainwashed minds. Work with the elite fighters of the "Peachy Troupe" to capture brainwashed women and help return them to normal! But be careful, most of the brainwashed fighters are former adventurers! They make for strong opponents that won't go down on you without a fight.
You can read character bios at the base or hear a bit of banter like how your character hopes to fuck a pretty girl, but that's pretty much it. Don't expect a grand narrative like this developer's previous titles.
Players can name their male protagonist, but his face is never shown and he never participates in any battles. Rather, he organizes the teams he sends out to fight and capture brainwashed women. The storytelling is very basic.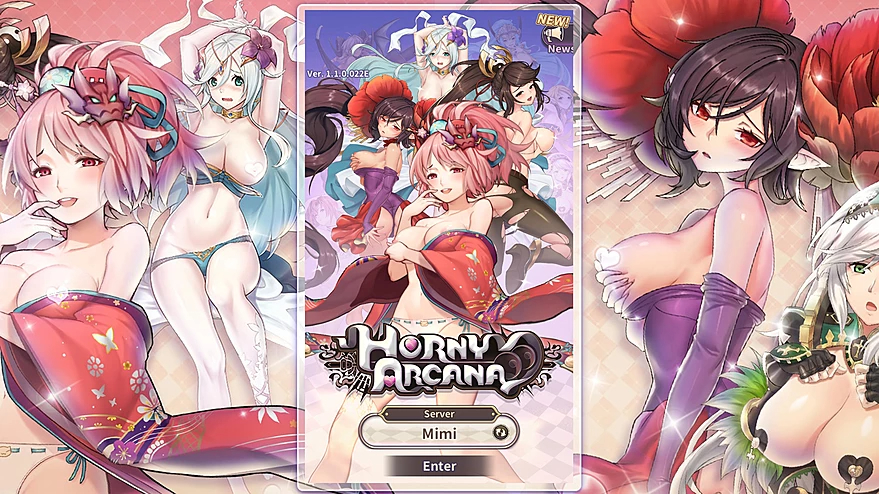 GAMEPLAY
Horny Arcana was created in the Unity game engine. The game is operated via touchpad or mouse and begins with a 15-minute tutorial. Your actions are restricted by "energy" that regenerates every hour, also called a "stamina system".
There are two basic forms of play. The battles are completely automated and earn resources you'll need to grow stronger. The vault holds horny babes that you touch and grope to unlock new scenes. Everything in this game falls into one of those categories. Like the arena being automated battles against other players. Secret events include the groping of party members.
Since battles are automated, player choices boil down to managing team composition. Upgrade your party members who have the best skills available. After completing a level, you'll be able to "blitz" it if you got three stars. You get stars by winning quickly and with particular elements. The blitz function is used to auto-complete a mission for quick cash without having to replay the level.
Since this automated system can get boring fast, the developer lengthened playtime through the use of timers and excessive mechanics. You can only grope a woman a certain amount of times before you have to wait on a timer. This system stops you from accessing sex easily. You can only upgrade your characters by fulfilling one of four functions.
Strengthen, where you can use lust to level up characters. Rank, where you need to collect coins and designated materials in order to rank up characters. Bond, where designated characters meet certain criteria and the ability of the character will be enhanced. And Evolve, where you collect enough Soul Shards to star-up characters. Having four separate ways to upgrade each individual character is the developer's way of stretching this game out for as long as possible. Pretty much its every aspect aims at this, like how you need special items in order to grope girls. If you don't have the items, you cannot interact with your ladies.
As the game relies on automated battles, you influence results mainly by managing the team composition and which characters you favor for sex scenes and level-ups. However, it's difficult to acquire new characters and you're always short on materials. Even worse, the lack of skill-based gameplay means the developer can create barriers to progress that you cannot overcome.
One level can have a massive difficulty spike that will be literally impossible to overcome. You can try a free daily summoning, but all you get is shards instead of a new character. You can try to promote your best warrior, but you're missing materials that can only be acquired in the next world. And until you reach rank 30, bond is unavailable.
The store page brags the game is over 50 hours long, and I agree! But it's only so long because of the heavy RNG and difficulty spikes. It's only 50 hours because it's so difficult to get new characters and upgrade your existing ones. By design, you can shorten the grind by miles by swinging your credit card.
While there are alternative game modes, they all have flaws. Like how your limited energy points discourage you from doing trials. Or how the arena is unfair to new players who are woefully under-leveled. The game has 2 million players as of time of writing, but can be discouraging for new players met up against older players.
GRAPHICS
Almost all visual assets in this game are recycled from the developer's previous title, Craving Quest. Zoe, Emma, and the vast majority of other females originate from that game. The developer acknowledges this fact in the game trailer, but simply calls them "familiar faces". However, it is far more serious than that. Everything from equipment sprites to standing animations are carried over from the past title.
Unlike Craving Quest which was given a widescreen display, this game is designed to match the standard cell phone resolution. This means if you play in-browser, only a small portion of the screen is the actual game.
Unlike Craving Quest which used multi-angle animated 3D models for combat, this game relies on basic 2D sprites. Each sprite has a handful of animations that usually involve swinging their arms to do an attack. The animation reminds me of Adobe Flash more than a professional mobile release. You'd think with all the recycled assets, they would have the budget to do something fresh with the characters.
Enemies are just recolorings of one another without real personality. They also don't make much sense with the setting. The conflict is supposed to be with an army of brainwashed people, but instead you're fighting waves of giant birds.
The text wrap in this game is inconsistent, often cutting off sentences, so they aren't fully readable. The game is being continually patched however, so this may be fixed in the future.
VOICE ACTING AND SOUND EFFECTS (SFX)
While characters make the occasional grunt or moan, there is no extended voice acting like in previous games.
The sound effects are limited by the game design. Characters either make a hit sound, or use a special ability. While at first this is sufficient, after 50 hours you'll want some more variety than a simple "thump" back and forth.
MUSIC
There are a handful of tracks available. All tracks are under a minute long and loop frequently. Whether it's flute or wind chimes, the foundational melody can be beautiful, only to be ruined when the loop abruptly begins anew.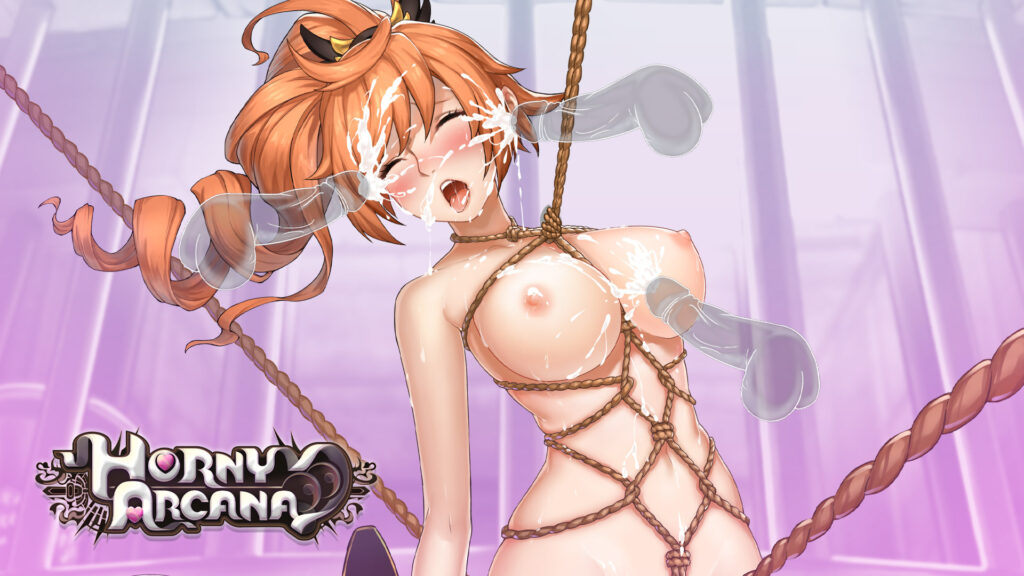 HENTAI
While Craving Quest gave fullscreen CGs and animations, this game gives pictures of naked ladies and a transparent penis. I only make this comparison because the assets for this game came from Craving Quest.
Transparent hands groping a breast are nice, but are more likely to leave you blue-balled. Unfortunately, unlocking scenes in this game is very slow and very tedious. If you're hoping for an actual sex scene, you should be prepared for at least six hours of grinding.
Every girl partially undresses after a rank-up, but each rank is hours away from the last. Grind for a few hours, see a bra. Grind a few more, see a tit. Grind even longer, maybe the panties will come off.
There are no sex stats or corruption mechanics. Due to the lack of a story and dialogue, these girls operate more like dolls than sex partners. Not all party members have lewd scenes. There are 47 potential party members and 10 sex slaves found while adventuring.
Slaves require items to seduce while party members only require clicking. However, there is a limit on how much you can interact with them before being forced to wait an hour or more for your energy to recharge. Naturally, I prefer games where I can fap to my heart's content.
CONCLUDING WORDS
Horny Arcana is basically the mobile version of Craving Quest. The sprites are basic, the gameplay is automated, the story is nonexistent, and the hentai is basic. And before anyone says battles are not automated, "click to attack" is not interactive. If you really enjoy grinding your ass off, collecting anime girls and putting in the hours to unlock their scenes, then go ahead, enjoy. The game is free if you're interested, you can try it for yourself. Play Horny Arcana at Erogames.
Graphics

Gameplay

Story

Music

SFX

Hentai