Written by Mistress Valentine, edited by Otaku Apologist
Lewd Life With My Doggy Wife is a visual novel developed by Miel, published by Cherry Kiss Games. English localization released March 31, 2023. Download on Nutaku for $9.99. For Windows PC. Full Japanese voice acting. Censored genitals.
PROMO: Want to create your own hentai game? Visit our website for hentai game development!
STORY
We find Taro, a male adventurer who had a boring office job, until he got reincarnated into a fantasy world! He is wandering the desert after being kicked out of the Hero's party. Exhausted, dehydrated and starving, he collapses, but is found by a cute doggirl named Lati, who also informs him that he rescued her a long time ago, and that he should call her 'big sis'.
During one night, Taro has a horrible nightmare but is comforted by Lati. She smothers him in her breasts before the two have sex. What follows is a typical Miel/Norn plot where the two leads have sex at every opportunity under the guise of the 'plot'. Whether they go to the marketplace or the beach or explore the forest where Lati is put in some kind of danger, every situation is just an excuse to set up the next sexual encounter.
To the game's credit, it does touch upon prejudice, specifically Lati's status as a demi-human and how living in a world where demons and humans are at war can affect people's view of you. But these themes are barely explored.
The progression follows the typical formula: Lati allows Taro to do nastier things with her like pissing in her, cumming on her face, dressing up in all kinds of sexy outfits. Near the end, she ends up pregnant and they engage in kinky marital sex!
GRAPHICS
The backgrounds are absolutely beautiful with a hand-painted style. There's just the right amount of detail. Special shoutout goes to the exterior treehouse where Lati lives. The character art is drawn in a different style as the background art, but the contrasting styles work together perfectly. Some background art is lifted from other titles by the developer, but since this is Miel/Norn, the content is good regardless. There's a wide variety of environments, including a hot spring!
Lati is the only female character, so the artists made sure to give her a uniquely cute design that includes different costumes and plenty of expressions, but almost no alternate poses. Lati's lips move when she talks, adding some life to her sprite.
The hentai artworks are gorgeously sexy with multiple alternates to include groping, breasts bouncing, spanking, cum, and piss. The positions show off Lati's body in all kinds of lewd ways that will make you cum.
MUSIC
The soundtrack seems to be copied and pasted from other titles in the company's catalog, however there were one or two soothing melodies that caught my attention. I think they were unique, but it's getting hard to tell after reviewing so many of their titles.
The game uses original instruments such as the guitar, the flute, the harp. Certain songs use synthetic instruments, but this is usually for the darker tracks. One thing I appreciated was the good variety in the music. It wasn't all just one style or genre, but rather a mix of different styles that kept things interesting. Additionally, the track placement was excellent with each piece fitting perfectly with the tone and atmosphere.
GAMEPLAY
Lewd Life with My Doggy Wife gameplay follows the standard mechanics of visual novels with easy click-to-advance features and essential VN functionality, including save slots, a CG gallery and Scene Selection. Sometimes the game will present you with choices, but none of these have any impact on the kinetic novel you're playing. Navigating the menu is uncomplicated.
VOICE ACTING
Lati's voice actress delivers a cute performance. She provides plenty of laughs with her innocent lines, so it's a real joy to hear her steadily corrupted into liking sex. While the character design is very cookie-cutter and two-dimensional, the actress bringing her to life does so with effort that makes you want to be nurtured by her. Her actress does a fine job showcasing her innocence, but is quite good when the only things she has to do is moan and pretend someone is fucking her ass.
When it comes to the sounds, expect plenty of abstract noises that you'll typically hear in comedy anime. But don't expect many sounds in general as the title doesn't take advantage of the abundance of opportunities to insert audio cues. The game's sound effects library relies heavily on stock sex noises like squelching, thrusting, and cumming cues. While this may not bother some players, those looking for a more immersive experience might find themselves wanting something more.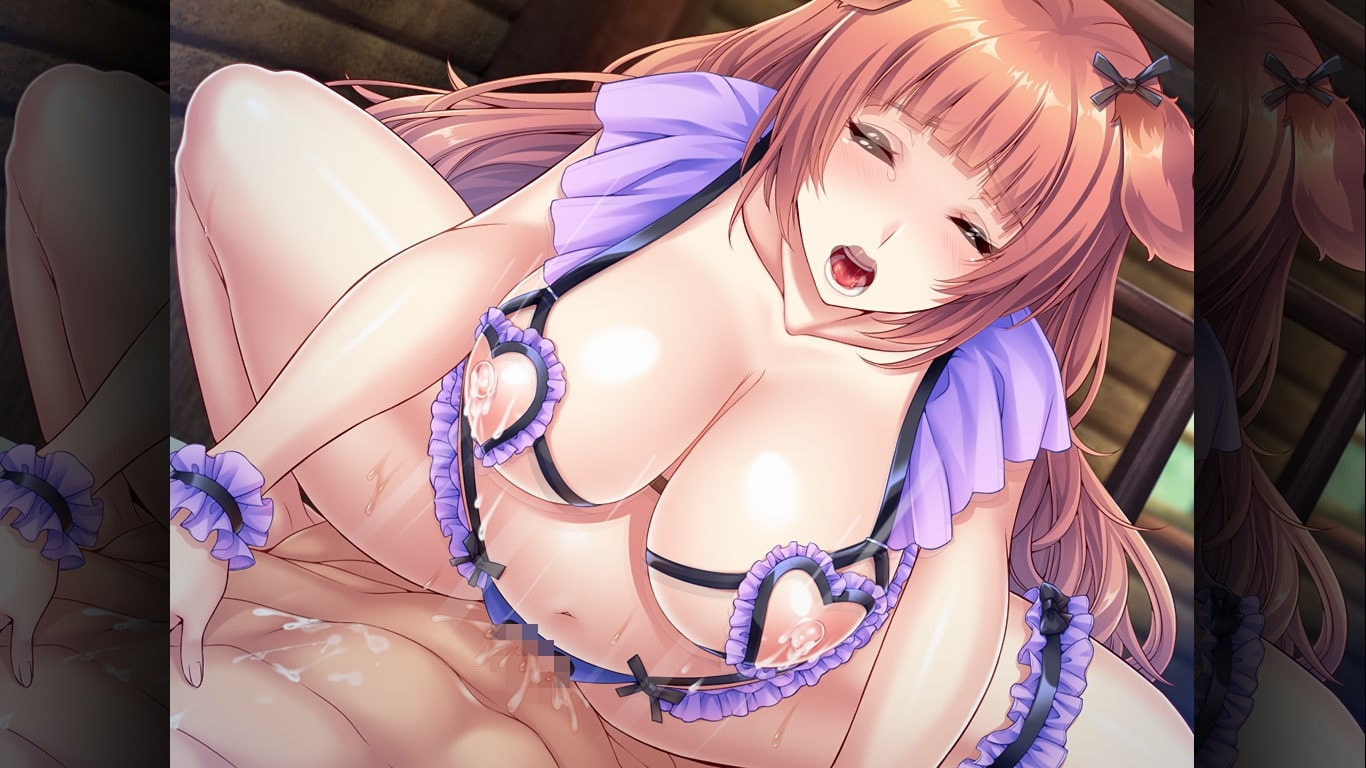 HENTAI
Taro and Lati become very sexually adventurous throughout this title, allowing players to live out many fantasies. In one scene, after saving her from villagers who have discovered that she is a demi-human, a very embarrassed Lati rewards Taro by telling him to stick his dick in her ass. In another, she rewards Taro's hard day's work in the shop by rubbing her tits up and down his member until he cums all over her.
There are over a dozen sexual encounters in this game, but perhaps the highlight occurs near the end where a heavily pregnant Lati and Taro bang it out as a married couple. The scene embodies the perfect blend of kink, romance and fun.
CONCLUDING WORDS
Lewd Life with My Doggy Wife is a fun rom-com visual novel with a cute doggy waifu. She just wants to take care of you! You get to fuck her, toy with her, and corrupt her while fapping to a lot of sexy CGs. It's not the sort of game that has a deep plot, but Lati's hungry pussy certainly is. The number of outfits and situations, combined with stellar production values on all levels ensure many satisfying faps.
Recommended for fappers worldwide. Download Lewd Life. And don't forget to pick up my new light novel 'My Life as an Ero-Magi Sucks! All Roads lead to Perversion!!'
Story

Hentai

Graphics

Music

Gameplay

SFX