Written by Flamecaster, edited by Otaku Apologist
"Ghost Hunter Vena", developed by Vosmug. A 2D action Metroidvania-styled game. Released on the 4th of April, 2018. Game length 2-5 hours. Genitals uncensored or censored if you install the uncensored patch. Available on Vosmug's blog for $7.00. Available for PC Windows.
Ghost Hunter Vena is a 2018 PC release by Vosmug, the same man who made Xenotake back in 2014. A few months after Xenotake's release, Vosmug began working on Ghost Hunter Vena — taking nearly four years to complete it. While it might not look like this game took longer than your average Ubisoft release, Vosmug's blog suggests that development was rather rocky, beset by external and internal complications. After a string of demo releases and semi-regular blog updates, the title was finally released on February 24th, 2018.
STORY
A trio of schoolgirls make a bet. They're betting whether a nearby abandoned mansion is haunted. The bet takes a more interesting turn when their teacher, Ms. Sui, overhears the details and decides to join in. The group meets at the mansion in the dead of night, where things take a swift turn for the worse. The group is separated almost immediately, leaving one of the schoolgirls, Vena, bound in a room with a sentient hand. It is then Vena learns ghosts are all too real, and Hand is the only thing keeping them at bay. But Hand can only do so much, so Vena must help him.
While the very premise of Ghost Hunter Vena doesn't sound spectacular, the game's writing is among its strongest assets. How the characters in the story are written and how they interact was handled with more care than I expected. Each character has their own defined traits, which are explored and occasionally flipped onto their head as the adventure unfolds. The dynamic between Vena, Ms. Sui, and Hand is of particular interest — Vena struggles to accept her role as the hero, feeling Ms. Sui should have taken her place instead, while Hand can't fully comprehend the emotions of either.
GAMEPLAY
Ghost Hunter is a side-scrolling action game. You control Vena as she navigates the intricately interconnected estate, warding off ghosts. On paper, this sounds just like any old game, but Ghost Hunter Vena isn't just any old game. There is a healthy variety of different ghosts to fight, though that variety is mitigated by the fact that every enemy encounter is the same: wait for the invincible ghosts to attack and become vulnerable, stun them with your only attack, and then perform a follow-up finish blow. Barring the final boss, and a certain toad ghost, this is true of every enemy in the game.
Compounding this issue further is the fact that Vena and the ghosts occupy a large portion of the screen. Some ghost types fly around the screen aimlessly until they attack, but because the amount of breathing room is so small, it's very easy for them to get cheap shots on you. If that's not fun enough, there are numerous instances where multiple enemies, and enemy types are on-screen at once, further escalating the difficulty.
Fortunately, ghosts are transparent by default and cannot deal contact damage, so if you want to avoid fights altogether, you can get away with walking through ghosts. However, by avoiding fights, you won't grow strong enough for later challenges.
See, ghosts drop small orbs upon being defeated. Vena can use Hand to absorb these orbs. When enough orbs are collected, a gauge is filled, granting her one experience point. Experience points can be used to power up her, and Hand. While different attributes can be powered up, such as the speed of your health recovery, and the stun duration of your attack, the most important attribute is your attack power. As enemy health bars get larger, you're fighting to keep up with the growing difficulty.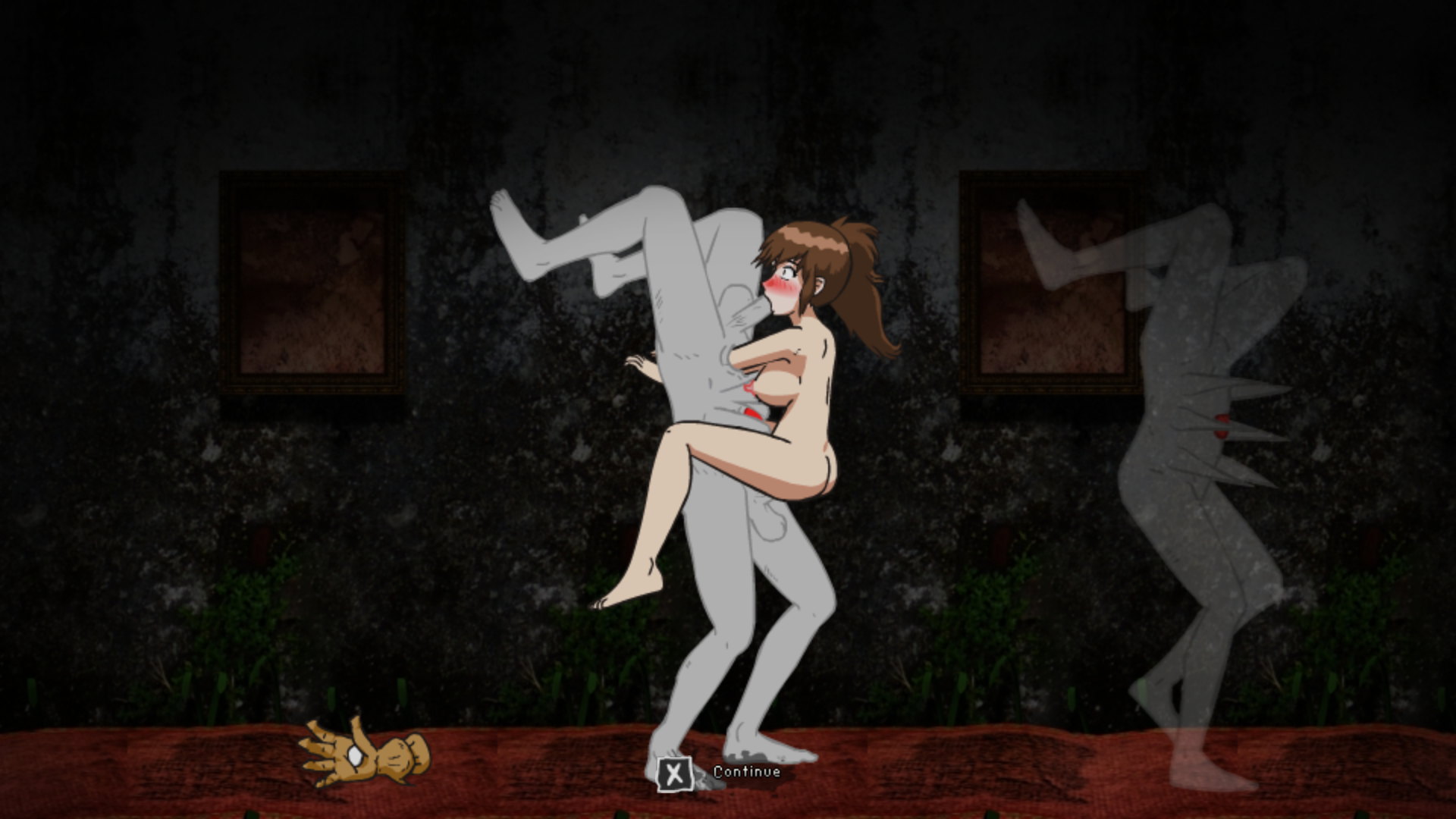 The game also forces you to backtrack areas. It gets obnoxious when you have to go from, say, the center of the central level to the bottom left corner of the upper level, which involves an extremely roundabout detour with no shortcuts. If you don't have the general layout of the mansion memorized, these points are a pain. The rooms have a tendency to resemble one another. Compounding this issue further is the vague, obtrusive map.
GRAPHICS
The environments have this tendency to bleed into one another, but when looking at the visuals more broadly, the individual backdrops set the tone adequately. The dark, drab environments help sell the idea of a broken-down, haunted mansion.
The character art isn't the best. The art serves its purpose, and nothing more. After four years of development, I expected substantial improvement from the previous game, but the art style remains the same shit. Also, the women suffer from late stage same-face syndrome.
Enemy designs fare much better. While the actual execution of the various designs could have been better, I feel some of these designs are crafty in their own right. Sure, there's a giant toad ghost and a ghost that looks like Jared Leto's disembodied head, but the one ghost that's basically two lower torsos fused together, cocks and all, is so absurd that it stands out.
MUSIC
Stock music is the name of the game for "Ghost Hunter Vena". If you've ever played any RPG or action game sold on platforms like DLsite, you'll quickly start recognizing familiar songs. The music doesn't complement the game experience much.
VOICE ACTING AND SOUND EFFECTS (SFX)
Ghost Hunter Vena has no voice acting.
The audio is hardly worth mentioning, with generic, barely audible white noise in the background and stock sound effects accompanying the action. While there is plenty of moaning and squishy sounds during sex, the game uses singular soundbites for everything, which gets monotone and obnoxious.
HENTAI
If a ghost hits Vena successfully, they'll grab her. If you don't mash out of the grab, or fail to hit the on-screen prompt in time, Vena's clothing is ripped, and her pussy raped. She can only be raped for a certain number of times with no health, after which she will lose one EXP point and restart from a nearby checkpoint. Given the nature of these H-scenes, odds are you might let her get raped more often than not.
While the art style is hit-or-miss and the animation is generally nonexistent in cutscenes, Vosmug's h-scenes are still remarkably fluid and oddly captivating. Most H-scenes are a tug of war to fill a meter, to break away. Alternatively, you could mash controls just enough to keep the scene going, until the meter turns purple. After the is meter is all purple, the enemy orgasms.
The scenarios range from downright bizarre to intense. Many of the ghosts stick to tentacles as their main means of violating women, but the fetishes explored go much further than that. Mutual masturbation, cum overflow, bondage elements, foot licking, and even one instance of what looks like borderline vore. The variety of scenes and fetishes is healthy, though it's mostly tentacle fans who get their fill of pandering porn.
CONCLUDING WORDS
Ghost Hunter Vena is a game that has good ideas, but the execution just can't quite carry them anywhere. The simplistic gameplay quickly becomes formulaic and monotonous, the presentation is average at best, and there is currently no traditional gallery for the H-scenes. While Vosmug has stated there are plans to implement such a gallery in a future update, it's baffling to think how such a feature was passed up in the initial release. The story is intriguing and filled with relatively fleshed out characters, but I strongly doubt it will be enough to carry most of the adventure. When it comes to balance, this title is one that's tipped too far to one end. Download Ghost Hunter Vena at Vosmug's blog.