Written by jin0uga, edited by OtakuApologist
Wolf Tails, developed and published by Razzart Visual. Available on Steam for $9.99. Get the free R18 patch from their site. This visual novel is brought to you by the creator of the sexy dick tease visual novel, Catch Canvas. Enjoy caring for two adorable wolf-girls in this heart-warming story and prep your lotion for well-written inter-species hentai porn.
Let's dig into Wolf Tails and get our rocks off. Oh yeah, baby…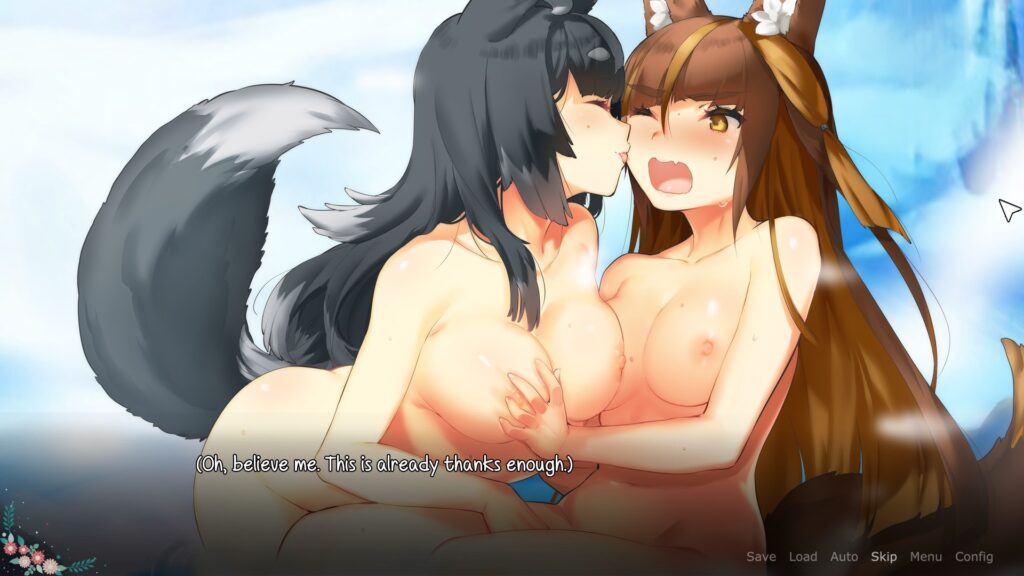 STORY
The main character lives a lonely life in the snowy mountains. With nothing but trees and snow and silence to keep you company, you merely go through the motions of living. The cabin is your home, and you are completely cut off from friends and family. You've settled into a boring, emo routine of going to town for supplies, chopping firewood, and watching pornos on VHS tapes.
You can choose to be referred to as a man, or woman. You can even choose a name in game.
One day, after returning to your cabin, you find the back door unlocked. Suspicious and wary, you grab an axe to defend yourself. Instead of finding a mask-wearing psychopath, you come across a wolf girl, nearly dead from the cold. You take her in and nurse her back to health. She wakes up, thanks you for your kind actions, and introduces herself. Her name is Mirari. After the two of you play house for a day, another wolf girl comes knocking on your door.
Fuyu hates humans and wants Mirari to return with her immediately. But with a snowstorm raging outside, you do the reasonable thing and get them to stay until it lets up. From there, the story takes off, snowballing into a comforting story of falling in love, and facing your past.
I enjoyed the plot of Wolf Tails immensely. The story isn't just an empty vehicle to move readers from one sex scene to the next. Despite the premise being taking in a pair of wolf-girls, the world building is surprisingly grounded. Things make sense. When interacting with the girls, the main character is often comparing the differences between human culture and half humans. Because of this, the plot can swivel between drama and comedy. Reading about how the two wolf girls want to fight a vacuum cleaner, is hilarious.
I liked that characters have something at stake. It makes plot developments believable, and makes characters feel more like real people, than tropes. Like for example, Mirari has conflict with her pack, while Fuyu dislikes humans for personal reasons. The main character also has a valid reason for being in the middle of nowhere, isolated from any semblance of civilization. Overall, the writing exceeded my expectations.
GRAPHICS
For a budget visual novel, the art is spectacular. Backgrounds are very detailed, I find myself admiring them from time to time. Most of the story takes place in the main character's cabin, and the place looks very comfortable, and homely. The living room is pleasing to look at. The wood walls and floors have a grainy texture, and there is a framed picture hanging above the rustic, brick fireplace. There is a worn sofa directly facing it, with a bright patterned rug at its feet.
The backgrounds in CGs are less crisp. They are slightly blurred, though I feel this was done on purpose to make players concentrate on the character sprites. Characters are beautifully drawn. Fuyu and Mirari look adorable and alluring, with shapely bodies and full breasts.
Their animal traits are the same colour as their hair. It's a natural look. However, there is no variation to their outfits. Both girls stay in the same clothes throughout. However, this didn't bother me as their outfits are perfect for them. Fuyu comes across as brash and daring in her ripped shirt and jeans. Mirari on the other hand, wears a modest dress that compliments her demure personality.
The colour palette is warm and easy on the eyes, like the soft browns of wood, or the deep gray of Mirari's fur. The colouring style fits the atmosphere. The story progresses on a slow, comfortable pace. There are no harsh colours, and even the brightest of them are still easy to look at. Shadows are subtle, but effective. On characters, they are used to highlight the features, like the flat curve of Fuyu's stomach. In backgrounds, the shadows create a feeling of isolation.
VOICE ACTING AND SOUND EFFECTS (SFX)
There is no voice acting or sound effects.
MUSIC
Wolf Tails uses a mix of synthesized and normal instruments. The opening starts slow, with the creeping, lonely melody of a piano. It transitions into cheerful bopping, filled with a hearty dose of drums and violins, with the strumming of an electric guitar and a couple of synthetic sounds as background sounds. Casual moments where characters are chatting and lazing about, have a similar song play in them.
Most tracks have more than three instruments, ranging from drums, to pianos, to cymbals. One particular song I liked is used during comedic moments. It's energetic, a nice blend of trumpets, drums, and the electric guitar. However, the most memorable tracks are those played during emotional scenes, or moments of calm. The instruments used in those are mostly acoustic, like tambourines and violins. The melodies are usually simple, and relaxing to listen to.
GAMEPLAY
Wolf Tails is a visual novel. You click the text to "turn the page" and advance the story. During the story, the game gives you several branching dialogue options, which affects how the main character reacts. Your decisions do not change the overarching story.
HENTAI
Like Razzart Visual's other titles, the hentai scenes are arousing. The writer dives straight into the action, describing dripping vaginas and bouncing bosoms in delicious detail. There is minimal foreplay. The scenes, though short, are extremely satisfying. I never had a problem getting off to them. The descriptions are vivid, the dialogue between the characters is believable and add to the erotic atmosphere.
The player can choose between two genders. The descriptions and pronouns shift to match their choice. Wolf Tails is slightly different from Razzart Visual's other titles in the way they show hentai scenes. If you choose to play as a male, the game helpfully supplies an image of a dick buried deep in a pussy. When your character goes down to eat the wolf girl out, the character portrait shows a man's face. If you choose to play as a girl, you'll get shapely fingers fingering the pussy, instead. The character portrait will show a woman's face.
Wolf Tails has two female characters you can fuck. The hentai is very intimate. Instead of frenzied animalistic fucking you see in other titles, the sex here feels personal. The love making is considerably slower in pace, as the characters take their time to explore their partner's body. If you like fapping to this style of hentai, your genitals will definitely enjoy Wolf Tails.
CONCLUDING WORDS
Wolf Tails is Razzart Visual's best title so far. The story is short, but highly emotional, it gets to the point after a healthy build-up. I highly recommend this game if you enjoyed their previous works Catch Canvas or Starlight Vega. Packed with gorgeous CGs of adorable wolf girls fucking like rabbits, and an enjoyable soundtrack to boot, this title is a memorable experience to enjoy. Download on Steam.
If you enjoyed this review, try Hentaipros today! Sales help us pay writers, and artists who create fresh content for lovely readers like you!