Written by Otaku Apologist
Attack on Moe is a free to play hentai clicker game, launched on Nutaku in June 2017. Attack on Moe is made with Unity, for PC internet browsers, developed by Ignite. Partial female voice acting. Genitals uncensored.
By virtue of my alpha nerd swaggery, I had never played a clicker game before, alas, this game scratched an itch I wasn't aware existed. She is retardedly simple, requiring only bare minimum engagement.
Why does a mind-numbing game like this keep your interest? Because you're upgrading things. You gain levels, gold, achievements, skills, the usual dingalinga. You also build your own chibi army!
You play as an epic sword dude. The goal of the game is to collect "moe spirits", and make them naked with clicking. The goal is virtually irrelevant, as the moe spirits are not that hot. While working towards the anime tits, you play the actual game, which is the real source of fun.
The gameplay consists of repeatedly clicking the screen until your wrists are bust, and your will to live, drained from your cold dead bones. Your sword dude swings his cutter as you click, slaying giant enemies that magically disappear, leaving behind nothing but blood-stained gold.
Without automation of the clicking, the game would not be nearly as much fun. You hire a small army of "heroes" to automatically slay enemies on screen. You can upgrade their levels, and unlock their special abilities. At levels 10, 25, 50, 100, 200, 400, and 800, you unlock a hero's special ability. Max level is 1000. The game doesn't give an explanation what any of these specials do – you only find out how the NPCs contributed to your gold gain, and DPS, after they are dead. You'll be surprised to learn how important even the low level heroes are. Oh, and your heroes keep slaying enemies while you're offline. Nifty!
You progress through levels, which consist of nine normal enemies, and one boss. The health of the enemies grows progressively as you advance. Nothing else about the game gets harder. Only the boss can attack you back, although he'll only kill your heroes, not you. This is a safe space casual game.
You spend gold to upgrade your avatar's level. At avatar level 50, 100, 200, 300, 400, and 500, you unlock cooldown spells, that grant your character a temporary boon. The first spell you unlock, slays essentially any enemy on screen, with a 10 minute waiting period until reuse.
My favorite spell is "bloodlust", which boosts the attack speed of my pixel army for 30 seconds. It's my favorite, because I happened to luck out, and drew in the beginning two moetifacts that reduced my cooldown, and increased the duration. Currently my Bloodlust lasts 2:05 minutes, while the cooldown is only 12:50, down from 25 minutes. During those two minutes, everything on the screen dies instantly, no clicking needed from yours truly.
What are moetifacts? MOE ARTIFACTS! They are permanent boosters to your power, which you buy with moe crystals.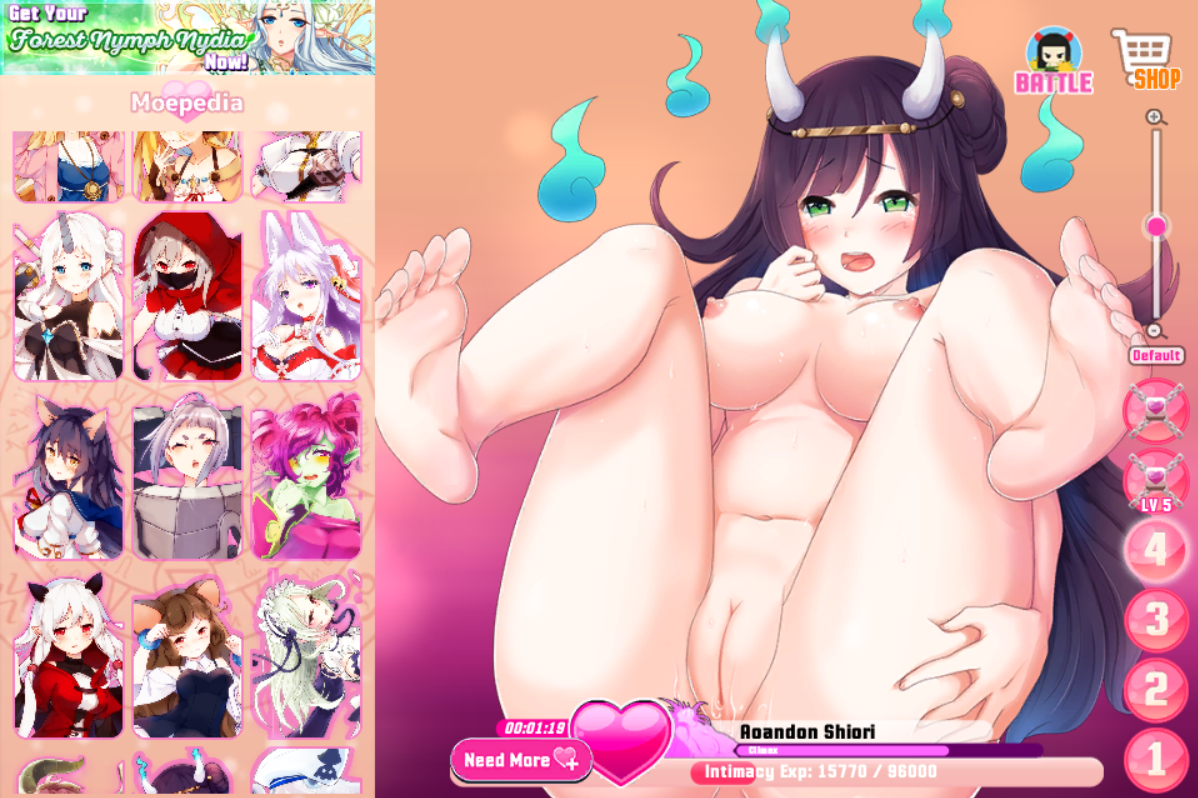 Moe crystals are gained when you reset the game. The deeper you got in your playthrough, the more crystals for you! The game is designed to be frequently reset. At avatar level 600, you unlock "rebirth". Click "rebirth", the game shows how many crystals you'll earn. Press okay, and you're back to level one.
Moetifacts give two types of permanent boosts; a percentage-based damage boost, and some other effect. These other effects can extend the duration of your cooldown skills, increase your critical strike chance, increase gold gain, etc. It's fun collecting them, and upgrading their effects.
Unlocking moe spirits, provides various permanent buffs similar to moetifacts. When you get more intimacy levels with them (gained by clicking), their buffs grow stronger. You keep your moe spirits through rebirth.
The game art is a mix of pixel art, and traditional anime art. The game references this with humor; HD moe characters are attacking the pixel people. RUN FOR THE HILLS!! There is no story.
The menus and characters look very cute, and I feel that the developers put their heart into this. Sure, it's total absolute cancer that wastes precious days of your one life, but like a good drug dealer, they didn't slip cyanide in the dope. The game feels like it's pretending to have a soul, like it's the wholesome vision of a developer that wanted to make a fun clicker game.
There are two musical tracks in the game. One is a cutesy tune for your private moments with the moe spirits, the other is the one you are forced to constantly listen to (lest you mute the music). It's an epic hype tune that goes through highs and lows. It didn't get boring even after my 100th hour of listening to it. The track is looped smoothly, and has so much variation, that it feels like the wind in your sails.
Plenty of sound effects are blatantly missing. You'll prominently hear your avatar's sword swoops, and the cachink-sound of gold coins. But other than that, there's not much sound. I can understand they omitted the SFX for your minions, because as the size of your chibi militia escalates, the game would be dominated by sounds. But even so, it's eery watching your massive chibi army silently attacking enemies in unison, like listening to electric cars without roaring combustion engines silently running over pedestrians.
The game is monetized with the in-game gem shop. You can get all kinds of goodies, such as an instant fuckton of gold, or a cooldown reset. You can also buy random moetifacts, for basically $1 per one, but this only makes sense in the very beginning. When you buy random moetifacts, that means you can get useless duplicates, which is equal to drawing blank.
You also gain gems in normal play from achievements, and the occasional fairies bringing treasure chests. It's next level niftiness.
I've played this game for about a week. The first weekend I started playing, I played ~10 hours, from morning to night. It was depressing to discover, that I am still not cured of my videogame alcoholism.
"Attack on Moe" is the most useless waste of your life. It's disgustingly addicting, and very well designed for its nefarious purpose of monetizing ghetto penises worldwide. Play for free at Nutaku.net.
Graphics

Gameplay

Story

Music

SFX

Hentai