Netorare Hentai RPG Review: The Hero's NTR Adventure
Hentai Reviews

>

Reviews

>

Netorare Hentai RPG Review: The Hero's NTR Adventure
Written by Rastafoo69, edited by Otaku Apologist
The Hero's NTR Adventure, a netorare RPG developed by SHIBAHU Cement. Released April 23, 2020. Download on DLSite for $13.00. For PC Windows. No voice acting. Censored genitals. Free demo available.
Your name is Roy and you are the legendary hero! Your two sexy childhood friends are traveling with you on your quest to save the world! These bitches ain't loyal, and along the way, other men will pump their pussies!
New to Japanese eroge? Read our guide How to download DLSite games. Also read how to apply translation patches.
STORY
Roy, Sasha, and Mari are traveling the world on a quest! They seek to defeat the demon king! But when an evil wizard named Osa joins the party, he locks away Roy's legendary powers! As you are no longer an alpha male, your women's hearts start to wander.
The overall story is very bare bones. Most of the game is comprised of traveling from town to town, where sex scenes take place. The writing is poor, with the NTR content progressing super quickly. In the first scene the girl hates Osa, in the next scene she's begging for his cock. There was never any buildup or realism to the experience.
The premise on its face is hard to believe. The legendary power that can grant magical abilities and destroy the demon king was sealed away by a level one dark mage named Osa. Legendary my ass!
The lack of a compelling story makes this a typical collection of NTR scenes. Thankfully, there's some spicy scenarios like the girls getting impregnated and discovered by the protagonist. For an early release from an indie developer, this game is okay.
GAMEPLAY
This game was created in RPG Maker MV. It has two difficulty modes. Hold enter for dialogue skip. Right click to hide text boxes.
It's a standard RPG level grind. Run in circles, farm enemies for experience points, and heal yourself with items. There is no way to speed up battle animations, making the grind even more tedious.
This game does not include outfits or armor. You can only change your weapons, and they're usually found in dungeons. You have no reason to ever visit stores.
Once Osa removes your legendary hero powers, you're reset back to level 1. He also drops all of your stats to 1 and takes away most of your health points. You cannot use magic. No matter what enemies you face, you will only gain 1 EXP. It would have been great for Roy to slowly level up back to his original power and fight the odds. Sadly, this game doesn't do that.
The gameplay is very bare bones overall. These dungeons and battles could be created in five minutes on RPG Maker!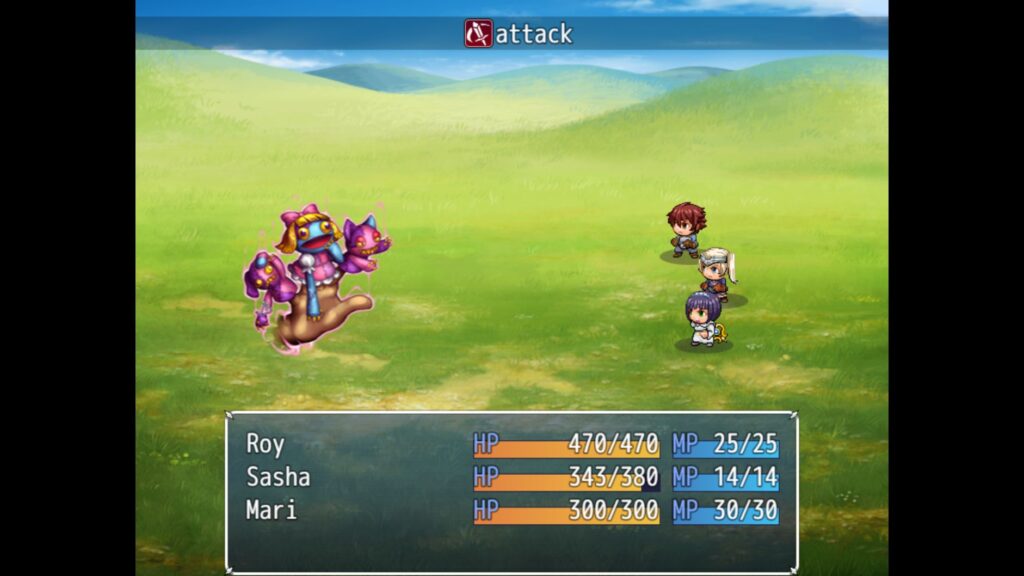 GRAPHICS
There are 21 scenes in total, each with a unique CG. The art is drawn in the classic anime style this developer is known for. Three dimensional characters, hyper-expressive faces, great attention to detail, and so much more.
Notice how Sasha's hair separates into strands and gets less uniform as she's fucked. Also notice how each scene has a high definition background that compliments the anime art style. And best of all, an x-ray view system shows the cock moving in and out of the heroine's pussy.
As the developer was initially a doujin writer, most of his efforts went into the CG images. The character sprites and dungeon textures are all stock RPG Maker assets available for free by any random user on the web. Similarly, the title graphic is just a stock asset. Outside of sex scenes, the visuals are nothing to praise.
The later sex scenes quickly veer into the grotesque. Piercings, tattoos, and giant pregnancy bellies are just some of the visuals that may be jarring to some players. The game doesn't advertise itself as hardcore, so all those piercings really caught me off guard!
VOICE ACTING AND SOUND EFFECTS (SFX)
The Hero's NTR Adventure has no voice acting.
The battle sound effects in this game are stock assets from the RPG Maker library. The sex sound effects however are incredibly hot! The sound for thrusting into pussy was so realistic and believable, I could really hear Sasha getting fucked! And thankfully, the ejaculation is not some loud and crazy noise! It truly feels like the developer cared deeply about creating good sex scenes.
MUSIC
The game has 57 music tracks. These are all some genuinely good tracks but remember, this an NTR game. A generic guitar chord on loop is what you hear during most of the game. This music is wonderful but it simply does not fit the game at all.
The track entitled "Maoudamashii 4 Field 8" reminded me of the original 'Secret of Mana' series on Super Nintendo. The flute and piano made it so bouncy and wonderful. If these tracks were matched with a true RPG experience, I would orgasm.
HENTAI
There are 21 scenes in total, each with a unique CG and multiple variation images.
As the title suggests, the primary and unavoidable fetish of this game is netorare. Sasha and Mari are your childhood friends, and they're both in love with you. They even confess to loving you when you begin your journey! But the moment Osa begins to pressure them, their legs open for his perverted old man cock!
Only one scene features Roy watching the action, and pregnancy scenes are only available late into the game. The vast majority of content is classic cheating creampies, with the girls growing to adore new cock. Side fetishes include public humiliation, piercings, gangbangs, and more. All combined together, these scenes are a rollercoaster of hot erotic experiences.
CONCLUDING WORDS
The Hero's NTR Adventure is your classic Japanese cuckolding adult game experience. While the gameplay and story are basic, the visuals and sex scenes are downright orgasmic! Watching Sasha and Mari fall victim to new cock was a hugely fulfilling experience.
Download The Hero's NTR Adventure. If you love cuckolding games, then check out our review of Sarah & The Magic Circle.
Graphics

Gameplay

Story

Music

SFX

Hentai