Written by Rastafoo69, edited by Otaku Apologist
Young Wife Souffle, a hentai RPG developed by Odontotyranus. Released on October 13th 2017. Download on DLsite.com for $13.00. For Windows PC 7 to 10. No voice acting. Censored genitals. To play this game in English, we recommend this translation tool.
You play as an inexperienced newlywed wife who's moved to the capital city with her husband. Souffle is a busty blue-haired beauty that gets corrupted with sex. While at first she is wholeheartedly devoted to her husband, she soon finds that the city is full of perverse men who want to have sex with her.
Read our guide How to download DLSite games. Also visit our perverted online games store!
STORY
Will and his wife Souffle have been friends since children. They promised to marry each other when they were kids, and now that they're all grown up, the game begins with them as newlyweds enjoying a happy life together. Unfortunately, Will has been cursed by a demon, and its up to Young Wife Souffle to save him. You must collect 10 lewdness orbs in order to lift the curse!
There are two paths to collect the lewdness orbs – the pure waifu route, or the corruption route. If you play the devoted wife character, you'll need to go out into dungeons to find the orbs and some ingredients to feed your hungry husband! If you follow that path, the happy couple will leave the big city and live happily ever after.
Fair warning though! Completing the faithful wife route will NOT unlock all sex scenes in the recollection room. The only way to see them, is by playing the game. So naturally you'll want to try the corruption route to see the erotic glory of Souffle! To do this, simply speak to different townspeople to be offered jobs or friendship that leads to a variety of sexual situations!
You can go to the doctor's appointment and get touched all over by him. You can answer the bulletin board ad and become a nude model for artists! Each storyline has its own twists and turns, as well as fetishes specific to that sex partner. Hypnosis at the school, prostitution at the club, the list goes on.
Best of all, if you dislike a storyline – don't do it! You can get a total of 20 lewdness orbs in game, and you only need ten to win! I had no interest in dildos and monster sex, so I ignored that questline entirely. The story unfolds how you want it to. You want to get impregnated by a total stranger? Go ahead! You want to train and level up for a dungeon boss? That's fine too!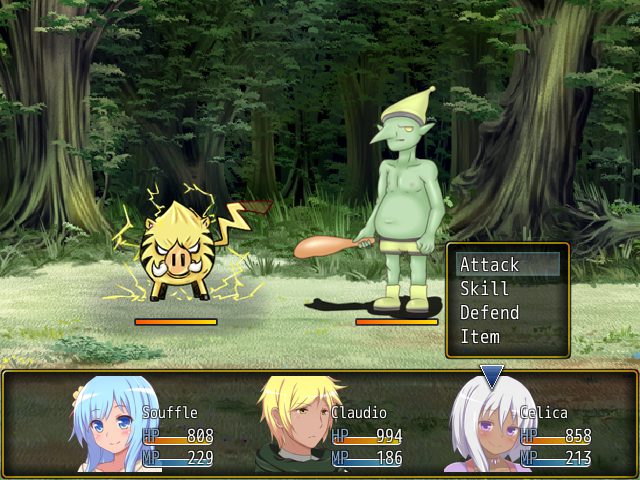 GAMEPLAY
The game is exactly what you'd expect from the standard RPG Maker title. You move with the arrow keys, press spacebar to interact with things, press CTRL to skip over dialogue. What sets this game apart are the mechanics beyond the keyboard.
How do you play well? You access dungeons by going to your item menu, and in the text box below you can see the difficulty/name of the dungeon. Enemy encounters on the map are not randomized. The enemies appear in front of you, and you can avoid battles. Conserve health for the dungeon boss. Also, different enemies have different weaknesses. Water will douse the fire type enemies for example – so be sure to conserve magic power, because Melee attacks are pretty useless.
If you're not planning to go into dungeons and actually WANT to lose your battles, be sure to press CTRL in battle to speed up things as you keep pressing "defend" and watch the health deplete. That's the only way to get the "Rescued by Knight" storyline.
Souffle has two stats you need to focus on: "Boldness" and "Virtue". As Souffle becomes more bold, she'll be willing to make more risky actions. While you want to raise boldness, you want to lower her "Virtue" stat. As Souffle begins to think less of herself, she will be more willing to stay in town rather than try to cure her husband.
For example, accidentally catching someone else having sex will raise Souffle's "Boldness", but that doesn't have any impact on her self-respect. This is important because this game has prostitution in it. At the start of the game, Souffle has way too much self-respect to sell her body. Becoming a model for artists for example is an excellent way to reduce her self-respect. If you want true corruption, where Souffle begins to have sex with strangers from the street, you'll need to decrease that stat a lot!
GRAPHICS
A lot of love was put into these artworks. When Souffle is hesitant about sex with another man, her eyes are a dark cobalt blue – but in the throws of pleasure, small hearts appear in her eyes. Souffle also carries around a small purse, on it are two cute animal key-chains. And did you notice the flower in her hair? Not to mention that conservative sweater she always wears. The game makes it clear from the start: This is a pure innocent waifu, and what happens to her, is completely in your hands.
Other aspects of the art worth noting are the shadows. The artists put significant effort into creating stylized but realistic artworks where you can see different levels of light depending on character placement.
With 36 base CGs and 69 sex scenes, there's plenty of art to plow through. The 2D hentai art style is gorgeous, almost flawless. However, the only girl you see in this game is Souffle.
Not only does the protagonist get impregnated by multiple strangers, but there's even scenes of pregnant sex. There's over 10 different storylines to follow for hentai content, and you can easily avoid all the hentai you dislike. Every scene is absolutely fantastic on its own!
SOUND EFFECTS AND VOICE ACTING (SFX)
Young Wife Souffle has no voice acting.
The sound effects are above average for an RPG Maker title. Sure, there are standard sounds used in all hentai games like the creampie sound effect – but there's so much more! There's a special sound for when your sex partner increases their pace, there's a sound for when clothes are removed. Very immersive!
MUSIC
The game has 20 different musical tracks. From smooth saxophone and piano, to fast-paced guitar riffs, this game has it all. If all you do is download a full save and view sex scenes, you'll never hear more than one track. There is a single track used for all sex scenes in the game, and the variety comes from other areas. A unique song for each dungeon, the town music, the title theme, and various other tunes meant to convey the emotion of a conversation will be missing. I definitely recommend you play through the game for the awesome beats alone. The songs are so good, the hentai is almost just icing on the cake.
HENTAI
With 36 base images & 69 H scenes, you're right to be concerned. After all, that means the same image for a blowjob is reused upwards of five times. The game gets around this by changing the context of the situation.
Now, most of the erotic events have stages of intensity that level up over time. It might start out as simple sexual harassment, but by the end of the game you're having that man's child! The hentai is built upon the corruption trope. If you're looking for super fast pump and dump porno, you won't find it here. The sex scenes won't mean much unless you care about the characters.
The game seldom shows the male partners. This title is obviously directed at heterosexual males, because the whole focus of every scene the soft, plump Souffle. There's no old men fucking pretty girls in this game.
You have conversations with your husband after every sexual encounter. While the wife goes through brainwashing, gangbangs, and multiple affairs, you get to see how Souffle spins the story. You can get impregnated by practically every man in town!
Unprotected creampies lead to pregnancy and characters all comment on the pregnancy. It's not just a visual aesthetic that she'll be wobbling around with a big belly. Getting pregnant is a big part of the game.
CONCLUDING WORDS
Young Wife Souffle is the perfect game for fans of porn games. There's at least ten different hardcore fetishes explored, including pregnancy and netorare. The art is very expressive and every line of dialogue has you excited for more. The ability to choose if you want to remain loyal or stray from your marriage is a welcome feature. The soundtrack is ace, and the writing stellar for masturbatory purposes.
Download Young Wife Souffle – Check out our recommended translation tool.

Graphics

Gameplay

Story

Music

SFX

Hentai