Teenage Mutant Ninja Turtles Porn Game: Mating Season
Hentai Reviews

>

Reviews

>

Teenage Mutant Ninja Turtles Porn Game: Mating Season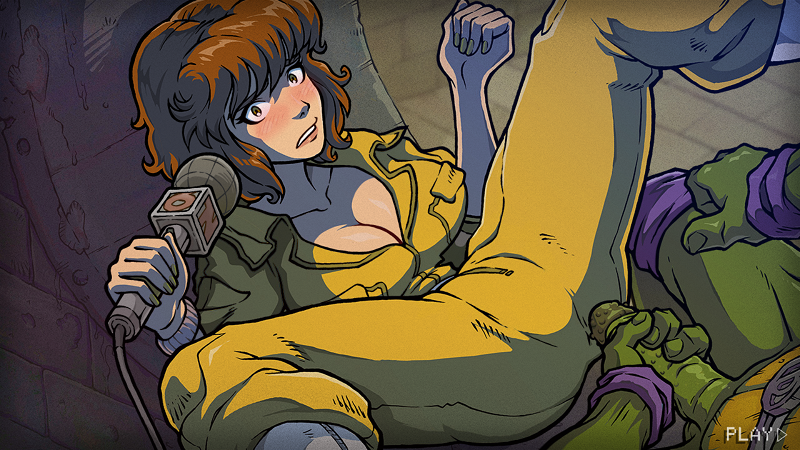 Written by Rastafoo69, edited by Otaku Apologist
Mating Season, a teenage mutant ninja turtles porn parody visual novel developed by Akabur. Released on June 18, 2018. Read the official Patreon page. No voice acting. Uncensored genitals. Available for PC Windows, Mac OS, Linux, and Android devices. Free to download.
Channel Six Reporter April O' Neil descends down the gloomy sewers, hoping to see her friends, the good old ninja turtles. Little does she realize it's their mating season!
STORY
April O' Neil is the star reporter for Channel 6 News and is close friends with the ninja turtles team. She acts as a girlfriend / mother figure for the turtles, and their relationship is platonic. But, it's mating season, and the anthropomorphic ninjas are only looking at her as a wet hole to plug.
Donatello takes the first turn. He jerks off in front of April. But then, the other turtles arrive! Before you know it, they're all taking turns fucking her until she's covered in turtle cum!
There are six "episodes" in this game. The first four episodes feature each turtle having sex with April, each with a unique twist. For example, Michelangelo believes she's not the real April, but a sex robot. He keeps pushing on her nipples thinking they're buttons to operate the robot! Finally, she gets an anal pounding from Master Splinter. The game caps off with April submitting to be their cum dumpster.
In the final episode, the turtles hold a camera while having sex with the babe. Her pussy is pumped live on television in front of millions of viewers! Her reputation is ruined, her career is literally fucked. It's a full corruption experience from start to finish.
GAMEPLAY
Mating Season is a visual novel. Player input is only necessary during key decision points in the story. Although this game can be completed in half an hour, its replay value comes from the lasting consequences your decisions. Will you use a condom or not? If you choose to use a condom, what will you do with it after you've cum?
Each decision made affects the artwork. It's possible to cover April with four condoms right before an anal pounding – or never use a condom and cum right in her pussy! And, if you're especially generous, you could always pull out and leave her with no visible signs she had sex. There are at least 60 different variations on April's appearance directly affected by the decisions you make.
GRAPHICS
Every visual asset in the game is hand-drawn by Akabur in his unique style of bold lines and vibrant colors. Each piece of artwork has tons of juicy details. And it's not just the female bits of April that hogged all the love. The turtles also look great, drawn with masculine frames and good muscular structure.
April O'Neil's sexy body is the focus of this game, and she is perhaps the most emotive cartoon character in adult gaming history. Her smiles and frowns, hesitance and excitement, annoyance and ambivalence; her face displays the full spectrum of emotions.
The only problem with this game is that there's practically only one CG in the entire game. In the image, April is lying down with her legs spread. Her clothing will tear, filled-up condoms will be tossed at her, yet she doesn't budge from her position.
VOICE ACTING AND SOUND EFFECTS (SFX)

Mating Season has no voice acting. Neither are there any grunts, or moans during sex scenes.
The game has few sound effects but the ones that are there, convey perfectly what's happening in a scene. There's sounds like a zipper being pulled, the rustling of clothes, a dripping effect when a condom is emptied on April's face. The sound effects in this game are few but superb!
MUSIC
There are two songs that play throughout the game in a predictable cycle. The first song is an ambient digital noise track. It's a mixture of electric guitar riffs and bass. It's a repetitive melody, but you're not supposed to think about that. This song only plays in dialogue-heavy parts of the game. The music cuts to silence when, for example, one of the turtles says "I'm putting it in".
The second song is the theme song of the Teenage Mutant Ninja Turtles 1987 television series. Its upbeat tempo emphasizes the action, like the turtles ejaculating all over April's face and chest. The game goes through a cycle of tempo, silence, upbeat. This gets used multiple times throughout the game in a rather repetitive fashion.
HENTAI
The game covers fetishes like creampie, bukkake, big tits, vaginal sex, and furries.
Nearly the entire game is one long sex scene filled with dialogue and quirky jokes that keep you engaged. The player has significant levels of control over the appearance of April O'Neil. If a cum-covered whore gets your juices running, you can make it happen. If you ever wanted to see a big-chested high-status female covered in dirty condoms, this game lets you live that dream.
April gets sexually destroyed by the turtles and Master Splinter. April gets her dose of dick in her vagina and asshole. The game is all about exploring the degradation fetish. As a hentai gamer that enjoys games that feature this fetish, I say with authority that the execution of the fetish in this title is incredible. At first we see April heartbroken that her friends want to take advantage of her, but that sadness quickly turns to bliss when the hard, throbbing turtle dicks start hitting her G-spot.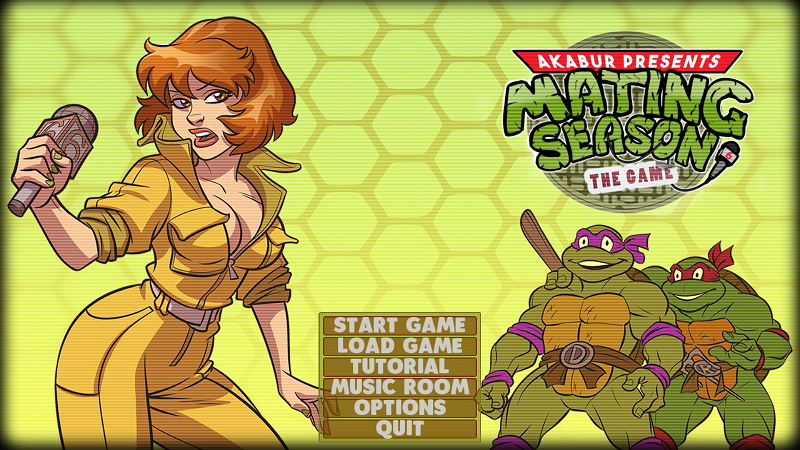 CONCLUDING WORDS
Mating Season is a gorgeous cartoon porn game available on four operating systems. For fans of the cartoon series, this game is an absolute must-play. I highly recommend this title not only for the beautiful artwork, but also for the well-written dialogue that will keep you coming back for multiple playthroughs.
If you can trust us not to fuck you with viruses, we copy-pasted the Megaupload links here from Akabur's website for your convenience. Download this game for PC Windows, Mac OS, Linux, or your Android device.