3D Porn Game Review: Corrupting Jennifer
Hentai Reviews

>

Reviews

>

3D Porn Game Review: Corrupting Jennifer
Written by Rastafoo69, edited by Otaku Apologist
Corrupting Jennifer, a 3D porn Patreon game developed by Pink Tie Games. First build released on May 31, 2017. Download the game for free (PC Windows) or download for Mac OS. No voice acting. Uncensored genitals.
Jennifer and her fiance Mark have recently moved into a new apartment in New York City. While Mark is busy with his new job, Jennifer is approached by hordes of lustful men who want sex with her!
STORY
Jennifer needs to find a job to pay the bills! Hopefully she can work and stay faithful to her fiance!
The story follows Jennifer's attempts to find a stable job. Everything is told in a linear fashion with little room for player choice. It's New York City! The corruption of your wife is doomed to happen, so just sit back and enjoy the show. First she works as a teacher, then as a model, then a waitress. Each update has added more events or and workplaces for Jennifer. The game began production in 2017 and has gradually gotten new updates.
Many characters appear multiple times during the game's runtime, creating the feeling that you're partaking in shenanigans in a living world. For example, the gay masseuse named Tim appears at a night-club and at his massage parlor.
The writing is a mixed bag. On its best moments, the story can be hilarious and engaging, but it often devolves into complete retardation. The problem is most evident in the main character Jennifer. Her personality is like the textbook definition of bipolar. She's a total no-standards slut that runs around getting dick, begging her partner for a bareback creampie, and other times she acts extremely shy, like a virgin schoolgirl. This dynamic could be sexually enticing if she was faking it as part of her flirting repertoire. But here, she comes off as an inconsistent, emotionally choatic, illogical crazy bitch. She's like the average western woman from the street – who the fuck wants to masturbate to that?
When the writing is actually good, it's good. One of my favorite scenes was after a night where she'd been drugged and groped at a gay bar. The next morning, Jennifer found a mysterious package on her doorstep. Inside the package was a dildo that came with a note. "For my favorite slut", it said on the note. Immediately, this raised up all kinds of disturbing questions. Who sent the package? Who did you fuck, and was onsensual? With Jennifer's memory virtually wiped out, there's no immediate way to know what kind of crazy sex she was having. The scenario sends your imagination running wild!
GAMEPLAY
Corrupting Jennifer is a 3D porn game with visual novel segments. The game also has RPG Maker segments where your pixel sprite travels on a map. You can speak to NPCs. Most of the game's progression is linear and predictable. Press CTRL to hide dialogue boxes. Hold SPACE to skip dialogue and speed up cutscenes. You can click the screen to move your character without using arrow keys.
The game lacks a recollection room, so you cannot revisit past sex scenes except from a save file. The experience is six hours long. Nearly all of it consists of reading dialogue. If you like reading erotic fiction, you might enjoy this.
GRAPHICS
The visuals in this game are 3D CGs created in the Daz3D engine. Using this engine, the creator has been able to mass create hundreds of images and even animated sex scenes.
The graphics in this game are gorgeous to look at only because these stock 3D models were made by skilled hands. Over time, the art becomes an eyesore. Especially in the short animated scenes, the animation loops are extremely short. You'll be watching the same loop upwards of 20 times! You cannot even change the scene until a sequence has looped a certain number of times.
There is no clear consistency to the graphics. The early assets all look like mass produced low-effort content. You have a static 3D sprite standing on a white background. The animations consist of two alternating images, which barely create the illusion of movement. Later in the game, new outfits and backgrounds enhance the visuals. Each sex act is fully animated that actually look pretty damn good. The game goes from floating penises in the air to fully fleshed out scenarios with multiple characters moving at once. The presentation comes off as amateurish.
Only the female character ever changes outfits. Many of these outfits are freely available for download on the web. Just about nothing in this game is an original creation, everything is ripped from somewhere.
VOICE ACTING AND SOUND EFFECTS (SFX)
Corrupting Jennifer has no voice acting.
Most of the game takes place indoors at the characters' home. Expect to hear the odd dial tone, ring tones, and other computer related sounds. The audio clips are few and far between.
MUSIC
Corrupting Jennifer has nearly no music whatsoever.
The only scene with music is a heavy bass beat that plays during the nightclub storyline. Once you exit the building, the music stops. The deathly silence is the worst part of this game.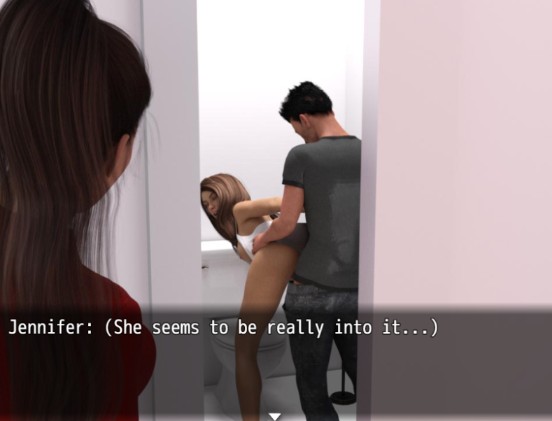 HENTAI
With more than 30 scenes to explore, this game has great variety to offer. As a corruption-themed game, the scenes follow a classic progression: First she's uncomfortable to get groped, but slowly grows into it. She learns how to give a semi-decent handjob. After gaining the experience, eventually Jennifer is completely at ease living an out-of-control self-destructive liberal lifestyle. She'll fuck any guy who asks!
The game is focused on themes of male domination and cheating wives. Jennifer is blackmailed into sex, she gets drunk and has casual sex with strangers. There are also two lesbian scenes available that contribute to the corruption storyline.
The dialog during the fucking features all the classic gibberish that only comes out of a woman when you ram into her pussy so hard, she can't think straight no more. When she's not losing her shit over the wholeness of the intercourse, she begs for dick. As mentioned earlier, these scenes are animated very well. The problem is that the text and animated sex don't appear on screen at the same time. The animation is basically a video clip without dialogue or sound.
Sex positions range from a kneeling handjob to classic doggystyle. There's even gangbang scenes and a spit-roasting scene where two guys take turns fucking Jennifer. The cuckolding themes are also strongly featured. The dialog is very sexy when they talk about the woman's cheating. For example, Jennifer never swallows her husband's loads after a blowjob, but she'll sure swallow the semen of his friends!
The sex scenes are full of wasted potential. There's a bunch of Asians and blacks that would make for good partners for this slut, but none get a full scene. Jennifer also doesn't use birth control, as we discover when she reveals this fact. She begs guys not to cum inside of her, so she can avoid getting knocked up. It's irrelevant what they do, because there's no impregnation in the game! After the guys fill her sex hole with their lumpy baby cream, she doesn't even freak out, like someone struck her in the head causing an immediate amnesia.
CONCLUDING WORDS
Corrupting Jennifer is a very average porn game, but it's free for everyone to download. Funded by a group of wankers on Patreon, you can grab this title without a guilty conscience. Despite weaknesses in the presentation, no soundtrack or voice acting, the actual sexual scenarios are totally hot.
Download 'Corrupting Jennifer' for PC Windows. You can also Download the game for Mac OS. If you want another 3D porn game with cheating wives, check out The Adventurous Couple!
Graphics

Gameplay

Story

Music

SFX

Hentai