Hentai Visual Novel Review: Cho Dengeki Stryker
Hentai Reviews

>

Featured

>

Hentai Visual Novel Review: Cho Dengeki Stryker
Written by Rastafoo69, edited by jin0uga and Otaku Apologist
Cho Dengeki Stryker, a hentai visual novel developed by OverDrive. English localization by Mangagamer. Originally released in Japan on June 24, 2011. Download on Nutaku.net for $45.00. For PC Windows. Full voice acting. Censored genitals.
You are Dengeki Stryker, the living cyborg hero who protects Japan. Battle the forces of the Balboran empire and romance beautiful women. Exciting battles and drama await you in this sci-fi adventure for the ages!
STORY
As a child, you dreamed of becoming a cyborg warrior. A magical entity named 'The Memory Collector' fulfills his wish. Now an adult, your dream has become reality. You must fight hard to defeat the Balboran empire attacking Japan! Look forward to a colourful cast of characters, both friend and foe, during your great battle against the forces of evil.
The plot could easily be adapted into a weekly anime series. Cho Dengeki Stryker is full of classic anime tropes from the jealous tsundere, to the shy girl with no confidence. Only here, the sexual shenanigans doesn't end with the fanservice!
Although you play as a cyborg, who is bullet proof and can somehow fly, the game still feels grounded in reality. In between the fighting, there are many relaxing slice of life moments. This makes the writing conflicted. One moment, you are cradling a dying character in your arms, then casually munching on a sandwich in the next scene. The story is a roller coaster of emotion.
The writing comes off as wish fulfillment. You have lots of interactions with gorgeous girls that feel too good to be true. Can you imagine two hot babes offering you their lunch while secretly harboring a crush on you? These incidents happen far too often for realism.
The game has too many characters. Many scenes drag on forever when every single character has to utter their line. Multiple characters are often simply ignored and forgotten for hours at a time. The game would've been better with a limited cast.
The add-ons to the story made it more interesting, but the art style is now inconsistent. Players will easily see how these story additions have a superior art with more detail.
There are seven endings in total, spread across six "sagas". Each saga is a story arc, split into multiple chapters.
CHARACTERS
Yamato is the protagonist. He's Japan's only hope to defeat the aggressive Balboran empire. He's a cyborg, and a masculine male. He's always stoic and focused. Many jokes fly over his head.
Haruna is the childhood friend of Yamato. She has unwavering loyalty for him, and gets jealous when he speaks to other girls. She's your first romance option, a true easy-access pussy.
Rin is the spy sent from the Balboran empire to gather intelligence on Japan. She is shy, humble, and down to earth. She was added as a romance option after the game's launch.
Hilko is the prideful brunette who works for the Balborans. With her cybernetic powers, she's a serious threat to the protagonist! Like Rin, her she was added as a romance option after the game's launch.
Sayaka is the best friend of Haruna, and a classic sarcastic tsundere. She doesn't like Yamato at first, but can be romanced after you complete the first saga. There's plenty of side characters, but these guys get the most screen time.
GAMEPLAY
Cho Dengeki Stryker is a visual novel. You click the screen to advance the story. Every so often, the game presents you with choices. Progress can be saved in multiple save slots. Spacebar hides the dialogue box. CTRL skips the dialogue.
You're likely to play over an hour without making a single choice. For most players, choices won't have visible consequences. Still, it's best to choose wisely. A wrong choice may lock you out of a sex scene at the end of a saga.
Cho Dengeki Stryker is an upgraded version of the original game. You get three additional arcs and a number of visual upgrades. It is not a sequel, but more of an enhanced edition. New additions include new sprites, new artwork, more character development, more girls to romance, and a brand new waifu named Clie.
To reach the new Sagas, you might have to fulfill certain requirements. For example, unlocking the "Light" Saga requires that you complete the "Steel" Saga twice. You need to romance both main girls in the Steel Saga to play the Light Saga.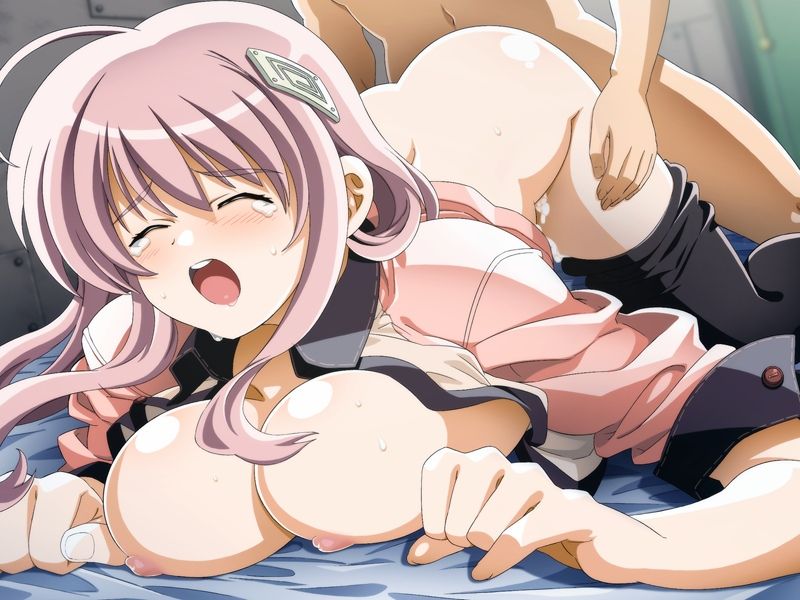 GRAPHICS
The game has Japanese anime style art from the early 2010s. The art was drawn by Katakura Shinji. The game has over 600 fully coloured images. Outside of hair and eye colour, most girls look almost the same. Characters have similar body proportions, with a few exceptions. All girls have B cup breasts. Other body types include an obese man and his friend, the midget.
One problem with the art is that it's hard to distinguish characters from each other. Their faces aren't very distinct. Even with voice acting, it's hard to tell the gender of many characters.
The game includes animated cut scenes by acclaimed animation studio Silver Link, directed by Watanabe Shinichi. The animated segments are absolutely gorgeous. After the prologue, a dramatic opening movie plays. Check it!
VOICE ACTING AND SOUND EFFECTS (SFX)
Cho Dengeki Stryker has full Japanese voice acting for all characters. From the pitch of their voice to the speed of their words, you can easily tell when things are heating up. Each character has unique voice actors that brings life to the characters.
Between Sagas, a narrator will chime in to explain certain events which occur during a time skip. He definitely brings a new flavour to the game, making everything feel more cinematic and exciting.
Sound settings allow you to adjust the voice levels, sounds, and music levels. If you find a character annoying, click their to mute them. There are very few environmental effects, and the most you can expect is a car horn in the background. Sex scenes have no audio.
The voice actors sound like they love their roles. For example, Joseph the cyborg dog, has a deep voice that conflicts with his cute – it's comedy gold. Another example of fantastic voice acting is the Balboran language. The language is completely made up, but the actors' delivery is so realistic, I truly thought he was speaking a real language!
MUSIC
The soundtrack is 43 tracks strong. You got ten unique songs with Japanese vocals, the rest are background music. Some very talented singers lent their voices to this project. The theme song is sang by Masaaki Endoh, produced by JAM Project. The music conveys a variety of emotions, with numerous instruments perfectly interwoven together.
Music in this game is split between relaxed and upbeat song, each with their own key instruments. Relaxed music uses soft piano and a digital drum beat to keep the tempo. When there's no action happening, the chill music only fills the silence.
The songs are action-packed and raise your heart rate for the exciting battles and fearsome face offs. The beautiful cry of the violin is prominent. You hear low notes when the tempo is slow, when the mood should be dreary, and high notes when the drama heats up. Everything fits perfectly in this professionally executed soundtrack.
HENTAI
The game has 7 hentai scenes in total, each with multiple CGs and variants. All sex scenes are devoted to vaginal sex. There are no anal gangbangs, or choking. The focus is on seduction and tender loving.
The sex acts are vanilla, no fetishes are explored. That said, it's incredibly satisfying to tame these wild girls until they submit to the cock in the bedroom. Hilko for example, is the prideful Balboran who tried to kill you just a few days earlier. When you finally get to do her, she's tied up in ropes moaning for the dick!
From doggystyle to cowgirl, all the standard sex positions are explored. The girls' body proportions are perfect, and the erotic dialogue is exciting. The visuals are somewhat basic, but they do the job.
None of the girls act slutty in bed. They are demanding alpha bitches outside of the bedroom, but inside, they're submissive, waiting for a man to take charge. They want to be loved, but also controlled by a man who knows what he wants.
The scenes are wholesome and realistic, but the pacing is slow. During the first sex scene, the couple talks for over 15 minutes while touching each other. Foreplay is nice, but that's a lot of dialogue!
Be warned that the sex scenes are spread out and hard to find in this game.
CONCLUDING WORDS
Cho Dengeki Stryker is a classic hentai visual novel with a focus on character-driven narratives. You have 40 hours of content to sink your teeth into. The art aged well and looks beautiful to this day. The full voice acting is of the highest quality. You have action, and romantic moments around every corner. The game might be old, but it's still damn good and worth playing for every serious eroge fan.
Download Dengeki Stryker today. If you want another game in this genre, check out our review for Brave Soul.
Story

Graphics

Gameplay

Music

SFX

Hentai