Fantasy Hentai Game Review: Legends of Elmora
Hentai Reviews

>

Reviews

>

Fantasy Hentai Game Review: Legends of Elmora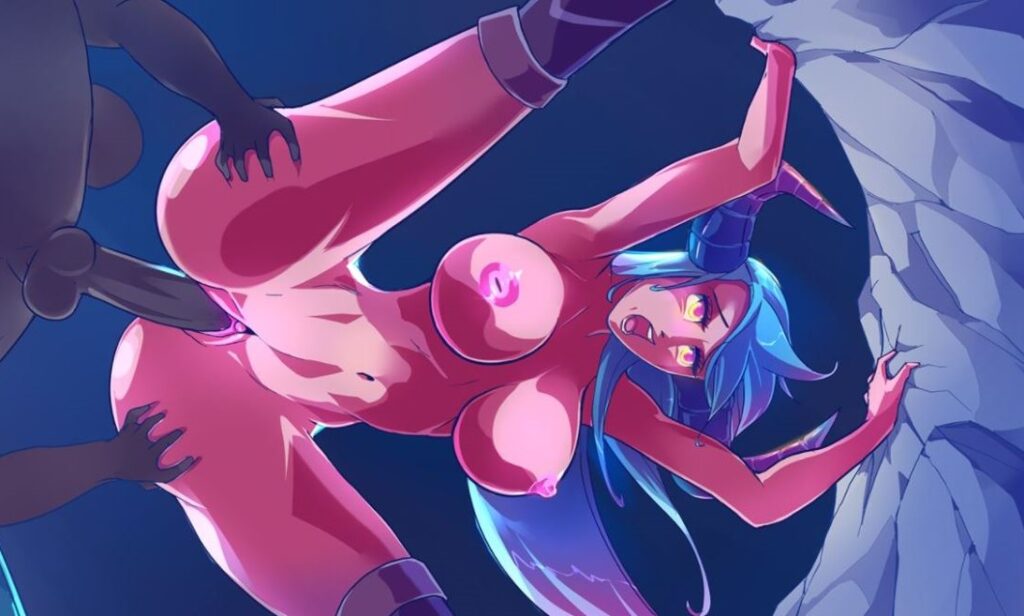 Written by jin0uga, edited by Otaku Apologist
Legends of Elmora, a hentai visual novel developed and published by The Richard Knights. Released on November 21, 2017. Download on Nutaku for $8.00. For PC Windows. Uncensored genitals. No voice acting.
Erotic fantasies are a great way to escape the hurdles of everyday life. You dream of the biggest boobs and the softest asses. Sex is easy to access, the girls are nice instead of manipulative, and every pussy is tight as hell. This game rocks many species of fantastical girls with perfect hourglass bodies, and the lowest standards for their sexual partners.
STORY
You are an adventurer on a quest to fuck the hottest babes. You made a bet with your friends, and hauled your ass on a journey through the unexplored lands of Elmora. You encounter all manner of supernatural women with one thing in common: They're all cock-thirsty whores. As you stumble through lush valleys, rocky cliffs, and the depths of the sea, you let yourself be used by all manner of delicious pussies.
Legends of Elmora is told from two perspectives: First person perspective, and an omni-present narrator. It's a little different from your typical visual novel story telling. The fourth wall gets broken frequently.
Character interactions are fun. Each character you meet has a distinct style of speech. My favorite was the blue fairy in the forest. The back and forth banter between her and your character was immensely entertaining. Similarly, the plot has its humorous moments. The narrator likes to poke fun at the main character's silliness. He only thinks with his dick.
The writing is highly descriptive, bordering on purple prose. Like in many low budget hentai visual novels, the narrator describes the action rather than showing the goods with visuals. The writer does a decent job at world building.
The length of the game is way too short. The main character hops from area to area and encounters little to no obstacles. You cruise through the game, watching your character stuff his cock into mouths and vaginas. The many characters you meet are exotic and interesting, but you barely have enough time to get to know them before you're already stuffing their holes.
My biggest problem with Legends of Elmora is that it creates a tantalizing world, but doesn't allow you to explore it. Every problem and sexual encounter is too easily resolved. The game also ends on a cliff hanger. It irks me how the game wasted its potential.
CHARACTERS
Jynxe is a half vampire, half siren. She's the first hot babe you meet during your quest. Her father was a vampire who was seduced by her pure-blood siren mother. They fucked, and he left in the morning.
Narri is a blue fairy with a green thumb. You stumble into her forest after meeting Jynxe. Her enthusiasm and chirpiness borders on annoying, but I liked her sense of humour.
Syra is a cute minotaur with huge tits. Her upbeat personality is infectious. She is as insanely beautiful as she is strong. She wields a gigantic hammer for murdering purposes, named Green Bean.
Salamandra is a decadent fire witch. She's cruel, and unafraid to use brute force to obtain what she wants. She's dressed in a skimpy bikini that shows off her sexy hourglass body.
Volaris is the insane nymph queen of a fallen kingdom. She's frightfully powerful, but has a few marbles loose in her cute little head. She's as attractive as she is dangerous. Not marriage material!
GRAPHICS
Legends of Elmora rocks a distinctly western art style. Character designs are cartoonish and sensual. Their body proportions aren't very realistic, leaning more towards fantasy. The art style may not be universally beautiful, and requires an acquired taste to say the least. Some faces on characters look very similar, but their outfits and dialogue set them apart.
Background art is realistic and extremely detailed. From a thriving woodland forest to the breath-taking expanse of the valley, the game's backgrounds set the atmosphere perfectly. The backgrounds seem to be drawn by a different artist than the characters. The difference in their drawing styles isn't glaring, thankfully.
The game has a bright colour palette. Environments have tamer colours, while characters wear more vibrant shades of the palette. Shadows are subtle in backgrounds, but heavily used on the curves of each woman's body.
SOUND EFFECTS AND VOICE ACTING (SFX)
There is no voice acting.
Sound effects are minimal. Theyre are some environmental effects that loop endlessly. During the opening prologue of the story, you hear the faint thrill of bird calls as you stand in the middle of a verdant valley. When you travel to the cliffside staring over the sea, you hear the ebb and flow of the waves against the shoreline. These sound effects don't sound particularly unique. They are very likely to be royalty-free stock clips, but they serve their purpose and blend well with different scenes.
MUSIC
The music only contains a single piano track. It's calm and otherworldly, making you feel like you're traveling through the endless expanse of space. The same track is also used in the game's opening menu. I wished it was longer.
Given the short length of the visual novel, I didn't find the lack of variety in music a big deal. The environmental sound effects were pleasant enough to keep me occupied, and the sole piano track adds a splash of drama.
GAMEPLAY
Legends of Elmora is a kinetic novel. You click the textbox to turn the page and advance the story. There are no branching choices in dialogue. The game doesn't have a save system, so you have to finish it in one sitting. The only thing you can interact with is the textbox. You can also type a name for your character.
HENTAI
Hentai scenes are short and to the point. The main character encounters a hot monster who wants dick, and he gives it to them. Every encounter plays out in similar fashion. It takes away the mystery and ignores foreplay.
The sexy art of these various babes taking your gigantic dick looks great, but the lack of sexual build-up hurts the content. If the writer added more teasing prior to the fucking, and more descriptions of how your dick was used to pleasure random pussies, the hentai would have been much more delicious. The writing isn't terrible, and has its good moments.
Character designs are mouth-watering, and there are occasional written lines that may just make your dick harden. Salamandra getting her cyclops slave to pleasure her was among my favourite scenes. My second favorite scene was with Syra in a damp cave.
CONCLUSION
The saddest thing about Legends of Elmora is that it's way too short. The fantasy setting just begs to be explored. The game has potential, but I hesitate to recommend something that's incomplete. If you have eight bucks to spare, this game is definitely worth a try.
You can download Legends of Elmora at Nutaku.net. For higher quality games we've reviewed, visit www.hentai-onahole.moe.
Graphics

Gameplay

Story

Music

SFX

Hentai