Hentai Simulation Game Review: Gal That Wants Big Money
Hentai Reviews

>

Featured

>

Hentai Simulation Game Review: Gal That Wants Big Money
Written by Rastafoo69, edited by Otaku Apologist
Gal That Wants Big Money, a hentai game developed by circle 7cm. Released October 7, 2020. Download on DLSite for $13.00. For PC Windows. No voice acting. Censored genitals.
Hina is a a blonde Japanese schoolgirl who wants to live a life of luxury! This is her story as she rises from rags to riches. She does one job at a time, servicing one client after another, using her body to empty the ballsacks of men and more men!
New to Japanese eroge? Read our guide How to download DLSite games.
STORY
Hina lives alone with her father after her mother walked out on her. She lives next door to her childhood friend. She's at that age where you decide what you want to be when you grow up. And she wants to be rich! That's all the setup you get. You're dropped into the game and told to do whatever you want! Your goal is to earn 100 million yen.
The plot points in this game only occur if you choose to pursue them. You can completely ignore your childhood friend, completely ignore the company president hiring a cute maid, ignore the event where casino owner hires bunny girls. As a simulation game, things only happen if you choose them to happen.
Doing graffiti will earn you evil points, picking up litter will earn you good points. These stats are necessary to open up various story routes. For example, you need level 8 charm to become a bunny girl.
Personally, I like to unlock everything. I wasted my money on slot machines, bought a car to unlock the rest of the map, fucked every guy in town, and did everything else the game has to offer. It's a four hour experience lasting around 200 in-game days. But you might complete it at a different pace depending on your choices.
The good is balanced with the bad here. On the negative side, some characters deserved longer routes and more scenes than they got. On the positive side, this game lets you collect figurines with characters from all the previous circle 7cm title.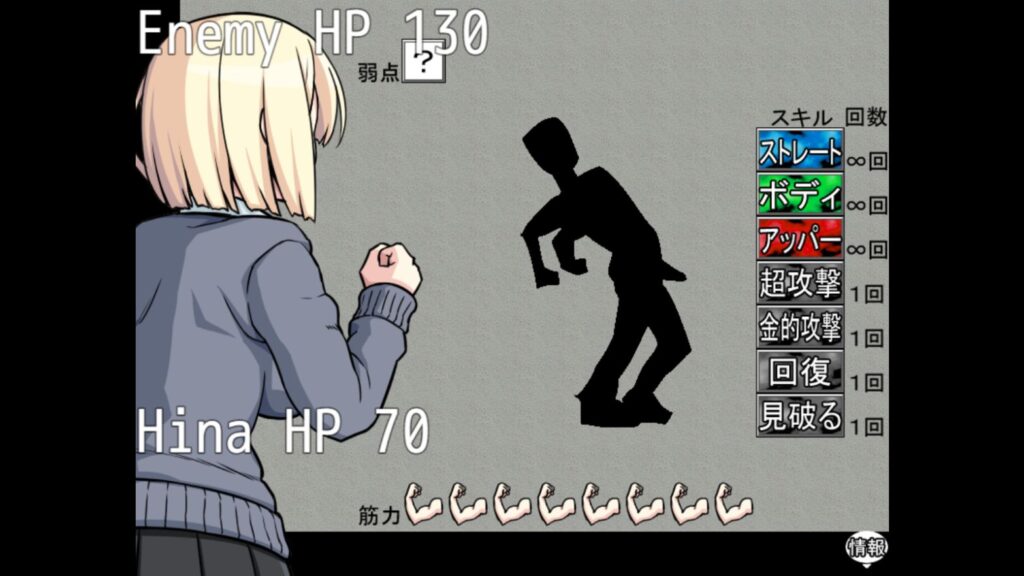 GAMEPLAY
Gal That Wants Big Money was created with RPG Maker MV. Use the mouse cursor to control your character. Hold X to skip text.
There are day and night cycles where NPCs move around the map. Click on a white bubble to talk to them. Colored bubbles represent jobs and stat training. With a mouse, you can easily transfer from region to region and click the job or character you want to interact with.
On the left-hand side of the screen you'll notice eight skills. Academics, Charm, Morality, Strength, and more! You start the game with a zero in each stat, but they'll rise as you train them around town.
On the right-hand side of the screen you'll notice eight locations. From the suburbs to the mountains and even the slums, each region has its own NPCs and opportunities to explore. The eighth location is actually a game guide and achievement tracker.
Jobs and sex scenes usually require your stats reach a certain level. Outside of jobs, you can prostitute yourself out to any male NPC in the game. You can also engage in street fights for money and experience.
Go to the dojo to spend money on new skills. Detection tells you which type of attack does the most damage to your opponent. Healing and super attack are self-explanatory. If you lose in battle, go raise your muscle and stamina level, they're basically your attack and HP stats. It might seem simple, but this system ensures constant and steady growth from a weakling to a talented fighter!
Explore the caves! Play the slot machines! Do the stripper rhythm game! Find all the lost animals on the map! There's so much content here, you'll be completely addicted! Whenever one activity is done, it usually unlocks another that's even more fun!
The downside to this game is that it's a new release that's only machine translated. There aren't any walkthroughs to help you if you get stuck. Sometimes you need to talk to special NPCs to unlock new regions. If you don't talk to people, you'll never progress.
GRAPHICS
The art is traditional Japanese anime style. Hina is the protagonist and main focus of all artworks.
This artist has drawn the artworks of all circle 7cm projects, and his experience shows! Great shading, consistent body proportions regardless of outfit, beautiful blush and eyelashes. My favorite was Hina's hair tied back, with one ear covered and one showing. It felt so real and believable, she looked beautiful. With that first person perspective, I almost fell in love!
Switching from RPG Maker VX Ace over to MV has many benefits. For example, the player can customize the screen resolution to play in windowed or fullscreen mode at whatever size they want. And when you visit the CG gallery in your apartment, it's as simple as clicking the art you want rather than navigating a big menu.
The downside of the engine switch is a lack of unique sprites or textures. Hina herself doesn't have a character sprite, and most assets in the game come from the stock RPG Maker library. Hopefully as the developer continues using the engine he will develop unique visuals.
There are tons of locations available. From the rocky caves to the suspicious red-light district, the world is a beautiful place to explore. You can't hide text boxes though, which seems like a pretty big oversight.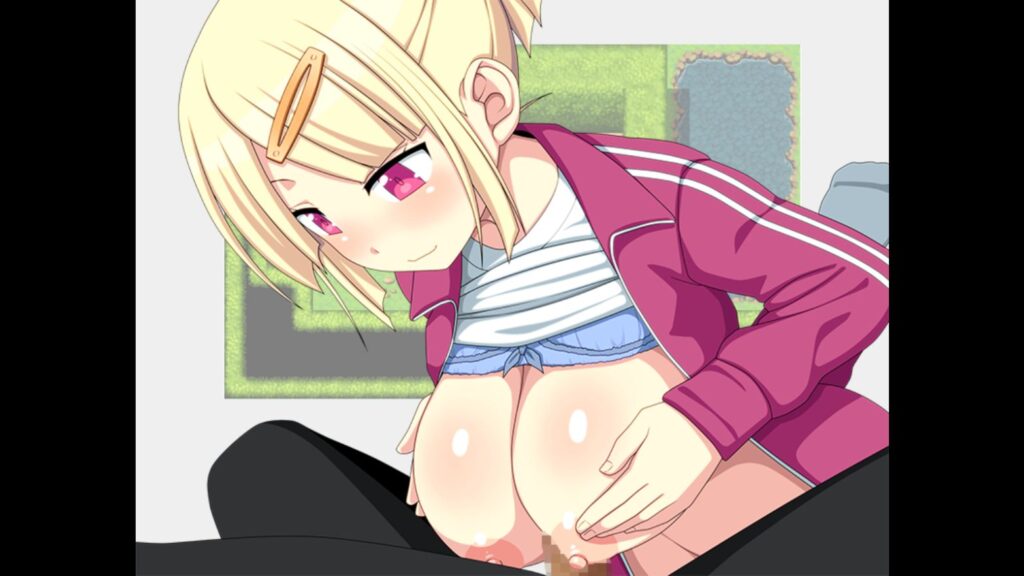 VOICE ACTING AND SOUND EFFECTS (SFX)
Gal That Wants Big Money has no voice acting.
Outside of generic moaning sound effects, all audio comes from the stock RPG Maker library. From punches to clothing removal, you hear common assets used in every other RPG Maker game.
MUSIC
The soundtrack has 38 songs, most if not all of which are stock assets. The main menu theme is a goofy piano theme similar to the three stooges. This game makes heavy use of those piano tracks to convey a whimsical tone to match the laid back story. Horns like obos and trumpets are only used during the slums since they have a more heavy tone to match the bass guitar. While all the music fits perfectly, the lack of original content holds me back from heaping praise on the developer.
HENTAI
Gal That Wants Big Money features 38 scenes and five hentai animations. The latter plays during random encounters with strangers.
Unlike previous games, this time around the artist is trying new positions and viewpoints. Gangbangs, POV titfucks, bouncing titties all over the place! There's even a footjob scene when Hina is wearing her business outfit!
This game lets you fuck anyone and everyone in town. From the moment you start the game, you can run out and start fucking your classmates for cash. On the one hand, you're a total slut. On the other hand, sex becomes less suspenseful and dramatic, because Hina fucks everybody she meets.
While the vast majority of scenes are vanilla, there's a handful of spicy encounters. Being gangbanged by a rival faction, giving a blowjob to an old man, being forced by a drunk guy, and so much more! It's too bad that taboo encounters are the minority of content.
CONCLUDING WORDS
Gal That Wants Big Money is one of the most unique hentai simulation games out there. Make 100 million yen however you can! Raise your stats, fuck your neighbors, and buy your own condo! If you love anarchic hentai games, this is the game for you.
Download Gal That Wants Big Money. If you loved this artwork and want more from the developer, then check out our review of Shinobu-kun The Only Girl at an All Boys School.

Graphics

Gameplay

Story

Music

SFX

Hentai