Written by Rastafoo69, edited by Otaku Apologist
Boobs in the City, a third-person shooter developed by Super H. Released July 25, 2019. Play for free in your browser at Erogames. For Windows PC, Mac, Linux, and Android phones. Full Japanese voice acting. Uncensored genitals.
You are the coach for a team of girls! Train them hard, make them work together as a team and win the battles up ahead! But be careful! Too much water will cause their clothes to fall apart and that would be terrible, terrible indeed!
I played this browser game without any use of premium currencies. It's being patched with additional content, so our review may be outdated in the future.
STORY
There is no overall story.
The visual novel segments are romantic scenes that have to be unlocked by raising the affection for each individual girl. At the start you only have Akane, the big tit brunette. In her mini-arc, she tries out a dance club and realizes it's not the place for her. She's more a homebody and too humble to flaunt herself in public. After you show your caring and understanding feelings towards her, she falls in love with you and confesses she likes you.
Every girl in game has their own unique mini-arc reflecting their personality and relationship with the protagonist. Since you're their coach, they feel they can rely on you and lean on you in tough times. Of course, often times their mini-arcs have little conflict and fit more into a "slice of life" formula.
The game is based around a sport where girls spray each other with water until their clothing falls off. Usually the matches are 3v3. As a sports team, the girls all stay in a dormitory together for training and practice. And as their coach, you have free access to the dormitory when you want to talk and get to know them. Build up your relationship enough, and you'll get to pump them raw!
My only complaints are that the title of the game doesn't really convey what you should expect. And locking the plot behind affection thresholds means you'll often have to choose between one girl or another. You could always go earn more gifts to give them, but that doesn't change the fact that the non-linear plotline encourages you to focus on one over the other. Not to be shallow, but I always focus on the girl with the biggest breasts in my party.
GAMEPLAY
Boobs in the City was made in the Unity game engine. With that comes easy compatibility with mobile devices, but also the classic unity flaws. For example, "An error occurred running the unity content on this page. See your browser JavaScript console for more information". This only happened once or twice, but can get really annoying when you're in a battle or a beautiful sex scene.
According to the Erogames store page, "even though less powerful phones/tablets may experience some slow passages", the game has solid mechanics. And I wholeheartedly agree with that statement. The core gameplay is fantastic, but having 6 players battle online in a 3v3 third person shooter format for mobile devices is a demanding task. Unless you have a brand new device and ultra perfect wifi speed, you should expect some lag from time to time.
Moving past the technical limitations, I have to say, the gameplay is simply phenomenal. Use WASD to move. Move the camera around with the mouse. Click to shoot directly ahead of you. Press C or V for special abilities. When you pick up bonus items, use them by pressing B. Standard play is one hand on the keyboard and the other on the mouse. On mobile devices the gameplay is streamlined, as you can simply tap the screen to use whatever abilities you need.
Hide behind cover, pick up med-packs, flank the enemy, and so much more! While the default game mode is 3v3, there are two unlockable game modes after you accrue enough wins. For example, one has you defend a statue at the center of the screen. Personally, I prefer team deathmatch since there's more tension and more players.
The standard match is two minutes long. Playing will earn you progress on "Victory Road", which will unlock new characters and items. You'll earn more progress if you win, of course. Outside of Victory Road, every match also rewards you with gold hearts, which are spent to level up your characters' various stats like attack and movement speed.
You play matches to strengthen your characters and unlock new ones. It'll probably be a hundred matches before you complete Victory Road, so it will get repetitive. The visual novel romance sequences somewhat break up the monotony. My main complaint is that the game feels overly complicated.
Rather than girls naturally leveling up, you have to go down a bunch of menus and level each stat individually. Rather than just letting the player buy gifts, you have to check in daily for free packs of items. Rather than an equipment system, you have to repeatedly tap the "fangirls" who give stat boosts to your characters. I feel like this all could have been simplified.
The action-shooter gameplay is awesome, but the timers and "gacha games" are simply absurd. A lot of your progress depends on the patron saint of mobile games, RNG. If you want to minimize RNG, the game pushes you to purchase many types of premium currencies and other junk like a battle pass.
Yes, there are 30+ girls total, each with multiple visual novel scenes and unique abilities in battle. There are hundreds of outfits to choose from. But man, the developer made this a lot more complicated and lengthy than it needed to be.
GRAPHICS
The art in this game is fucking fantastic. During visual novel sequences there are 2D standing artworks and fullscreen CG images, each with multiple poses and facial expressions paired alongside variation images to convey every moment and action from blushing to cumming. During battle, all characters in the game are fully customizable with unique 3D models and hundreds of available outfits. The clothing is not drawn on like a cheap sprites! It's a separate item that adorns the character model and can be removed from their body. Each character has unique skills for the C and V buttons that sets them apart from the rest. All movements, clothing, and actions are fully animated with fluid 3D movement. Lastly, there are 3D sex scenes. Missionary, doggystyle, undressing, and so much more!
I have to emphasize, I'm not using "3D" as a buzzword! You can actually use the mouse to rotate the camera's angle and position to view the 3D models from any perspective. Zoom in, zoom out, swap outfits, remove the UI, etc. It felt like a game from a multi-billion dollar company, yet it's a niche hentai title! If you want to zoom in on her ass and swap between panties, you can! If you want to put her on her knees and lay under her breasts, looking up at those giant melons, go ahead! Literally anything is possible.
Over 30 girls, each with countless outfits, each with multiple skills, each with multiple standing artworks for the visual novel sequences, each with multiple fullscreen CG images, each with fully customizable 3D models. Are you getting the picture yet? This game is completely free and yet, it has more cosmetics and attention to detail than most Xbox titles! Seriously, the visuals in this game are likely the best we have reviewed, ever. It makes sense of course, since this is the first 3rd-person shooter we've covered.
However, there are some problems. Sometimes the screen is randomly compressed into a tiny box. UI errors were common and they often interfered with the gameplay, like when I outright stopped moving in the middle of a round. I highly recommend playing this on mobile devices, not browser.
My other big complaint is the main menu. There are over 25 clickable objects on the main menu screen. Even after playing this game for two weeks, I still forget where each button takes me. This was a massive turn-off when I started the game. Nobody wants a main menu that's covered in clutter.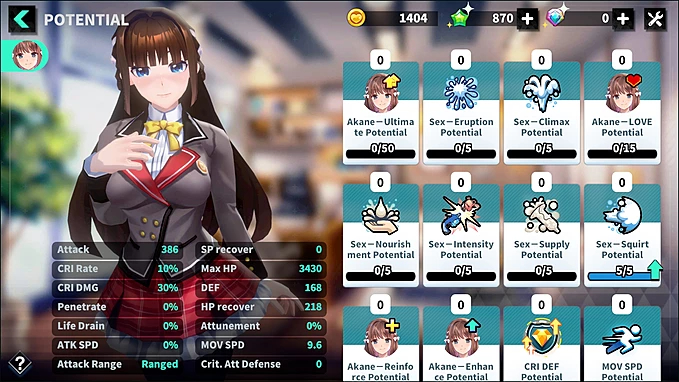 VOICE ACTING AND SOUND EFFECTS (SFX)
Boobs in the City features full Japanese voice acting for each girl. The dialogue is limited to small phrases except during visual novel sequences. However, you cannot change the volume of the music or replay lines during these sequences, which means conversations can be hard to follow. However, I do love the little details like when they say "Present? Oh, arigatou!". It's these cute moments that always make me smile.
As a third person shooter, the sound effects take center stage. Since the game is all about water guns, the audio reflects that with various splashes and impactful bumps when orbs of water hit you.
MUSIC
The opening of the game mixes harp, piano, and horns to create a bouncy, fun feeling. The soundtrack is limited, but still enjoyable. I love how the dormitory has a simple guitar track without any other instruments. It really feels like home. During the visual novel sequences, simple music from the dorm usually continues to play, except during sex scenes. As mentioned previously, the lack of an options menu during visual novel sequences means that players cannot dynamically customize the audio like in most other games.
HENTAI
Boobs in the City features over 30 girls total. Usually, each girl has 2 fullscreen CGs and a number of 3D animations in the dormitory, such as missionary and doggystyle.
The fullscreen CGs are gorgeous, drawn with a great attention to detail towards the environment. You can always tell where the light is coming from, and thus, the girls look more realistic and human. Sometimes you can glimpse a camel toe and it is super hot! Other times the emphasis is on that hip to waist ratio. And the blushing is always super cute! My only complaint is how the visuals can sometimes be inconsistent. Sometimes a girl just has a generic smile, almost like the artist was trying to draw promotional art rather than an intimate sexy moment.
The 3D models in this game are simply gorgeous! However, tits and ass usually look smaller than in standing art. The designer was clearly going for realism, which is important, but sometimes the booties be looking flat! The tits are always gorgeous, round, yet realistic. But the booty is basic! And the game is designed so you'll unlock nude scenes before special outfits. This is backwards! The player should see the girl in full clothing, then bikini, then nude! That would make the experience more erotic.
CONCLUDING WORDS
Boobs in the City is the most visually impressive adult game I have ever reviewed. The use of 2D and 3D artwork is simply awesome. The shooter gameplay is well balanced. And the visual novel mini-arcs are super cute and enjoyable. If you love mobile games and hentai, you should enojy this one thoroughly. Play Boobs in the City on Erogames.
Graphics

Gameplay

Story

Music

SFX

Hentai