Interracial 3D Porn Game: Emma Frost's BBC
Hentai Reviews

>

Reviews

>

Interracial 3D Porn Game: Emma Frost's BBC
Written by Rastafoo69, edited by OtakuApologist
Emma Frost's BBC, a 3D porn kinetic novel developed by Kappuru. Visit the developer's Patreon. Released on December 28, 2018. Available for PC Windows and Mac OS. No voice acting. Uncensored genitals.
Emma Frost, the sexy female psychic of the X-Men has been craving big black cock all day! Play through this kinetic novel and watch Emma take a thick load of cum in her little pussy from a strong black man.
Download the game for PC Windows or Mac OS.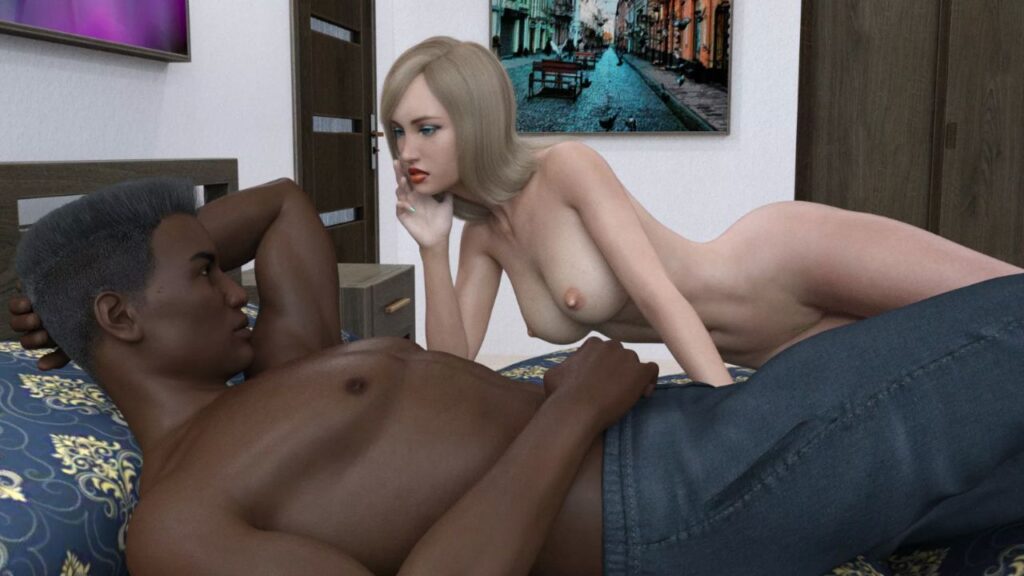 Emma Frost is enjoying her vacation from her superhero duties. She wants to get some action. She's been horny and craving for a black cock for long enough. She doesn't even care anymore, she's ready to fuck the next black guy she sees! Watch the story unfold as Emma seduces a man and takes his dick for a spin between the sheets!
This game is a side-story of Kappuru's main project, Earth's Sexiest Heroes. Once finished, it will include everyone's favorite comic book heroes from the Marvel universe, but the project hasn't progressed far enough to warrant a full review.
In the meantime, this side story explores one character from the Marvel Universe, Emma Frost, as she uses her telepathic powers to seduce a guy she wants to mate with. Now, that's both creepy, and sexy as hell!
The game was created in the Renpy Visual Novel Engine, and offers no branching choices to the player. You can shut your brain off and enjoy a sexy interracial porn scene play out right before your eyes.
In many ways, this game is simply generic interracial porn. Black man and white woman have lots of sex and the scene ends. But what sets this game apart, is the heavy use of dialogue throughout the sex scene.
A narrator gives lots of details to what is happening during the act. The characters talk to each other, and the black man thinks to himself how he has to resist cumming, to be able to extend his session with the babe!
You can try this game for free on PC Windows or Mac OS. If you like the content, check out the developer on Patreon to support his main project. Find more high-quality porn games at our webstore.