Free Use Hentai Game Review: Level Up with Sex! Meryl the Sorceress's Exam
Hentai Reviews

>

Featured

>

Free Use Hentai Game Review: Level Up with Sex! Meryl the Sorceress's Exam
Written by Rastafoo69, edited by Otaku Apologist
Level Up with Sex! Meryl the Sorceress's Exam, a hentai game developed by Kagurado. Released August 8, 2019. Download on DLSite for $13.00. For PC Windows. No voice acting. Censored genitals. English fan translation patch here.
After a magical spellbook curses her, Meryl loses her fertility in exchange for a brand new power! Every time she has a new sex partner, she levels up! Open those legs and become the greatest witch the world has ever known!
Support our perverted website and visit our hentai games webstore!
STORY
Meryl will level up in strength whenever she has sex with a complete stranger! Since this level up happens once per person, she'll have to become a free-use cum dumpster to get high marks on her wizard exam!
You travel from town to town looking for clues on five magical items. From succubus semen to a dragon's heart, you'll need to find them all. As you speak to townsfolk, you can get easy level-ups by opening your mouth and legs!
Each town has four men to seduce. It's pretty predictable, but the art and dialogue are so great, it never gets old! The game is only two hours long, so it'll be over before things get repetitive.
Without a strong overarching plot, this game is reduced to a pure masturbatory experience. That's fine with me, but players looking to connect with the characters and feel something, will have to play something else.
GAMEPLAY
Level Up with Sex was created with RPG Maker VX Ace. Move with the arrow keys and press Q to view the text log. There is no dialogue skip.
Gameplay falls into two categories. When you start a file you get to choose between quick mode and normal mode. Quick mode will max out your money and levels to keep the focus on sex scenes. Normal mode starts you at level 1, meaning you have to dungeon crawl to progress.
Scene and CG recollection are available from the main menu. The movement speed has been tweaked to perfection, making navigation smooth and simple. There is no virgin route. You absolutely must get sexed up or you'll die in battle. Thankfully, this game does not have a game over function, and defeat simply returns you to the world map.
There are no enemy encounters on the overworld map. Battles only occur in dungeons, and even then they are icon encounters which can easily be avoided.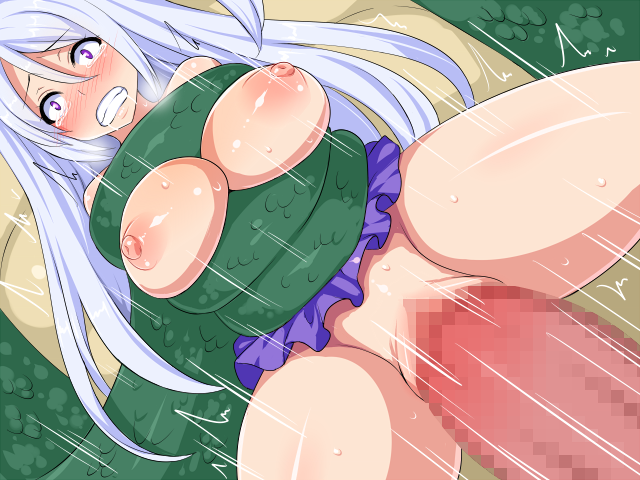 GRAPHICS
The artwork is in Japanese anime style. Variation images are frequently used to convey progress and movement in sex scenes. There are 28 sex scenes with 38 base CGs. With nearly 200 art assets in total, this two hour adventure has enough variation to make the world feel alive.
The main menu graphic features a busty woman lowering her bra to show off her bare shoulders. You have to play the game to see her bare naked tits! This is a title menu done right! It excites you without showing everything.
Meryl is a voluptuous young woman. Her hip to waist ratio is godly. Her thighs and tits are big and healthy, she also has perfect curves that keep heads turning. No man can resist her! From her violet eyes to her her round and squeezable ass, the artist made this woman one super fuckable bitch.
Outside of the artworks, the rest of the game is very average. You scour typical looking dungeons, typical villages, meeting typical NPC sprites. The in-game assets are RPG Maker stocks.
VOICE ACTING AND SOUND EFFECTS (SFX)
Level Up with Sex has no voice acting.
The sound assets are all directly copied from the RPG Maker stock library. From ice magic to opening wooden doors, it's the audio will either make you nostalgic or annoyed. The lack of original audio is a bummer.
MUSIC
The soundtrack has 32 unique tracks featuring a variety of instruments. Some rely on fully digitized beats, others rely on real instruments like the xylophone! The creativity and variety of instruments are joyful.
In the town of Surree, you hear bass guitar, drums, and flute. It's a lovably relaxed town theme. During sex scenes, piano and wind chimes create a soft and loving atmosphere. Meanwhile, the main menu music is so bouncy and upbeat, it made me excited to start the game! Best of all, each track is lengthy enough that you rarely ever hear the loop.
Considering the game is about being a slut, the relaxed piano music fits the scenes perfectly by wiping away all your stress from adventuring.
HENTAI
The game is advertised as having 28 sex scenes with 38 base CGs. In truth, multiple CGs are reused with small variations. The base CG count is much lower, especially when it comes to blowjob poses.
The scenarios feature a young inexperienced virgin giving her first blowjob to man! The innkeeper gropes Meryl while she sleeps! The sailor captain finally gets to fuck his beautiful passenger!
Meryl often has a soft and submissive persona, even though she's the one pursuing these men. I love when she focuses completely on their pleasure. The guy is shocked, excited, and super grateful for the attention. They compliment her, enjoy themselves, and it really made me excited to seek out more scenes.
All sex scenes are unlocked after you complete the game. Considering how little foreplay and setup goes into these scenes, you'll be fine just viewing them from the gallery. You can't miss out on content.
CONCLUDING WORDS
Level Up with Sex! Meryl the Sorceress's Exam is a unique hentai game. The visuals are absolutely gorgeous, featuring a perfectly thicc babe that's hungry for cock. The music was a joy to listen to, with tons of variety and instruments. Sadly, the story was bare bones. If you love hentai above all else, this is the right game for you.
Download Level Up with Sex Meryl the Sorceress's Exam. If you love slutty hentai babes hungry for random cock, then check out our review for A Game Where I Violate NPCs.
Graphics

Gameplay

Story

Music

SFX

Hentai