Written by Mistress Valentine, edited by Otaku Apologist
Bushou Musume to Kozukuri Seikatsu (eng. "Commander Babes"), a hentai kinetic novel developed by Norn. Published by Cherry Kiss Games in April 25, 2014. Download on DLSite for $15.00. For PC Windows and Android. Japanese voice acting. Censored genitals.
Jun is a school boy who finds himself in the wrong place at the right time. His childhood friend Yui breaks an ancient vase and releases two Edo period warrior generals. For reasons unknown, the male generals are actually women, with huge racks who wish to worship cock. Being the humble gentleman, Jun steps up to the plate to lose his virginity and pump these bitches full of semen.
Discover more hardcore hentai games we've reviewed at our store.
STORY
Jun gets dragged into trouble. One day while he's on clean-up duty with his childhood friend Yui, they accidentally break an antique vase. To Jun's surprise, two Edo Warriors, Kenshin and Shingen, materialize from the smoke contained within the vase. They're both surprised to find themselves in the future and Jun learns that both of them are historically female, but raised to be men.
Unsure of how to return, Kenshin and Shingen decide to remain in the present with Jun and live out their lives as women. Both of them fall instantly in love with Jun and pressure him to pump a baby in their bellies. The rest of the plot revolves around Kenshin and Shingen learning about the present and competing to see who will birth Jun's first child.
The writing for Commander Babes is a treat to reading eyes, if you're looking for dumb erotica. The plot is paper thin with full emphasis on sex and general lewdness. Scenes only exist to set up the next sex scene.
GRAPHICS
The visuals in Commander Babes are hit and miss. The backgrounds seem recycled from Norn's other games. All backgrounds are brightly lit and well detailed, but lack any distinctive characteristics. The classroom setting is a good example of a plain environment that feels copy and pasted from every other anime visual novel.

The artwork selected for H-scenes is great, and only features the sexiest angles. Characters are wonderfully animated with cute and sexy facial expressions. Kenshin and Shingen both have unique appearances and sport massive tits. I'm happy to say the titties retain their consistent texture in-between sex scenes. Kenshin and Shingen are drawn with bright and vibrant colours and soft edges. Shadows are inconsistent and mostly unnoticeable.
GAMEPLAY
Commander Babes is a kinetic novel. Clicking the textbox advances the story. Functionality features are normal to other visual novel games with a 'skip' and 'auto' button for smooth play. You can replay any chapter or H-scene from the Gallery menu. This game is kinetic with no choices to branch the story into different routes. There are more than enough save slots available.
SOUND EFFECTS AND VOICE ACTING (SFX)
Commander Babes is fully voiced. Both Kenshin and Shingen's actresses do a fantastic job, but it's Shingen's innocent personality that shines when she fucks. You can tell that both actresses are having fun moaning and squealing. Their voices greatly enhanced my experience. Despite the fact that I couldn't understand the language, I tremendously enjoyed listening to their performances.
The game also features a lot of sound effects. The sounds are varied and expertly placed. There's a good balance between normal sounds like vases breaking, magical smoke, doors locking, footsteps, running, water, and sexual sound effects like penises pumping into tight pussies, women slurping up cock juice, playing with balls and vaginas squeezing tightly around dicks.
MUSIC
Commander Babes drops the ball with its music. I recognized a lot of reused music from the Norn library. It's a shame. If you're gonna be lazy and reuse old music, at least populate your game with a lot of it. The soundtrack is not only reused, but very limited in tracks.
Song changeovers are subtle and do not distract you while playing. Music loops when the song ends but because the music is unremarkable it just fades into the background.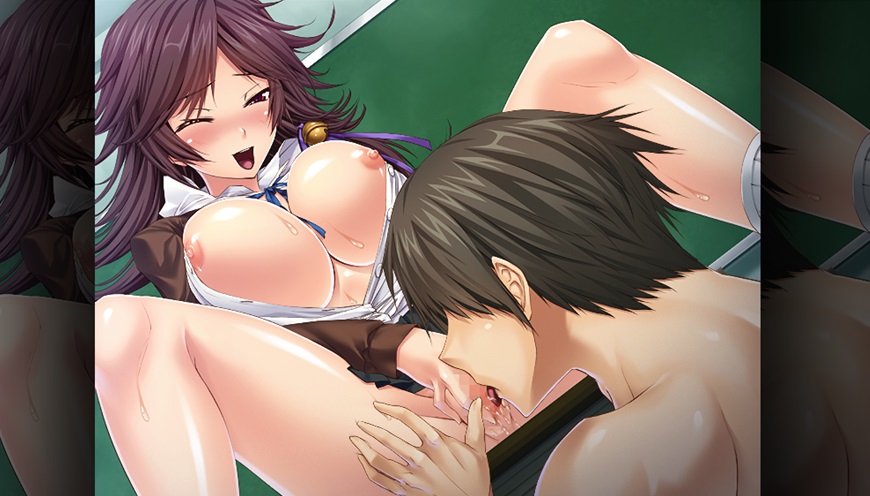 HENTAI
There are a total of seventeen sex scenes. The artwork features multiple variants.
The sex in Commander Babes is entertaining. The two main girls are often competing with each other for Jun's attention. The game plays up their friendly rivalry by emphasizing their desire to be impregnated. The content ranges from simple vanilla over-the-desk fucking to outdoor public humiliation. In one scene, Jun takes out a brush and starts painting and tickling Kenshin's breasts before penetrating her.
Arguably the funniest and sexiest scene involves a threesome with Kenshin and Shingen both getting on all fours and lifting their asses up for Jun. He fingers them both until they squirt. Then he takes turns ramming his hard cock into their pussies. As soon as he enters one girl the other starts complaining. This goes on for a while and it's hot as hell.
Another highlight scene involves Kenshin pouring honey-like liquid all over her boobs while Jun plays with her pussy. He makes her cunt soaking wet before sticking his pecker inside her. While they fuck, honey drips down on Kenshin's naked body.
CONCLUDING WORDS
Commander Babes for all its faults is a fun sex romp. Two hotties fight for the male protagonist's attention and his semen, ending in many, many, happy creampies. The voice acting and sound effects are great, and the soundtrack passable. You'll pop a boner and bust a dozen nuts throughout this delicious pornographic game.
Download Commander Babes at DLSite.com.
Graphics

Gameplay

Story

Music

SFX

Hentai