Impregnation Hentai RPG Review: Vitamin Quest
Hentai Reviews

>

Featured

>

Impregnation Hentai RPG Review: Vitamin Quest
Written by Rastafoo69, edited by Otaku Apologist
Vitamin Quest, a hentai RPG developed by Butakoma300g. Released on August 22, 2012. This game is legally free. Download Vitamin Quest. For Windows PC. No voice acting. Censored genitals.
Mikami is the last living elf in the world. Her dream is to revive her race! She commits her body to the pleasures of unprotected vaginal sex. She wants to get repeatedly pregnant and repopulate the world with elf children!
Read our guide how to download DLSite games. Also read our article on how to troubleshoot Japanese games.
STORY
Mikami the elf has one mission: To get pregnant and repopulate the world with elf children! When a child is born, she sends them to the church. Sister Shi takes care of the kids.
Sister Shi wants Mikami to go out and defeat three demons for the sake of the church. Honestly, that's the entirety of the story! Go out and kill three demons and the game is complete! What makes this game so interesting, is the intricate world-building and storytelling that shapes a simple story into an epic sex adventure!
Mikami has a side hustle as a hooker. She advertises herself in brothel magazines. These prostitution events break up the monotony of dungeon crawling while also providing wacky sexual scenarios for Mikami to engage in.
Because Mikami has a warrior's license, she is allowed to hunt monsters for cash! She donates this money to Sister Shi at the Konseko Town Church to help support her growing horde of kids.
The writing in this game is super funny. Every character has fun unique dialog that makes the world cum alive.
GAMEPLAY
Vitamin Quest was created with RPG Maker. Use arrow keys to move around. Press 'A' to review past dialogue. Press CTRL to skip dialogue. Press 'W' to hide the dialogue box. If you can't figure out the controls, there is a book in the church that catalogs all the gameplay-related information.
The game cycle is that of a dungeon crawler. Go to town to buy equipment and healing items. Venture into the wild to grind for gold and experience points. Unlock new sex scenes on your adventures. There's a simple elemental combat system: Use fire attacks against ice enemies to deal extra damage, all the usual shebang.
This game offers over six hours of content if you try to unlock all the sex scenes. If you only focus on finding and killing all the demons, you can complete it in two hours. You're likely to beat the game at around level 18.
Vitamin Quest has a skill point system for character progression, which works in tandem with the sex scenes. Every lewd encounter will net you skill points that you can distribute between eight different attributes. Whenever the player starts meeting enemies he can't handle, they can spend some time hunting monsters to level up, and get rewarded with sex scenes along the way.
The game has numerous features you don't see in most hentai RPGs. There are sexual combat abilities, pregnancy and birthing mechanics, the ability to have sex with all male NPCs, a sex stats system, an optional abortion mechanic, a fame and infamy system, a relationship level for each NPC, stat boosts depending on your sex partner, etc.
There's so much to do in this game, you can spend hours into it and never get bored. I've completed everything 100%, and I still come back to play it all the time!
GRAPHICS
The art is hand-drawn Japanese anime style. This developer is also a well known artist who has released numerous doujins on DLSite over the past decade. The art is all his, as far as I know.
The characters in Vitamin Quest are all drawn with very expressive faces that always convey the emotions they're feeling. Anger, sadness, confusion, lust, all of these emotions get a unique variation on the character sprites, so players are always clear on the tone of the conversation.
Animation is heavy during battle sequences. You can actually see Mikami as she runs over and slashes an enemy. The smooth visuals look absolutely gorgeous! And if Mikami chooses to use a sexual pose to entice enemies, her sprite strikes a sexy pose! If you let a monster fuck her during combat, the sprite sex is fully animated and even includes the creampie!
Rather than random encounters, enemies roam the dungeons, and can be avoided if you want. Sometimes you'll want to move slowly and stay out of the enemies' way, but other enemies run toward you.
Each sex scene has numerous variations on the artwork, with a minimum of five per scene. CGs are reused frequently throughout the game, but unique dialogue and foreplay ensure that things never get old!
VOICE ACTING AND SOUND EFFECTS (SFX)
Vitamin Quest has no voice acting.
The sound effects in this game are primarily standard RPG Maker stock fodder. You have your classic slash sound, magical poof, etc. The only unique sounds appear in the sex scenes. There is a sound effect for insertion and ejaculation, but the rest of the scene is always silent. This may irk some players.
The audio is a mixed bag. The orgasm sounds like a bucket of water being dumped out. Yet, all the sounds of Mikami's sexy breathing and sucking, amplify the eroticism. There's good and bad things here.
MUSIC
The soundtrack has less than ten songs, many of which are stock RPG Maker music. The music is pleasant enough, but there are no real instruments to hear. It's basically elevator music; pleasant but forgettable.
The music fits the tone of the game. It's neither too serious, or too silly. But really, I felt nothing for the beeps, boops and digital chimes attacking my ears. The soundtrack is mediocre at best.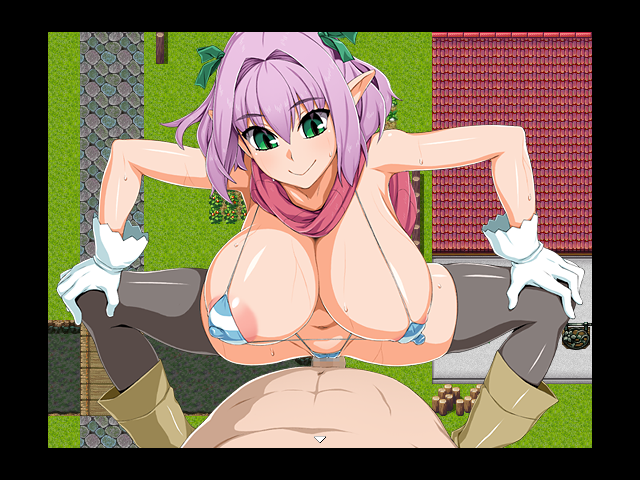 HENTAI
The game has over 100 sex scenes total, many feature repeated CGs from past scenes.
Much like the gameplay, this game has such large a variety of sexy content, it's impossible to cover it in one article. There are at least 20 sex partners, tons of variations in dialogue dependent on relationship level, unique variations to CGs, including pregnant versions.
Repeated interactions and sexual encounters unlock unique events. When one guy wants a sex tape of Mikami, the story line leads to some new sex scenes. When you have a child with a married man in town, he'll raise the child with his wife, and someday, you'll be able to have some taboo encounters!
Other fetishes include futa, gloryhole, rimjobs, public birthing, public masturbation, succubus sex, and tons of monster impregnation! When Mikami gets jumped by a monster in battle, you might get a unique animated sex scene. Erotic dialogue varies depending on the scenario, but is always incredibly hot! Like when Mikami has sex with a bum, she says "Your trash semen has filled my womb!"
My favorite scene has to be, getting knocked up by random guys on the street! They've heard of Mikami being a total whore, and they can't hold back their lust anymore! They run up to her and creampie Mikami before she's able to resist! She soon gives birth to a baby who's father she doesn't even know! Totally degenerate, totally taboo, totally hot!
CONCLUDING WORDS
Vitamin Quest is perhaps the best Japanese hentai RPG on the market today. The gameplay is complex and varied, the artwork and animations are gorgeous. The sheer quality and variety of featured fetishes is wonderful. It's fun to explore maximum perversion! The game is completely free, a total must-play for hentai fans everywhere!
Download Vitamin Quest. While waiting for your download to finish, check out Kamihime Project.


Graphics

Gameplay

Story

Music

SFX

Hentai