Hentai Tinder Sim Review: 7 Angels
Hentai Reviews

>

Reviews

>

Hentai Tinder Sim Review: 7 Angels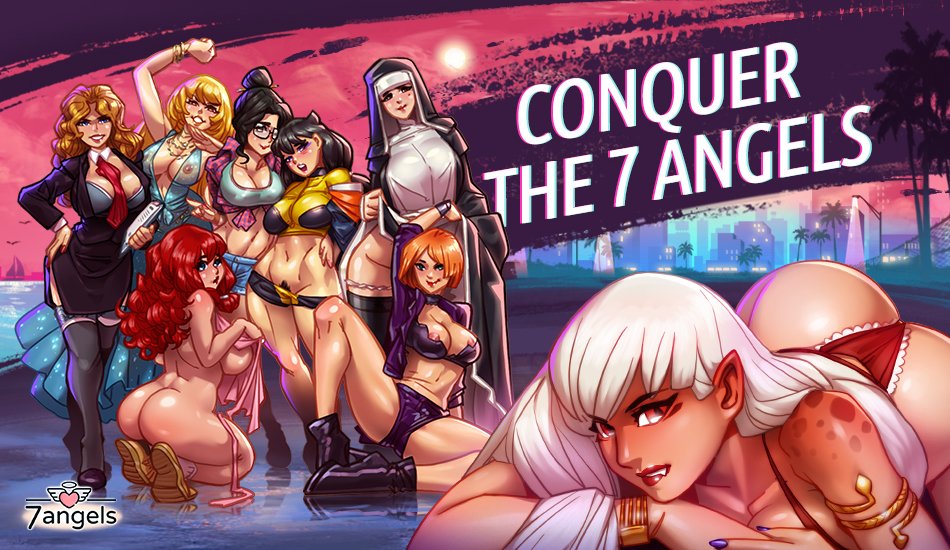 Written by Sabrina Valentine, edited by Otaku Apologist
7 Angels, a free dating sim game. Released on Nutaku's gaming portal on February 2019. Available for PC internet browsers and Android smartphones. No voice acting. Uncensored genitals.
This game is basically Hentai Tinder. You chat with flirty girls and get into all sorts of adventures. The game has over 500 sexy pictures to collect, including numerous item rewards, sexy challenges, and fun story lines for the delicious ladies.
Don't have a Nutaku account yet? Sign up free with your email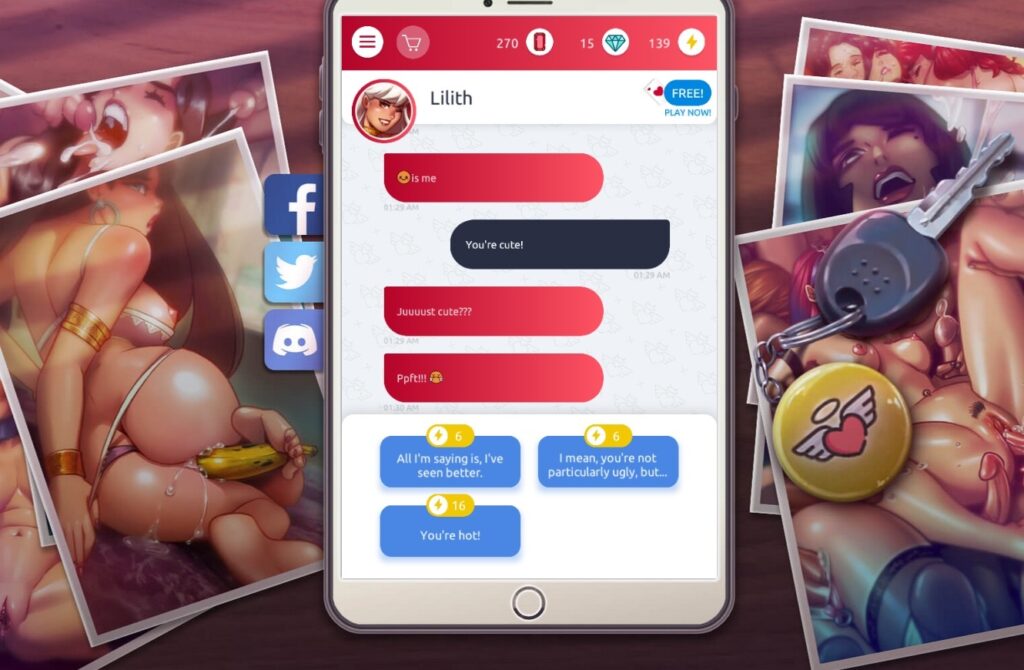 STORY
With no life and no girlfriend candidate on your radar, you reach rock bottom and try dating apps. Maybe you'll meet some sad 5/10 bitch who is just as hungry for cock as you are for pussy. You are in luck! Not only do you hit it off with several girls, but they're all super attractive and begging to drink your magical man juice.
With one hand on your phone and another on your dick, you embed yourself into these ladies' weird and wacky lives. Maybe if you choose your words right, you'll finally get to rub genitals with a lady friend – in your dreams!
The game has seven main girls to choose from. Each slut has a pervy personality to go with the DD melons on their chests. You start off with Lilith who is hungry for cock, right off the bat. Only problem is, you are on the east coast, and she's on the west coast. Enter Savannah, Lilith's shady friend. She's going to help you cross the state, but she wants a semen tip for her trouble! I don't think she's her friend at all!
The Tinder style gameplay has an organic feel. You meet new girls as the storylines get entangled. You also meet and fuck side characters. The girls' personalities are distinctive. Their designs are deliciously slutty with big tits and tight clothes.
Check out Hentai Girl Puzzle for only $1.00 on Steam!
SOUND EFFECTS AND VOICE ACTING (SFX)
7 Angels has no voice acting. The sound effects comprise of abstract sounds like sparkles, beeps, notification alerts and girls moaning erotically. When you win prizes, or unlock pictures, you hear a cute ring tone. The overall audio quality is good. There aren't any cracks or pops in sound. The notifications and other sounds are loud.
MUSIC
The game contains only one musical track that plays continuously. It is long enough so that you don't notice when it loops, but mundane enough to not be annoying. I didn't find the music disruptive to my game play, but I did grow tired of it eventually, and just hit mute. The jazzy saxophone music compliments the jovial mood.
HENTAI
Throughout the game, the girls ask you questions. You have no option of rewinding your choices, so be careful, or be blue-balled. Your answers to the girls' questions build your relationship with them. You know you're saying the right things when they send you slutty selfies. These sexy pics are plentiful and feature the girls in all kinds of kinky situations.
Like most games of this genre, the camera angles on the images don't always make sense. How exactly they are taking these selfies with no-one else holding the camera, remains a mystery.
As the content is limited to phone sex, the hentai content is sexy selfies. It's just cock tease. You hear no voice acting when the girls send their selfies. There's no animations, no interactive gameplay. You're left wanting.
GAMEPLAY
7 Angels plays out like a typical visual novel but in phone dating format. You are presented with choices every few minutes. Your decision determines how long it takes to get rewarded with a sexy selfie. Unlike visual novels, each choice costs points to make. If you run out of points to make a particular decision, you have to wait for them to regenerate.
Points regenerate at the rate of one per minute. Some decisions can cost up to 48 points. You can increase your point count by completing challenges and winning rewards. You can also purchase points from the in-game store.
You frequently hit cooldown periods where certain obstacles require you to wait up to 39 minutes before you can continue. These cooldown periods are part of the business model – you can pay to skip them.
You get a "game over" if you piss off any member of your harem badly enough. You can start the game from scratch, or continue from a previous check point, but you forfeit any points you used prior to the game over.
Obstacles trigger mini games. They are your typical match-3 puzzle games. You have a limited number of moves to win, or fail. Mini games become more challenging later on.
Collectables include over 500 character cards. These cards are earned by completing challenges, winning awards, and making the right decisions. Certain sex scenes can only be unlocked by having the right amount of items in your inventory. Items are earned by completing challenges, which are scarcely available.
BUSINESS MODEL
7 Angels is free to play. The things you'll want are cheap to acquire. Points for making choices regenerate eventually, but you'll need to continuously buy storage space for your photo album.
By completing achievements and playing the daily jackpot wheel of fortune you can increase you crystal and gem count which is used as the main currency in the game. You can also buy more energy units to cut out the point regeneration time.
Each upgrade to your facilities will make the game much smoother to play. You gain the in-game premium currency very slowly. You won't run into a slow grind during your first few days of play, but you will eventually.
CONCLUDING WORDS
7 Angels is a fun and immersive dating sim filled to the brim with lewdness. It has wacky storylines, cool plot twists, and tons of ladies. The hentai content could use improvement, and the point regeneration rate could be faster, but barring these annoyances, the game is lots of fun. Highly recommend dating sim for hentai fappers around the world.
Discover 7 Angels on Nutaku's browser games section. Start playing hentai browser games.
Graphics

Gameplay

Story

Music

SFX

Hentai