Written by MissValentine, edited by Otaku Apologist
Koimaguwai, a hentai anime produced by Pashmina and Studio 1st, released on December 12, 2014. Runtime 23 minutes. Uncensored genitals. English subtitles and dub available.
Koimaguwai the story of a beautiful female ayakashi named Ginko and her exploits as a prostitute in feudal Japan's red light district. If you enjoy your anime porn having a realistic historical setting, you'll love this title.
You can support our review work by shopping at hentai-onahole.moe.
STORY
Ginko is a fox ayakashi who works in the red light district of Yoshibara. He has sex with ugly bastards for money. One day she meets Yuujiro, a traveling peddler who arrives at the brothel Ginko works. Her pussy recognizes Yuujiro instantly. When Ginko was a young ayakayshi she was injured in her fox form and Yuujiro took her in, raising her and caring for her wounds. She fell in love with him but knew she couldn't be with him romantically because ayakashi prey upon humans when their instincts are unleashed. She ran away.
Overcome with primal desire, Ginko jumps Yuujiro's dick. She sucks his balls clean before getting him hard again with her enormous tits. She impales herself on his thick man meat, and enjoys it.
What follows is one long love-making scene with Yuujiro and Ginko taking turns acting out their deepest, dirtiest desires. The writing for is surprisingly good. The sex scenes explore the characters' inner conflict.
The history of the humans and ayakashi is not explored in nearly enough detail to make the viewer sympathize with Ginko. Why exactly she can't be with Yuujiro under any arrangements is not explained.
Koimaguwai ends on a bittersweet note. It fits the genre and style of the story about unrequited love. It is warm and fluffy in some places and soul-crushingly depressing in others.
ANIMATION
The animation quality is excellent. Characters are beautifully drawn and paired up with equally detailed backdrops. The hentai adds a murky colour filter that fits the feudal Japan setting. Colours which would normally be very vibrant and upbeat feel toned down and reserved. The anime feels more authentic and immerses viewers into the story.
The hentai makes excellent use of lighting. The episode predominantly takes place at night. There are several scenes where moonlight is the only light source. The characters are well animated in the night time with swallow lines and tilted colours. Lines are thin and facial expressions varied. The camera work is great. The anime chooses only the best angles to portray the characters in the sexiest light.
Character proportions are exaggerated in some scenes. Ginko's visual design is gorgeous with silver-grey fox ears and tail that increase her overall sexiness. She has a teasing personality.
VOICE ACTING AND SOUND EFFECTS (SFX)
I watched the English dub version of the anime. The English voice acting was rather excellent. The actress portraying Ginko conveys her lonely soul expertly. She makes the viewer sympathize with her ordeal and makes you root for a happy ending. In the sack, she is wild with beautifully slutty moans. Her voice is pure cock tease. The dialogue is good, which the voice acting only enhances.
Yuujiro's voice actor is good enough. He doesn't speak a lot which is par for the course for hentai. Yuujiro comes across as a genuine nice guy. He's a bit of a generic anime protagonist, but it's not the worst.
This events take place indoors in one single location. In some scenes you can hear stock anime night time sounds, floorboards creaking, wooden shoes, and duvet bed covers rattling. There are plenty of hentai sound effects like Yuujiro's penis pumping Ginko's pussy, and Ginko's mouth slurping Yuujiro's cock. There are a lot of thrusting noises.
MUSIC
The musical score in Koimaguwai is decent. Track changes will easily go unnoticed by the viewers. The music doesn't change speed or build towards the eventual climax. There is very limited variety in songs.
The music employs real instruments. The score successfully mimics the style and ambience of feudal Japan. Most tracks feature traditional Japanese string instruments playing in a slow, soothing rhythm. This creates an intimate atmosphere that perfectly encapsulates the love-making happening on-screen.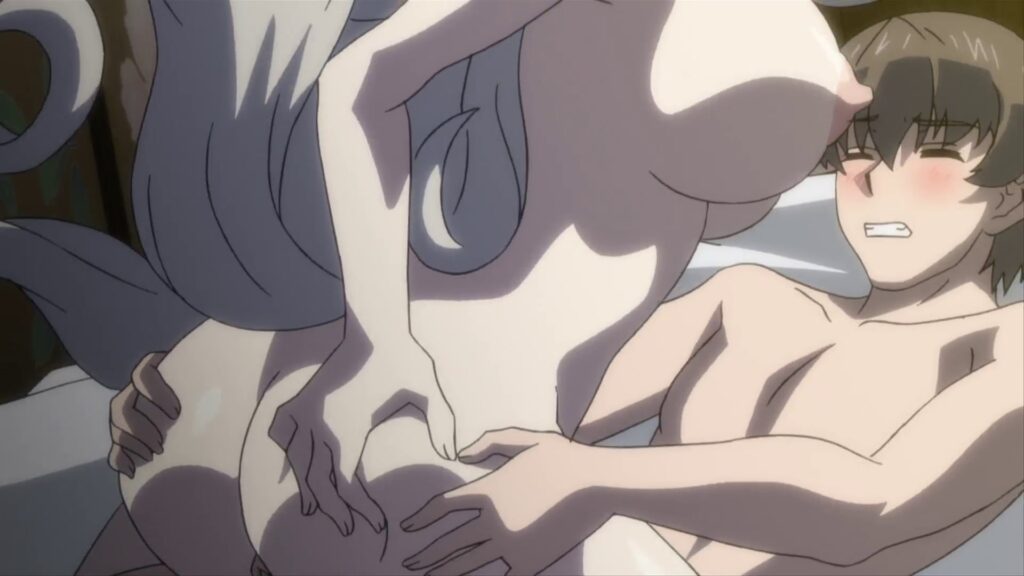 HENTAI
Koimaguwai has excellent sexual content. Yuujiro and Ginko have sex in almost every position you can think of. Ginko takes pleasure in wrapping her enormous titties around Yuujiro's dick and milking cum right out of him. She demonstrates her decades of sexual experience by talking dirty to him while smashing her milk melons on his dick, the tip of which she licks. She begs Yuujiro to empty his balls inside her. Yuujiro doesn't back down and releases all the years of pent up desire inside Ginko in several climatic money shots.
Like every hentai protagonist, his cock is the stuff of legends. He gets hard again only seconds after blasting his load. The passion feels real, the characters make love out of a deep desire to pleasure each other.
There have been many hentai anime that spent 2 minutes on the setup for a 20 minute sex scene. Koimaguwai is not one of them. There is not enough time to tell a proper story if you want good sex scenes. This anime strikes a balance by exploring the emotional dynamic between the characters while they fuck.
CONCLUDING WORDS
Koimaguwai is a solid little anime that does several things a little differently. The writer succeeds are making you think about Ginko and Yuujiro as more than two fuckdolls smashing genitals together. The characters are fun and interesting.
You can watch this anime at several shady streaming sites. I recommend watching at Muchohentai.com.
Story

Animation

SFX

Music

Hentai