Written by Otaku Apologist
Liru – Wolf Girl With You, a hentai anime game developed by Seismic. Released on June 10, 2016. Download on DLSite for $18.00. For PC Windows. Full Japanese voice acting. Censored genitals.
Support our website at our perverted sextoy and games store!
STORY
Your waifu is Liru the wolf girl. She's never bitchy, and always ready to take dick on any hour of your days. She cooks food with only an apron on, never has a raging tantrum during her period. When you annoy her with sexual harassment, she abstains from destroying your life with a divorce suit. Liru is absolutely marriage material, a true role model for modern women.
The game has barely any story. It starts out with you coming home. Liru greets you at the door, which is your first chance to grope her titties. Throughout the game, Liru talks smack while taking dick – that's all the storytelling you get.
GRAPHICS
This anime game is fully animated in 3D. It's an exquisite work of art with incredibly well done jiggle physics for boobs and ass. The visual design for Liru is the definition of perfection: Her body is a pristine perfect hourglass shape, beautifully tanned, her breasts are big and perky with perpetually erect nipples. The animations are fluid and flawless and accentuate her supreme cuteness.
Liru wears a short list of sexy clothes throughout the game, including a naked apron and an erotic Christmas outfit, which even the characters comment is literally made for sex. Liru's default outfit barely covers her breasts and leaves tons of skin into view.
The backgrounds are well done 3D assets, which never stand out in a bad way. The coloring and shadow placement are so good, it's easy to immerse yourself in the fantasy.
GAMEPLAY
This game is technically a visual novel, but it's also an anime movie. You click the screen to choose what happens next. These choices have minor impact on the events that follow. You choose which sex scene you will see, though sometimes your choices can get you a punch in the face too! During sex scenes, there's little writing and you just watch an animation loop until you click forward.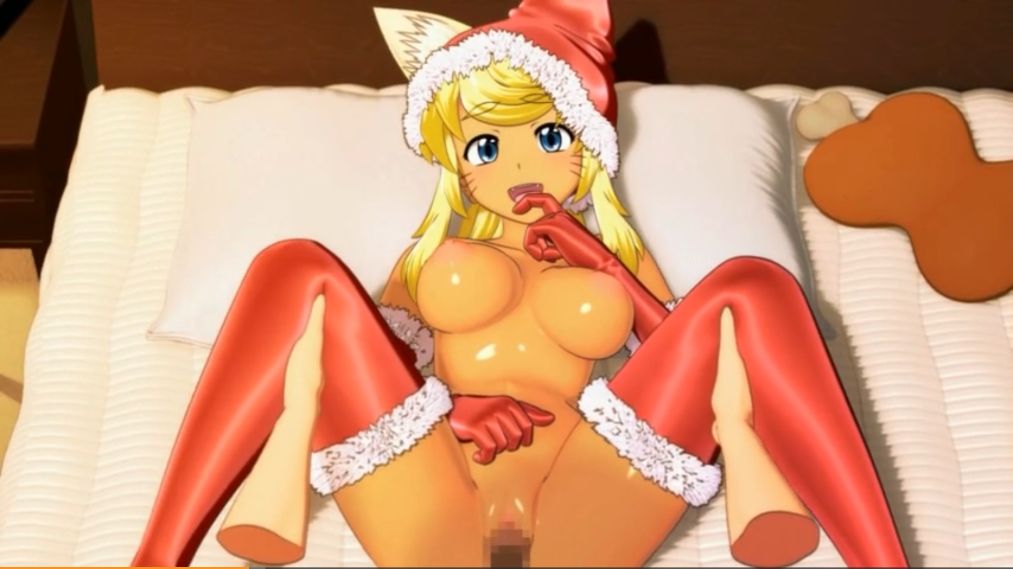 MUSIC
The music is relaxing and puts you in a serene mood, which makes the sexual shenanigans feel that much nicer. The songs themselves are fairly plain and forgettable, but they serve their purpose well. You hear mostly classical piano, a bit of cello, and some flute. Piano takes the cake most of the time, successfully making the sex feel intimate and loving.
VOICE ACTING AND SOUND EFFECTS (SFX)
Liru's voice actress does a saucy job at giving life to every line from Linu's little potty mouth. She sounds young, feminine, deliciously childish. Her faux innocence makes her lewd personality that much more erotic. She absolutely loves sucking cock and getting creampied in her shaved pussy – the actress conveys every part of her sexy personality with style.
The sound effects are solid recordings that enhance the erotic atmosphere. The sounds for vaginal sex and cumshots are blissfully sexy, even if dramatized. There are mundane sound effects as well for everyday activities, which makes the experience even more wholesome and immersive. As limited as the game world is, it feels alive.
HENTAI
The hentai content is abundant this game. In the very first scene, you pull down Liru's top to expose her breasts and grope her. Naturally, you get punched in the face for this, but she'll happily put out a moment later. The game has only a handful of scenes, but each is worth a watch and a fap.
I enjoyed the bathing scene and the bedroom scenes the most. It's the little details that elevate the eroticism beyond the average porn video. In the bedroom scene for example, Liru removes her panties and takes a position on the bed, waiting for you to instruct her which sex position to take. These short but important moments are romantic, and solidify the impression that the sex is consensual. Liru acts and talks like a submissive fantasy girlfriend who is eager to please his man. She smiles happily while being penetrated.
The camera work is also incredible. While the camera is most often static, there are panning shots that give the viewer a good look of Liru's body before the action. And during transitions, such as Liru hopping on a dick and guiding it inside of her pussy, you see every second of her movements uninterrupted. The camera work makes sure you never break out of the moment emotionally.
The cumshots are intense and plentiful. After the man has cum, Liru always proudly displays her creamy face, or tits, or pussy, whichever part of her body was creamed. Aside from the cumshots, some of the best are the moments of penetration. It's a beautiful moment to watch a girl guide a dick inside of her right before you connect.
CONCLUDING WORDS
Liru – Worlf Girl With You is a short and sweet animated experience with one of the hottest hentai girls in recent history. The animation is gorgeous, even if the loops are short. Everything from the voice acting to the audio to the jiggle physics are expertly done. While the game has little replay value, its so high quality, you may just come back to it time after time.
I highly recommend this game to all hentai gamers. Download Liru – Wolf Girl With You.
Graphics

Gameplay

Story

Music

SFX

Hentai