Netorare Hentai Game Review: NTRPG 2
Hentai Reviews

>

Reviews

>

Netorare Hentai Game Review: NTRPG 2
Written by Rastafoo69, edited by Otaku Apologist
NTRPG 2, a netorare hentai game developed by circle HANATAKA. Released on August 11, 2014. Download on Dlsite for $10.00. For PC Windows. Partial voice acting. Free demo available.
You are the top dog in your village! Woodsman, swordsman, handsome hunk! But that all changes when Ragnas comes to town! He's a revered soldier of the Imperial Army, and he gets all the ladies, even yours.
New to Japanese eroge? Read our guide How to download DLSite games.
STORY
The story is told in two parts. First, you play a long prologue. You're the top guy in the village, friends with everyone, the girl next door loves you, life is perfect. Every line of dialogue is filled with comedy and character building.
You've recently discovered four strange orbs all around the village. You place them on the grave of the "Ancient One". This act awakens a dragon, and your entire life is turned upside down.
While this may seem like a typical NTR game on the surface, there is so much more to be found. The fanbase all agrees on one thing. This game is a masterpiece, and you'll hate every minute of it.
You're powerless to stop your family members from suffering terrible fates. You're powerless to stop the dragon. And you're powerless to make any change in your life. In some endings, your character gets outright murdered. This game is so depressing, even the developer was affected, and quit production on NTRPG 3.
The game gets surreal towards the end. Players have to decide for themselves what they believe to be true. The plot is never satisfying, and will leave your feelings unresolved.
I hate the story. It left me feeling unsatisfied and depressed. It was a beautiful experience.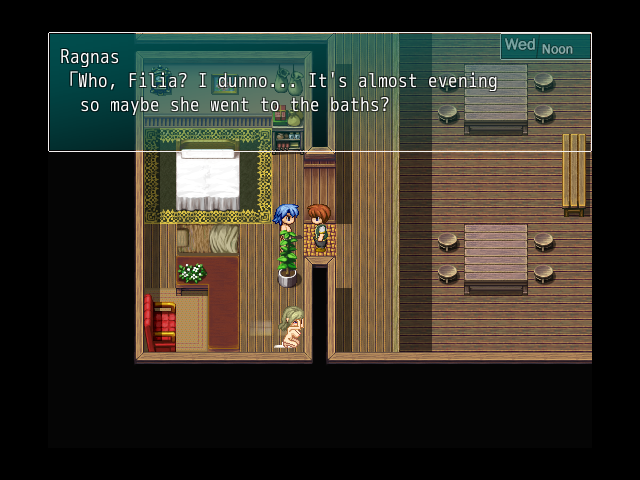 GAMEPLAY
NTRPG 2 was created with RPG Maker. Use the arrow keys to move. There is no button for running.
Time passes linearly. Days turn to nights, you experience the normal weekly cycle from Monday to Sunday. Different events will be available at different times. There are no battles or level ups. Simply read the bulletin board in your house to find out locations for new sexy events.
The bulk of gameplay happens in the first chapter, the prologue. After that, everything is very linear. Make the most out of the prologue and get at least 6 mushrooms and 1000 gold! You'll need it later on!
The first chapter lacks direction and may require a walkthrough. You're told to go to areas like the graveyard, but get no indication that it's north-west of your house. After the first chapter, everything is easy to find.

GRAPHICS
The art comprises of pixel animations. There are no CGs of any kind. Every single scene has numerous unique pixel animations that are well crafted and very erotic to look at!
The previous installation to the series had standard small sprites, but this game has enlarged sprites with legs and arms in view. You see more sex positions and more movement during sex scenes. It's a fantastic improvement.
Arrows indicate important areas in your path. Follow them to key locations in the game.
The village is big. There are many hard-to-find areas that you'll have to explore yourself. Multiple locations in the village go completely unused. The spinoff title, Marie Xmas, reuses this map and sends you to the unused places.
VOICE ACTING AND SOUND EFFECTS (SFX)
NTRPG 2 has partial voice acting in the form of squeals and moaning that happens during sex scenes. These voiced tracks match the dialogue perfectly and truly immerse the player in the world.
Sound effects during the sex scenes are very realistic and match every action on screen. The bed creaks when a man is thrusting his dick into your girl. The vibrator buzzes steadily as it penetrates a whore's pussy. Every sound effect has its place and is used perfectly.
Even the slobbering suckling mouth of a whore choking on dick has a vivid and realistic sound. Just thinking about it makes me want to rewatch the scene and enjoy a good blowjob animation.
MUSIC
There are 46 audio tracks in total. There are both, stock RPG Maker assets and original creations. Most tracks are basic digitally synthesized bullshit with, but some do make use of real instruments.
During the happy prologue of the game, you can listen to very relaxing piano keys pressed softly in the background. During the netorare scenes, you hear very depressing music that makes use of digitized beats that feel inhuman.
HENTAI
NTRPG 2 has around 40 sex scenes, each with numerous unique pixel animations. There are no CGs, but every sex scene is fully animated with erotic dialogue that makes them exciting to view.
The main fetish in this game is netorare, also known as cuckoldry. Your next door neighbor is a girl named Filia, and she's a total sweet-heart. She's deeply in love with you. The only problem is, she is getting her carnal needs satisfied by another man with a big fucking dick.
Even when she's cheating on you, she'll still try to spend time with you and get along. She truly does love you, but she can't help her sexual desires for a stronger, more masculine man.
This game also forces you to watch as your sister and beloved Filia are both deflowered and creampied by other men. This isn't portrayed as a fetish situation. The situations are actually pretty fucking dark.
Violation is the other prominently featured fetish in this game. The girls' purity, their minds, their hearts, are violated right before your eyes. Masochists are sure to love this game, but fair warning, this is not happy cuckolding. Depression is the main theme of the story.
I do not recommend downloading a full save for the recollection room. The scenes are only erotic when you play through the game and witness the build up, and they're only erotic once. This game lacks replay value.
CONCLUDING WORDS
NTRPG 2 is a short and sweet hentai game about watching the love of your life submit to another man's cock. The story is incredibly well written, the music is fitting, and the animations are well made. If you can endure the emotional torture, physical bliss will be your great reward.
I recommend this game to fans of the netorare fetish. Download NTRPG 2. If you like this one, also check out Marie Xmas!
Graphics

Gameplay

Story

Music

SFX

Hentai