Written by Rastafoo69, edited by Otaku Apologist
Revenge of Swordsman Milia, a hentai RPG developed by circle Wireless Emblem. Released May 26, 2014. Download on DLsite.com for $10.00. For PC Windows. No voice acting. Censored genitals.
After her sister is murdered by bandits, Milia makes it her life goal to track down her killers and avenge her death. Will she succeed in her quest? Or will she become a sex slave to the bandits just like her sister?
New to Japanese eroge? Read our guide How to download DLSite games.
STORY
Milia and her sister were orphaned when their parents died of a mysterious illness. Then, bandits came and kidnapped Milia's sister. She grows into a bitter dysfunctional adult, and now fights to avenge her sister's death.
The story is very simple. Milia joins the adventuer's union and begins growing her strength and reputation. Once she is strong enough, she will learn about the location of the kidnapper, and finally confront him to avenge her sister.
The writer makes a strong effort to break away from standard hentai tropes. When offered a drinking contest, you can dilute the alcohol and stay sober. On another occasion, you can outright refuse to drink. This makes Milia seem like a more believable character who is smart enough to know that men may try to rape her.
A virgin playthrough is mandatory in this game. All hentai scenes lead to an immediate game over. The dialogue outright tells you "Milia never saw the light of day again" as she's sold into sexual slavery.
There is even a scene where you're dragged through town naked, battered, bruised, and humiliated. Everyone you've ever known can see your shame. You have failed in your quest. First the bandit lord killed your sister, and now you're dead too. Sad!
The NPCs in this game are hilarious. Even if the overall story is forgettable, the characters are not. Like the little girl who caught her mother "wrestling" with the neighbor in bed. These random interactions made me excited to talk to the characters in town.
Overall, the story is simple and easy to follow. It is forgettable overall, but fun while it lasts. The main issue is that the game ends abruptly after an hour and a half. It seemed like the writer wanted to do more with the characters, but had to keep things short.
GAMEPLAY
Use arrow keys for movement. Press 'Z' to talk to NPCs and activate items. The 'X' button cancels dialog and menu choices. Press CTRL during dialogue to skip text. Press 'Q' to hide text boxes during dialogue.
The game cycle is simple. Defeat enemies, earn money, then return to town to purchase items and equipment. Sleeping at the inn will restore your health. Story progression is marked by many changes. These include new NPC dialogue and an increase in your reputation. At a high enough reputation, kidnappers will be sent after you.
The game is two hours long at best. It seems like the developer planned for so much more. The game has boat travel, empty buildings, and tons of equipment that never gets used. I would have preferred a more finished product.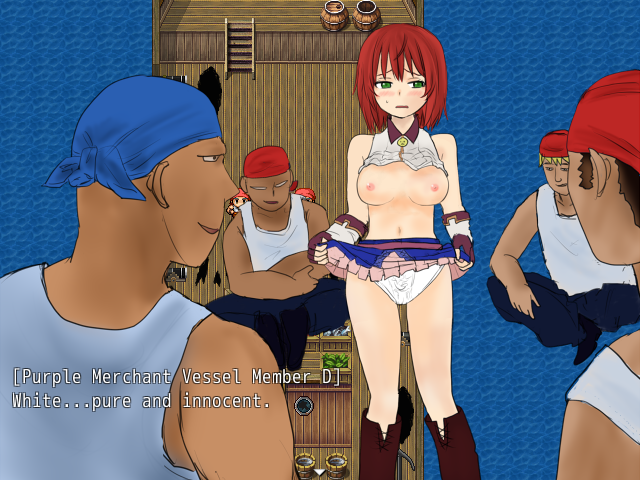 GRAPHICS
The art is an anime style with a cartoonish amatuer bent. There are 20 base CGs and 50 variation images. Milia is a disciplined and determined swordsman who's never felt the touch of a man before. Her character design is fantastic, especially because of the yellow button on her torso. It has a happy face when things are good, and a frown when things are going badly.
Dialogue boxes are always shown above character heads. This makes conversation flow more smoothly, because you always have an idea of who is speaking. It may be minor, but it shows a lot of effort on the side of the developer.
The CG's are hilariously inconsistent. While Milia is always drawn fine, the faces of her sex partners are gross to look at. It's almost funny how badly some NPCs are drawn. Still, each art piece is erotic and exciting to view, and that's what matters.
The world design is fantastic. The primary town has three sections: The slums, the business district, and the grand market. I absolutely love games with "slum" areas, because it automatically inspires a dirty atmosphere just being there.
The world map is a decent size, with an unlockable boat that allows you to travel the open sea.
VOICE ACTING AND SOUND EFFECTS (SFX)
Revenge of Swordsman Milia has no voice acting.
Sound effects are primarily standard RPG Maker assets. The original sounds are terrible. The audio clip for vaginal sex sounds like a dish sponge being squeezed. I'm glad to have unique sound effects, but they are so strange!
MUSIC
There are 26 musical tracks in the game. Almost all of them are completely unique or licensed music. These tracks are masterfully crafted and gave my ears multiple orgasms.
Some soft piano will mix with guitar strums for relaxing village music. When you visit the bar, maracas mix with a steady guitar chord that keeps the beat, topped with piano for the primary melody. And these tracks are long, many times upwards of four minutes long! I saved a couple of tracks for my personal music player.
HENTAI
There are 20 base CGs spread across 15 erotic scenes. That means that multiple scenes change positions and perspective to provide a truly dynamic experience. There are also 50 variation images, which are just icing on the cake!
All hentai scenes come from defeat in battle or being tricked by lustful men. Completing the game will not unlock these scenes. If you want to see them all, save game before losing in battle. You'll get a game over and return to the main menu.
All scenes in this game are focused on non-consensual intercourse and losing your virginity. The game can be very dark, so be warned! You can literally watch a full scene where you're stripped naked and sold at a slavery auction.
There is no point where Milia begins begging for cock. She is in pain all throughout, and only begs the men for mercy. She has no choice but to be submissive, and pray that they'll cum soon and leave her alone.
CONCLUDING WORDS
Revenge of Swordsman Milia is a simple and fun hentai RPG. The characters are likable, the sex scenes are exciting, and the world has tons of areas and events to explore. The music is awesome, while the sound effects can be terrible sometimes. For a game made all the way back in 2014, this title is a hidden gem!
I recommend this game to hentai fappers across the world. Download Swordsman Milia.
Graphics

Gameplay

Story

Music

SFX

Hentai