Hentai RPG Review: Magical Fighting Princess Lilstea
Hentai Reviews

>

Featured

>

Hentai RPG Review: Magical Fighting Princess Lilstea
Written by Rastafoo69, edited by Otaku Apologist
Magical Fighting Princess Lilstea, a hentai RPG developed by ShiBoo. Released October 3, 2020. Download on DLSite for $14.00. For Windows PC. Partial voice acting. Censored genitals. Download the English fan translation patch.
The evil Hamelder army is kidnapping women! The only one who can stop them is the Magical Princess Frostia! But when she's defeated and kidnapped, it's up to you to finish the job! You are Magical Princess Lilstea!
New to Japanese eroge? Read our guide How to download DLSite games. Also read how to apply translation patches.
STORY
The entire game takes place over five in-game days. The first day, you learn about the magical princess power. The second, you begin your fight against Hamelder forces. The third, you work with your friend Kyoko to find and destroy a Hamelder base. The fourth, you enter the sewers to defeat a Hamelder lieutenant. And on the final day, you storm the Hamelder stronghold and defeat their leader!
As you can see, the writing in this game is very basic. Even the concept of magical princesses is never fully explained. You can only become one with the power of a spirit named Mii. While he wants to stop the Hamelders, it's never explained why. He basically has no personality outside of explaining things.
There are two points in the game where the writing feels stupid. First, if you charge in to save your friend Kyoko, you'll be insta-killed and she will be deflowered. Second, if you use your super ability on the final boss, you will be insta-killed and he cuts your neck open. Instant death moments are the peak of lazy writing.
What makes this worse is that it's implied that Mii has sent other magical princesses to fight the final boss, which is how he knows about your super ability. But the game never explains this, and Mii continues to be nothing more than an item shop.
There are five endings. The good ending, the death ending, the slut ending, the slave ending, and a bonus patch ending. The patch ending has the protagonist kidnapped by thugs and never seen again. As you probably guessed, most of these endings are very similar.
Altogether, the strength of this game is not the writing, but the gameplay and visuals.

GAMEPLAY
Magical Fighting Princess Lilstea was created with RPG Maker MV, but uses the engine to its greatest potential in the graphics department. Move with the arrow keys and hold Enter to speed up actions and dialogue on-screen. There is no text log or hiding text boxes.
The game cycle is the classic RPG dungeon crawler with breaks in between. Fight Hamelder troops for currency and experience points. The enemies get stronger over time, allowing you to level up faster and purchase more items. This is a four hour experience.
The lack of free roaming mechanics sets this apart as a very linear experience. This makes sense because you're rushing to save your friend Frostia from harm. Still, don't expect to interact with any NPCs outside of enemies.
Exploring dungeons or visiting the merchant will earn you magic feathers, which are used to upgrade each item of clothing. Upgrading gloves will boost attack, upgrading the torso boosts defense, and so on.
The game felt like it ended too quickly. I was only level 25 and never fully upgraded a piece of clothing. I was also expecting to gain more abilities as I progressed, but that never happened.
One design choice I had a significant issue with was the encounter rate. While other games have items to repel enemies if you want to explore, this game makes the function available from the pause menu. At any point in time, you can turn off random encounters on your own. This killed any sense of tension.
A point of great design was the magical barrier your character uses. For about ten attacks, your character will receive minimal damage and be hard to knock over. Perverted gamers can lower the barrier, but for a virgin playthrough this adds the challenge of watching your energy bar to make sure your barrier stays high. The barrier also encourages you to avoid battles that drag on too long.
Getting knocked down or grabbed during battle means you're open to sexual harassment. Sadly, there is no cooldown for this event. In one battle, I was stunned three times in a row! Altogether the gameplay is fun, but has frequent bumps in the road.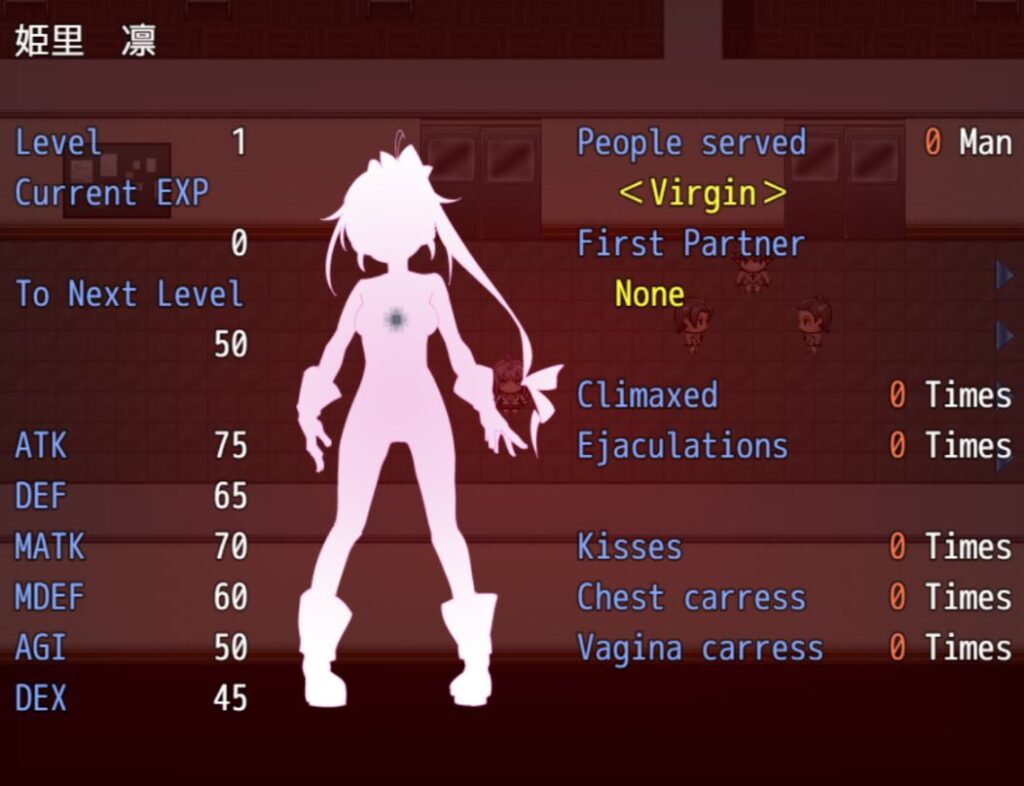 GRAPHICS
The art is standard Japanese anime style.
The RPG Maker MV engine was chosen for its ease of use when it comes to animations. This game makes full use of the engine with animations for sexual harassment, special skills, transformations, and so much more. While most of these animations are great, there's one at the ending of the game that felt like simple image panning.
The character stills in this game tend to have one or two expressions. Meanwhile, the character sprites are entirely stock assets except for the main cast. The same enemy sprites are used from the start of the game to its finish. Apparently Hamelder troops are magic ghouls, so that's the in-universe reason they all look the same.
A huge downside to this game is the inability to hide text boxes. Especially during combat encounters with sexual harassment, sometimes I want to hide the text and let the animations loop instead. Without the ability to sit back and enjoy these scenes, they feel wasted.
VOICE ACTING AND SOUND EFFECTS (SFX)
Magical Fighting Princess Lilstea has partial voice acting for certain phrases and moaning. Although the character is supposed to be a Japanese schoolgirl, the voice actress is clearly a grown woman. Thankfully, during the sex scenes this isn't very noticeable.
The sound effects in this game are overwhelmingly fantastic. The thrusting sound during sex is an orgasm to the ears. The sound of upgrading your equipment is both fitting and iconic. Best of all, the intense moments like getting your head slammed into the ground, sounded super realistic. Just hearing the sound made me cringe in pain! My only complaint is the menu navigation chimes are super generic.
MUSIC
There are 27 songs in total. The variety is fantastic! Harp, violin, and trumpets all come together to create a bouncy and adventurous melody. Then in a moment of intense action, piano and synth guitar come together to create a classic eurobeat techno song reminiscent of the anime Initial D. I could explore or fight for hours while listening to these great songs.
HENTAI
There are 21 scenes in total. 11 are fullscreen CGs while 10 are sexual encounters that occur in battle.
The 11 scenes outside of battle feature multiple base CGs to show changes in position over time. Usually the sex starts with fingering and groping, before slowly developing into something more. This gives the scenes a strong appeal due to the variety of visuals. You honestly never know what's coming next!
Rin starts the game as an inexperienced virgin. Your sex stats reflect this with zero experience in all categories. It's likely you'll complete the game as a virgin, because opportunities for sex require losing in battle.
The lack of variety in sex partners is a huge disappointment. The game records who your first partner is, even though it's always going to be some random thug. Only one scene involves Rin having sex with actual humans.
The scenarios in this game are hardcore and incredibly hot. Being a pregnant breeder slave. Being publicly humiliated and fucked by your enemies while forced to praise and thank the Hamelder army!
My favorite scene is when you use your friend Kyoko as bait to draw out the Hamelder forces. You promise to save her before the thugs can deflower her. But if you lose in battle, you get to watch them have their way with her! She curses your name and hates your guts!
The gallery is unlocked once you complete the game. The fatal flaw of this game is that the ten battle encounters all have similar or identical animations. This means there's only 12 unique scenes, which is far too few.
CONCLUDING WORDS
Magical Fighting Princess Lilstea is a fantastic RPG about defeating a magic soldier army. The animations are gorgeous, the sex scenes are hot, and the story is simple but interesting. If you're looking for a well rounded adult game, this is the one to play.
I recommend this game to men who love seeing ghouls fucking women. Download Magical Fighting Princess Lilstea. If you want another ghost-focused game, check out our review of Ghost Party.
Graphics

Gameplay

Story

Music

SFX

Hentai