Resident Evil 3D Porn Cartoon Review: Jill vs. Nemesis
Hentai Reviews

>

Reviews

>

Resident Evil 3D Porn Cartoon Review: Jill vs. Nemesis
Written by Mistress Valentine, edited by Otaku Apologist
Jill vs. Nemesis, a 3D porn cartoon, made by 26RegionSFM. Released May 13, 2020. Runtime 3 minutes. Uncensored genitals.
STORY
Jill Valentine finds herself pinned down by the Nemesis from Resident Evil 3. His cock is rock hard and pointing right at her face. He grunts, he's horny, she knows what's up. Jill gives her consent by stroking the monstrous cock before spending the rest of the episode taking it in. Yeah, there's no story to this fuckfest. No surprise when it's only three minutes long.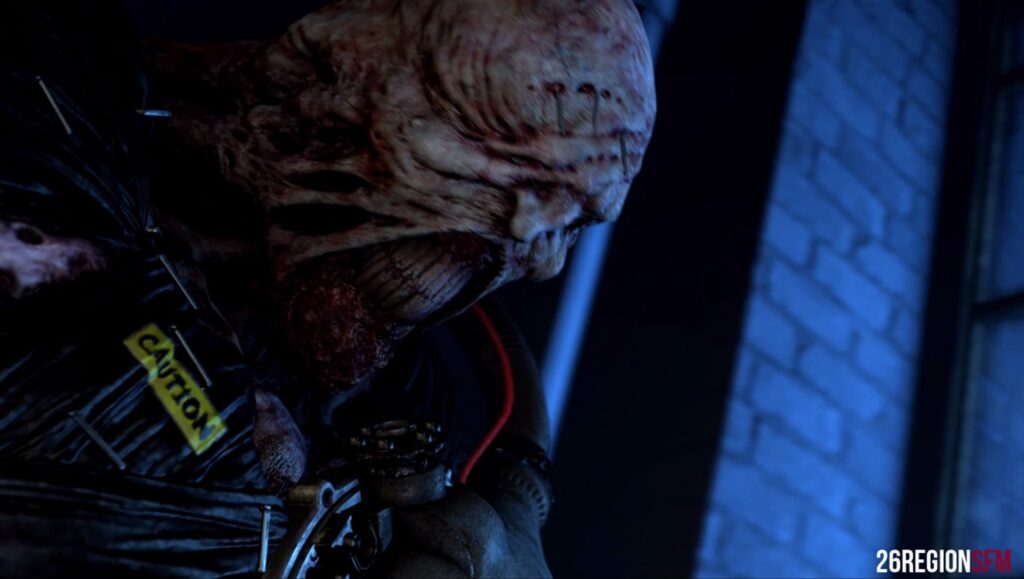 ANIMATION
The animation quality is top tier with an excellent, crystal clear picture and frame rate. The character movements are fluid and organic. The episode is rendered beautifully with no blurs or jagged pixels.
Nemesis looks fucking amazing. His size juxtaposes beautifully against Jill's smaller frame. His cock is just as great. When Jill strokes it you can see the layers of skin moving up and down the shaft adding a layer of realism to the 3D model. Jill's body is soft with realistic breasts that jut every time Nemesis plows into her. The 3D model is soft and shiny, highlighting how sweaty she is.
The camera work is excellent. The episode features very few cuts. Instead the camera manually tracks the action with careful movement, showing the audience the change in perspective between the two characters.
The backdrop is wonderfully realized. The dark, grimy location feels like the ideal place for a monster like Nemesis to fuck Jill Valentine. The light and shading is expertly utilized to create an atmosphere of hopelessness and despair. It's utter perfection.
VOICE ACTING AND SOUND EFFECTS (SFX)
The episode has full voice acting. Nemesis lets out periodical grunts as he pounds Jill's pussy to kingdom come. The sex noises are visceral and monstrous. Jill is voiced by VoiceLikeCandy but she has no lines. She spends the entire episode moaning under the weight of Nemesis's giant cock. Her noises are lewd and pleasurable to listen to. The lack of dialogue can make some sex groans sound monotonous.
The location is brimming with sound effects. Throughout the episode you hear steam blowing out of pipes, rusted metal clanging one another and several sounds you'd find in sewer-like environments on television. Nemesis's dick makes a squelching sound when Jill jerks it. There are more than one effect heard when he fucks her pussy, When he cums you hear the liquid bubbling.
MUSIC
There is no music in this episode.
HENTAI
The episode is pure porn. Jill takes a sweet, long look at Nemesis' enormous monster cock with a face full of disgust before stroking it. The veins move around as the penis grows in her hand. Nemesis then flips her onto all fours and shoves his thick dong down her pussy. He rams her again and again while Jill groans.
Nemesis howls a few times before turning Jill over. She's on her back, getting pumped full of hot monster cum. Her breasts hop up and down as the fucking intensifies before a gallon of cum leaks out of her stuffed cunt.
Jill's handjob goes on for too long. It starts out sexy but feels boring by the end. The highlight of the sex scene is the camera tracking Nemesis fucking Jill from several different angles with no cuts in between. The episode only features two sex positions. 
CONCLUDING WORDS
Jill vs Nemesis is chock full of steamy sexiness. The clip may be short, but it deserves your attention. Quality sound compliments fantastic visuals and naughty monster sex with a character many men wished they could fuck in real life. Support the creator on Patreon.
You can watch and download this 3D porn video here.

Story

Animation

Music

SFX

Hentai