Written by Rastafoo69, edited by OtakuApologist
Hypno-Training My Mother and Sister, an erotic visual novel developed by Ame no Murakumo. Released February 18, 2011. Download on MangaGamer for $15.00. For PC Windows. Full voice acting. Censored genitals.
Your stepmother and stepsister are treating you like garbage! All that will change when you go on the internet and learn how to hypnotize them! Finally, you can degrade the two women who always looked down on you!
Discover more hentai games at our perverted hentai games download store!
STORY
The protagonist has a lot of anger bottled up inside him. Raised by Asian parents, he only received love when he performed in school tests. The moment he began slowing down in his school work, they began treating him like garbage!
The hypnosis in this game very direct and literal. You tell a woman to suck your cock, she will. That doesn't mean she'll like it! She'll be fully awake and aware, and angry at you for controlling her body. She can speak freely and think for herself, but her head will still move up and down on your crotch.
This interpretation of hypnosis creates incredibly dramatic and exciting situations, where the women know you are hypnotizing them, but cannot do anything to stop it. They beg for you to stop, but their bodies move on their own.
The dialogue and voice acting in this game can be very disturbing. You need a fetish for sadism, or this game may traumatize you. Numerous players have reported massive feelings of guilt after a single playthrough.
All of the forced sex, fisting, and piss play in this game leads up to two endings. If you send the girls to have sex with the homeless, they will murder you. If you show some mercy, they will consent to being your sex pets.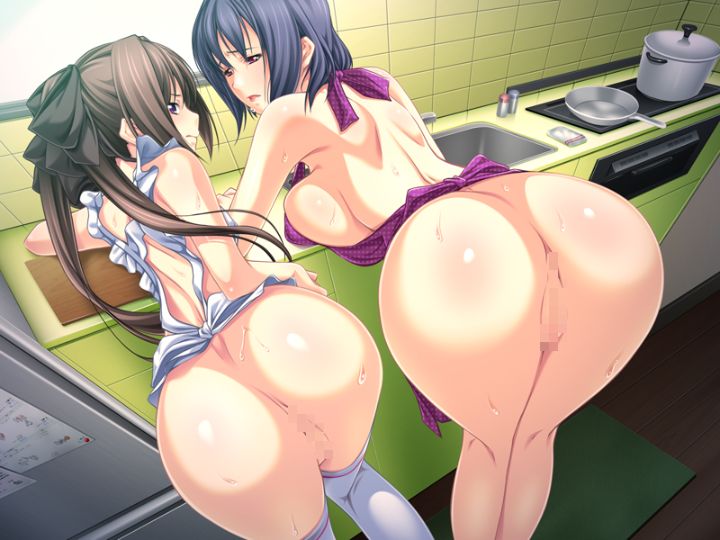 GAMEPLAY
This game is a visual novel. Dialogue and choices are the main focus of the experience. Press CTRL to skip dialogue. Use the scroll wheel to view the text log. Click the screen for the next page.
There are two points in the game where the player decides how to proceed. Will you make the MILF have sex with homeless men? Will you favor one girl over the other? Your choices will determine which sex scenes you'll play.
The game will take a minimum of two hours to complete. If you listen to every voiced line and fully immerse yourself in it, this game can be four hours or more. Specifically, if you enjoy psychological torture and drama, this game will take longer, since you'll be contemplating every single line the characters utter.
GRAPHICS
The art is classic Japanese anime style. There are only two fully illustrated characters, and they're the two sexy ladies. There are 12 base CGs spread across ten scenes. The use of zooming, panning, and variation images makes each scene a lengthy and satisfying experience.
The character sprites have some flaws. The standing images aren't scaled to the same height, so they look a bit off. In fact, it seems like the developer had to zoom in on the sister's standing CG so she could fill her half of the screen. They should have scaled or redrawn the artwork, because the end result looks off.
The game takes place almost entirely inside the player's home. The setting can quickly get repetitive, so the developer included "public humiliation" scenes to take players outside of the house.
The character designs in this game are strange. The MILF has scarlet red eyes, sapphire blue hair, and a tan blouse. None of the colors blend together. The entire focus of this game is on the unsettling nature of hypnosis, so maybe this design choice was intentional? Similarly, the younger girl has brown hair, and purple eyes, which is a somewhat strange combination.
VOICE ACTING AND SOUND EFFECTS (SFX)
Hypno-Training My Mother and Sister has full voice acting exclusively for the two female leads. The acting is the best part of this experience. Some of the spoken lines are so incredibly sexy, they're pure fantasy fulfillment.
The MILF has a sultry, mature tone, while the younger girl has an average Japanese girl's voice. The voice acting and dialogue indicates that they are normal people, not the evil witches the protagonist projects them to be. Even as you force them to do unspeakable things, they softly ask you to "Please stop".
The acting is so heartfelt and honest, you'll feel genuine guilt for making the characters cry. When you're trying to cum inside of them, and they plead you not to, you genuinely want to stop. The protagonist feels this too, and switches to a blowjob, just so he can shut the bitch up.
The sound effects are well placed and fit the game, but they fade into the background.
MUSIC
The soundtrack includes a handful of songs. All tracks are unique to this developer, they flow together well, and follow a similar musical style. Heavy use of bass guitar is common throughout.
There is a foreboding sense of dread throughout this game, as the protagonist makes risky decisions and flirts with danger constantly. During these scenes, the drums keep the beat while a single piano establishes a mysterious melody.
The music shines in the scene where the protagonist is finally killed. It's implied numerous times that the use of hypnotic powers saps away at the sanity of the user. You start to become more and more deranged, until finally your reign of terror comes to an end. This is conveyed perfectly with the use of drums, piano, and the electric piano. The song has a sense of tragedy and sweet release, largely dependent on your point of view. If you think your happiness has come to an end, this is a tragedy. If you're glad it's all over, the music welcomes your demise. It's beautiful how the musician could convey so many differing emotions in a single track.
HENTAI
Hypno-Training My Mother and Sister has 12 base CGs spread across ten scenes. Many scenes cannot be found in a single playthrough, so be sure to save the game when you arrive at choices.
This game relies heavily on the tropes of hardcore hentai: Unavoidable nude pissing, forced sex, arbitrary fisting, and so much more. One of the earliest scenes has you deflower the younger girl and cum deep inside of her.
Exhibitionism is shown in its most risky form! You place dog collars on your ladies, then take them outside for a walk. They are publicly humiliated as friends and neighbors watch them. They cry out that they can never show their faces again. And then, when they think it cannot get any worse, you have the option to force them into sex with the nearby homeless.
CONCLUDING WORDS
Hypno-Training My Mother and Sister is one of the greatest hypnosis-themed games of all time. The fantastic voice acting and dialogue makes this title an emotionally charged experience of drama and scandal. The music is great and the artworks are professionally made. If you have a fetish for hypnosis, this game is a must-play experience.
Download Hypno-Training My Mother and Sister.
Graphics

Gameplay

Story

Music

SFX

Hentai