Written by Rastafoo69, edited by OtakuApologist and Mistress Valentine
Drain Dungeon 2, a hentai RPG developed by Flamme Soft. Released February 13, 2019. Download on DLSite for $6.00. For Windows PC. No voice acting. Censored genitals. Available in English and Japanese. Read our review of Drain Dungeon 1.
You became an adventurer to earn money for your sick little sister, but now you've been captured by three succubi! Branded and enslaved, you explore the world hoping to find a magical artifact that can lift the curse, save your sister!
PROMO: When you download games through links on Hentaireviews, we make original hentai comics.
Before trying this game, please read our guide how to download DLSite games.
STORY
The plot to this game is very minimal. Anzelotte is the big sister, Apis is the little sister, and Sasha is their attendant. Each of them will drain levels from you every time you return from the local dungeons. There are multiple endings depending on which girl you end up with.
Spoiler alert! The succubi save your sister's life by turning her into a succubus as well. The only downside is now she needs cum for sustenance just like they do! Don't expect to kill the succubi or fight a great evil, this is a super casual game. The happy endings all involve having sex and enjoying life.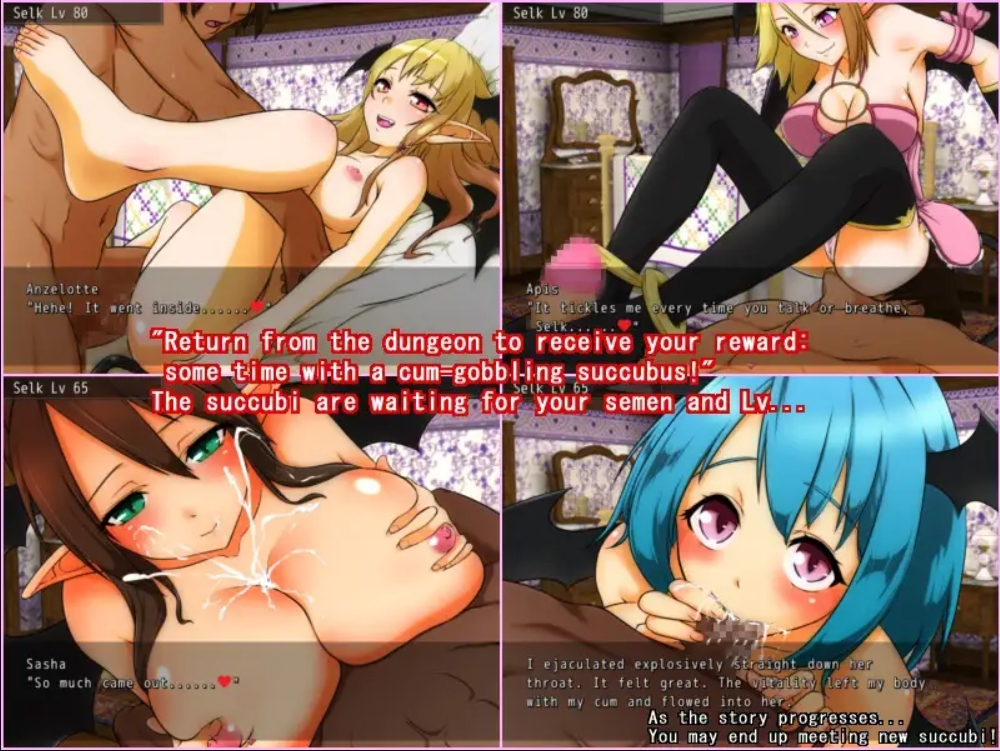 GAMEPLAY
Drain Dungeon 2 was created in Wolf RPG Editor. All of the mechanics of the first game are here. This includes the heavy randomization of all aspects of the experience. Sometimes vendors have the exact item you need, other times they offer pure junk.
This is easily a 10-hour experience, maybe even longer. This is not due to a deep story or complex game mechanics. The game's quirk being that your level resets during the town action, your dungeon crawling can't speed up.
The only ways you make progress are by your items and prana. The former is pretty random and the latter is very slow. You should spend a half hour in a dungeon, to collect around 80 Prana, which will quickly be used up on a small attack booster. So you may think, "this is a game to drop in and play little by little", but that's incorrect. You cannot save game in the dungeon unless you spend valuable gold and these dungeons often have hundreds of floors. Once you enter a dungeon, you're pretty much committed to sitting where you are for the next half-hour. Frankly, this game is a commitment.
Incremental progress is part of the experience, but sometimes the game really fucks you over. Like when I got caught in a honey trap three times in a row and went from level 20 down to level 10. That meant I could not handle the deeper floors and was forced to start the dungeon over.
Boss battles often depend on the player having in-depth knowledge of their enemy. Like in the first dungeon, you better bring an AOE spell to floor 120 or you're screwed! The game is a very bumpy experience and even though it's a sequel, the developer hasn't further developed his concept.
GRAPHICS
The artist is the same as Drain Dungeon 1, though their work is more consistent and their style is more refined in this installment.
All artworks are drawn in an 800×600 aspect ratio. There are 42 base CGs spread across 47 sex scenes. Outside of sex scenes, the world is navigated via simple menus, so you never get to see how your character looks.
I experienced frequent drops in frame rates as well as occasional crashes from time to time. In a normal game this would be okay, but Drain Dungeon 2 limits your ability to save game in dungeons. This means you can lose 20-30 minutes of progress through no fault of your own.
This game has a wider variety of monster girls than its predecessor. Every boss encounter is another potential sex scene, only activated when you lose. The addition of the lottery girl and blacksmith dwarf are welcome changes from the standard shopkeeper roles. Most girls only have one or two scenes.
Enemy sprites are stock assets and due to the first-person perspective, walking animations and other visual cues are not used. Some would call this cutting corners, while others would say the developer was smart about reserving his time and energy for more CG images. This game has double the amount of scenes when compared to Drain Dungeon 1.
VOICE ACTING AND SOUND EFFECTS (SFX)
Drain Dungeon 2 has no voice acting.
The sound effects of this game are largely carried over from Drain Dungeon 1, almost like a copy-paste development cycle. While there are a handful of seemingly new assets, these are few and far between. The sound design is good, but it's more of the same.
MUSIC
The soundtrack has under 10 songs and due to the repetitive nature of the game, they quickly grate on your nerves; especially the relaxed town music. I can't see a single NPC or do anything besides gear up, so why is the music so cheerful and sweet? My little sister is literally dying from cancer, but the game is playing some happy-ass music. This is just silly. And it isn't even good music! It's just digital synth and fancy beeps!
HENTAI
There are 42 base CGs spread across 47 H-scenes. The focus is on the protagonist losing power because of all the monster-women stealing his cum.
This game is terrible at build-up. The early scenes are hotter than the later ones and it really demotivates you moving forward. The innkeeper's POV paizuri scene emphasizes her cute face, while the next scene is third person and all zoomed out. I want more face-to-face content! Another example of bad build-up is when your sister becomes a succubus. Between the time that she meets the succubus and the time she finally becomes one, at least an hour of playtime has passed. So you're sitting there for over an hour, waiting for the plot to develop. It's absolute garbage.
The attendant, Sasha, is a super generic milf character with a stoic facade. The other succubi lack personalities. It's sad, but the side characters, the monster girls, are actually far more likable and enjoyable. This game can be pretty hit or miss sometimes.
CONCLUDING WORDS
Drain Dungeon 2 has a wide variety of scenes with tons of monster girls, all aching to steal your cum. Many aspects of this game are identical to the original, including the music and sound design. Rather than improving on the formula, the developer played it safe. Download Drain Dungeon 2.
Remember to also check out our coverage of the first Drain Dungeon.
Graphics

Gameplay

Story

Music

SFX

Hentai