Written by Rastafoo69, edited by OtakuApologist
Slave Girl Reno, a hentai RPG developed by circle Aphrodite. Released October 19, 2019. Download on DLSite for $11.00. For PC Windows. No voice acting. Censored genitals. Available in English and Japanese.
Reno and her best friend Milo want to be free from slavery! Explore dungeons, defeat monsters, and do sexy favors for the local nobles! If you seriously want your freedom, you must slave your ass off.
Read our guide how to download DLSite games
STORY
After saving up some money, Reno and Milo are finally ready to leave the sewers! Buy a pocket knife, explore outside the village, and become great warriors! You can also offer your bodies in exchange for your freedom!
There isn't a real flow to the story. One moment you're searching for noblemen, the next moment you learn about drug trafficking and vigilante justice. The lack of choices makes this even worse. If you don't like the plot, you'll be dragged through boredom until sex happens.
The exploration segments are very basic. You spend most of your time in the second town, exploring the same dungeon over and over again. The lack of variety makes the world seem small and underdeveloped.
Although the title implies some form of slavery, you're never shown a slave master or any type of work being done. In effect, you're just some poor person. Without sexual slavery content, there really isn't anything separating this title from similar games on the market.
GAMEPLAY
Slave Girl Reno was created with RPG Maker. Movement is controlled with your PC keyboard's arrow keys. Press Z to interact with people and objects. There is no dialogue skip.
It's a classic RPG grind fest. Kill enemies, return to town for healing, kill more enemies, buy new equipment, kill enemies, defeat bosses. It's grindy, repetitive, and gets old fast.
All sex scenes are mandatory to progress. There is no virgin route. While this is expected of hentai games, I would have liked some consensual sex. Being forced into sex with noblemen becomes predictable over time.
The encounter rate is completely random. Sometimes you'll walk long distances without facing enemies, while other times you can't take a single step! Reno and Milo have different leveling rates, ensuring Reno is always significantly stronger than her partner. Speaking of, experience points are given easily, making for fast leveling without challenge.
The game can easily be beaten in two hours, but may take longer if you enjoy grinding levels to reduce difficulty.
GRAPHICS
The art is in Japanese anime style. Large eyes, gorgeous hair, curvy bodies, everything is typical to the anime style. A handful of scenes stray from this mold with strangely realistic looking characters.
Double penetration and pissing scenes appear out of nowhere without warning, not fitting the setting at all. It feels like the artworks were made before the game, like the developer didn't have a good place to put those artworks.
Sex art doesn't match the sprite art. Especially Reno is portrayed as a petite and shapely babe one moment, and an unattractive oval the next. Seriously, there is little consistency in visual presentation.
On the positive side, each weapon or attack has a unique animation. Some of these weapons have longer animations that made me regret using them, so I went back to quick sword slashes. Another positive is the cool presentation of the first town. It has a green tint and darkened color scheme. You can tell from a glance this game takes place in the sewers.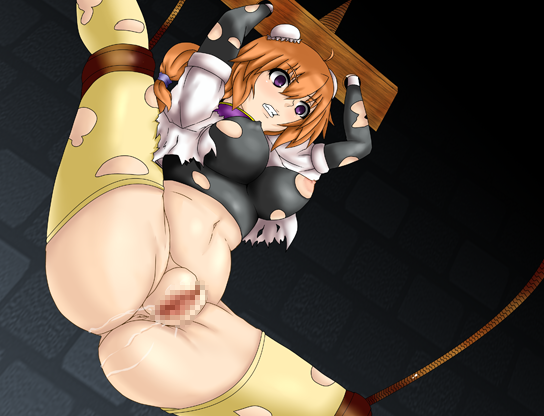 VOICE ACTING AND SOUND EFFECTS (SFX)
Slave Girl Reno has no voice acting.
From the moment you start the game, the sound design disappoints you. Ejaculation has a thunder and lightning sound effect that will blow out your ear drums. It's absurd and random. Most of the game uses standard RPG Maker assets and conventions, but the moment the developer tries to be unique, it sounds horrible. A cumshot should not sound like a wind storm.
MUSIC
The soundtrack has 45 songs in total, the vast majority of which is never used. It's like the developer copied the stock music from the RPG Maker Library, and pasted it directly inside of the game folder.
Generic music tracks are lame, but some of them were surprisingly good. The title music is a slowed down, bass-boosted variation of a well-known stock track. I enjoyed it, and actually stayed on the main menu to enjoy it.
All tracks are digitally synthesized with chimes and dings that don't mimic any existing instruments. The lack of creativity stops the sound design from achieving greatness.
HENTAI
There are 15 sex scenes in total, each with a unique CG.
The sex scenes are random and vanilla. There's blowjobs, vaginal, and some double penetration. There is no foreplay, dialogue, or buildup. I wish the girls at least talked dirty!
The more unusual scenes include tentacle sex and pissing in front of a stranger. This creates a small amount of variety, but I would still prefer sex scenes that tie into the plot. Porn games are loved for creating a story before the sex – where is the story here?
The best scene is the first one, which plays as you start the game. In a dream, Milo is forced to give a blowjob and accept a creampie from a complete stranger! She's just a slave girl and doesn't have the right to refuse, so in spite of her protests, she opens her legs for this strange man's cock! I wish all the scenes were like this!
CONCLUDING WORDS
Slave Girl Reno is a very basic hentai game. The gameplay and story are predictable, but I guess it's okay because the girls are cute. The music and sound design need improvement, but overall it's a great vanilla game for a quick fap.
Download Slave Girl Reno. If you love this developer and his work, check out Crossed Moon!
Graphics

Gameplay

Story

Music

SFX

Hentai