Written by Rastafoo69, edited by OtakuApologist
Crossed Moon, a corruption hentai game developed by circle Aphrodite. Released October 29, 2018. Download on DLsite.com for $10.00. For PC Windows. No voice acting. Censored genitals. Free demo available. Official translation available.
Luna is a young female martial artist. She's a conservative good girl who never popped her hymen. She is training to become the protector of her village. She's on a grand adventure to explore the world, and grow into a strong warrior.
STORY
Luna has been training her martial arts skills, to prepare for her duties as the future village guardian. Despite being a fearsome warrior, she is also an innocent maiden! She's completely clueless of the soul-crushing evil that lurks outside the walls of her village. Will she survive her journey without getting captured and sold into sexual slavery? It's up to you!
As an elf, Luna is hated and despised by the four celestial beasts that wander the land. As she explores the world, she is likely to be confronted by these beasts. You have to beat them, or they could go after the village next!
The game ends when the four beasts and their demon leader have finally been vanquished. Luna returns home to become the official guardian of her village. It's a simple, satisfying story that's easy to follow.
GAMEPLAY
Crossed Moon was created with RPG Maker. Movement is controlled with your PC keyboard's arrows keys. Press Z to interact with people and objects. Press CTRL to skip dialogue. You know the drill.
It's a classic RPG grind fest. Kill enemies, return to town for healing, kill more enemies, go to the next town. Buy new equipment to get stronger. Defeat bosses to unlock new places to explore.
Almost all sex scenes lead to a game-over. However, players are given a choice whether they want to have sex, or not. It is possible to complete this game without having sex. It's not the best design for a hentai game!
Luna is an overpowered character and the encounter rate for enemies is very low. Chances are, you'll be taking zero damage from most attacks until the end of the game. Luna also has an infinite healing spell that costs nothing to use.
Multiple times, NPCs mention that Luna is an elf with magical abilities. The player even gets restoration items for magic. Sadly, the developers never added magic into the game, making all these items and dialog false advertising.
The game can be easily beaten in an hour, but will take longer if you hunt down all the treasure chests and sex scenes.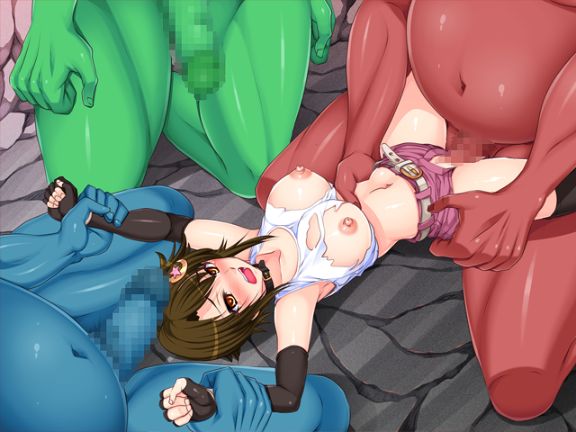 GRAPHICS
The art style is the Japanese anime style. Large eyes, gorgeous hair, and curvy bodies, everything is typical to the anime style.
Luna's in-game sprite does not match her appearance in CGs. Her sprite seems to be walking around in panties, while her CG shows her wearing shorts. This inconsistency is blatantly obvious and very hard to ignore.
The world map is enormous and functions as a looping globe. If you walk too far in one direction, you've circled the map and will appear on the other end. This stops players from getting lost. More hentai RPGs should adopt this feature.
Each weapon has a unique animation when used. The dark spell has a long, screen-consuming purple mist, while the best sword has a double strike animation with two white slashes across the screen. It's an animation detail that many other games miss, which sets this game apart as having an unusual attention to detail.
VOICE ACTING AND SOUND EFFECTS (SFX)
Crossed Moon has no voice acting.
The sound effects in this title are all standard RPG Maker stock content. If you've played any other RPG Maker game, you've heard all these sounds before. However, the effects are very well used. The slashing sound is very different from the pounding sound. Depending which weapon you use, you'll hear a very different audio cue.
Sex scenes have very fitting, pleasant sound effects. Sperm doesn't sound like rain puddles. Ejaculation is a quiet pouring of fluid without an echo, not too watery, not too bubbly.
Some scenes feature sound effects that enhance the drama of the events. For example, when a defeated villain says "I'm sorry! I'll even lick your shoes!", you'll hear the sound of someone actually licking leather boots.
MUSIC
The soundtrack has 94 songs in total, the vast majority of which go completely without use. It's like the developer copied the stock music from the RPG Maker Library, and pasted it directly inside of the game folder.
The few tracks that are unique, are very pleasant to listen to. Two guitars, one producing high notes, the other producing low notes, work in harmony to produce a solid melody. The low-note guitar provides a soft background rhythm, while the guitar of high notes captures your focus and attention with a low tempo and relaxing tune.
Another unique track combined violins with clackers in a unique fashion. It made me feel like I've just escaped a dangerous area, and have recently entered this unknown town for the first time. It's a very enjoyable little song.
HENTAI
The game has 10 sex scenes, each with a single unique CG.
The developer of this game has a tendency towards experimentation. The sex scenes in this game are strange, and not very hot. You get tentacle fucking, public humiliation, sex slavery, and more. Luna simply walks up to someone and sells herself into slavery. What?
There is no build up to the sex scenes. There is very little erotic dialogue. You only see one image per scene. That's all you get!
The best scene in the game is when Luna randomly finds herself overcome by lust, and decides to rape a random guy jerking off in the bushes. After she cums, she is so scared of going to prison, she decides to murder him! And the game gives two level-ups for doing it!
CONCLUDING WORDS
Crossed Moon is an oddball hentai RPG. The gameplay and story are very basic. The art is okay, and the world fun to explore. The music, albeit stock fodder, is enjoyable to listen to. This game doesn't break boundaries, but sometimes vanilla is the flavor that hits your spot.
Download Crossed Moon. If you really like RPG Maker games, check out our review for Ghost Town Gunsweeper!
Graphics

Gameplay

Story

Music

SFX

Hentai