Written by Rastafoo69, edited by Otaku Apologist
Melia and the Devil's Island, a hentai RPG developed by Japanese Confectionery. Released August 24, 2019. Download on DLSite for $11.00. For PC Windows. No voice acting. Censored genitals.
Melia the apprentice wizard has a mission to kill some local orcs! But when the orcs are revealed to be higher level and capable of magic, Melia soon finds herself getting tossed around and creampied by her enemies!
Read our guide how to download DLSite games.
STORY
Edel village needs help with the nearby orcs! But when you find their stronghold, you learn they're much more powerful than you expected! Will you defeat them, or become their slutty cum dumpster?
Although your master, the wizard Alma appears to guide you, she has no sex scenes and no real impact on the story. There are no plot twists or dramatic moments, all you need to do is kill as many orcs as possible.
There are two endings, depending on whether you succeed in battle or become an orc sex slave. Orcs do not talk during sex, and the few sex scenes with humans are very generic.
Although there is a bustling town, multiple buildings are locked and inaccessible. Similarly, most NPCs have nothing valuable to say.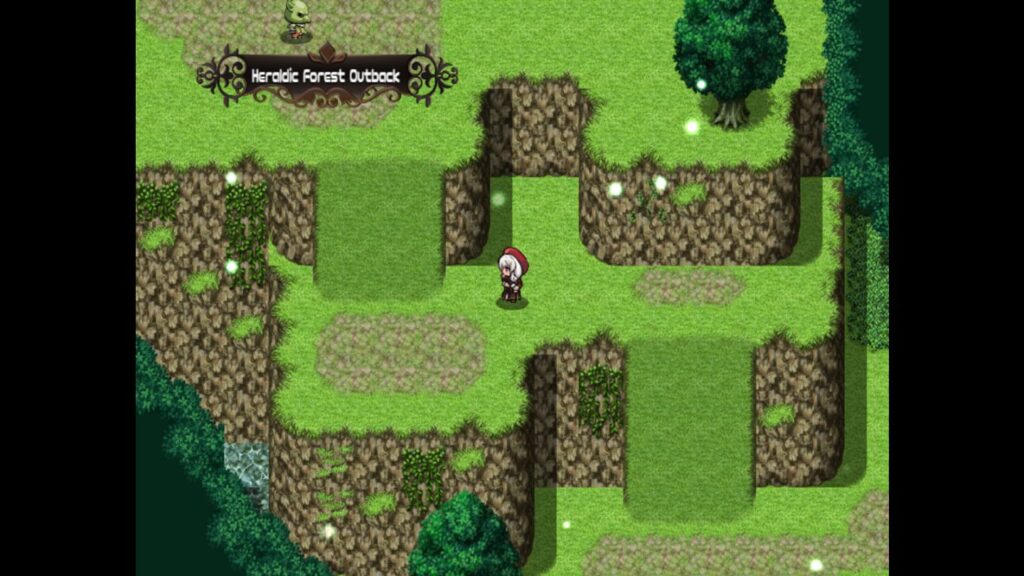 GAMEPLAY
Melia and the Devil's Island was created with RPG Maker MV. You move with the arrow keys and press 'Z' to interact with things. Press W to skip dialogue. Right click to hide text boxes.
The game cycle is your classic RPG adventure. Defeat enemies to level up and find items to sell in town. Leveling up will raise your damage output, so you can conserve magic. Money can be used on items and equipment.
Mouse functionality makes this game super easy to play one-handed. Since you play a mage character, it's as easy as choosing a spell and watching your enemies burn! Keep an eye on your MP and rest to recover.
The game has two fatal flaws. First, you do not earn spells by leveling up. Some enemies like slimes are immune to flame magic, so you can't kill them. While you should be able to purchase spells from Master Alma, she won't have any for sale.
Second, battle sex is far too common. The game even tells you to save frequently, breaking the fourth wall in acknowledgement of this flaw. You can have intact clothing and full health points, but still be fucked in the middle of battle. Then you're stunned and can be fucked a hundred more times. Once you're fucked, you've basically lost the battle.
[pornhub url="https://www.pornhub.com/view_video.php?viewkey=ph5f04b6e3bc095″]
GRAPHICS
The art is traditional Japanese anime style. Melia is the titular character and featured in virtually all of the game's artworks.
There are 19 basic CGs spread out across 17 scenes. There are also three standing artworks and over 150 CGs total when you include variations. Thankfully, the recollection room is available in the player home. Clothing comes in two forms, normal or damaged. From the title screen to the pause menu, cute little animations guide you as you navigate the game.
The character sprites have a lot of love put into them. When Melia starts running, she kicks up dust and you can see it blow into the wind behind her. Very few games have this level of attention to detail. I thought it was super cute!
The world design is pretty basic, but includes a fast-travel system for quick transportation. From the port town to the player home, characters can easily explore the world and avoid backtracking. Awesome feature!
VOICE ACTING AND SOUND EFFECTS (SFX)
Melia and the Devil's Island has no voice acting.
The sound effects are largely from the RPG Maker stock library, but many are unique and use high-pitched chimes. The sound effects match the animated visuals and soft presentation style. The downside is that the game doesn't offer a lot of variety in sound effects. As a wizard, a large amount of your game will be spent leveling up by setting orcs on fire. Level grinding is only tolerable when there's some variety and sadly, this game has none. Every enemy is an orc, and in every battle you cast a flame spell.
MUSIC
There are 38 tracks in total, though only a handful are used. So much time is spent wandering the forest and nearby caves, that there isn't any dialogue. Without a supporting cast of characters, there is rarely a need to change the music to fit the moment. Altogether, the track you hear when you begin the game is the track you'll hear when you end the game. It gets repetitive fast.
When you start the game you'll likely hear the sound of running water by the river. This is great for the demo, but once you play the full game you'll realize atmospheric sound effects are rarely used. I'd love to hear the echo of a cave, or the waves by the port, but instead the developer relied heavily on his stock tracks, making for a bland experience across the board.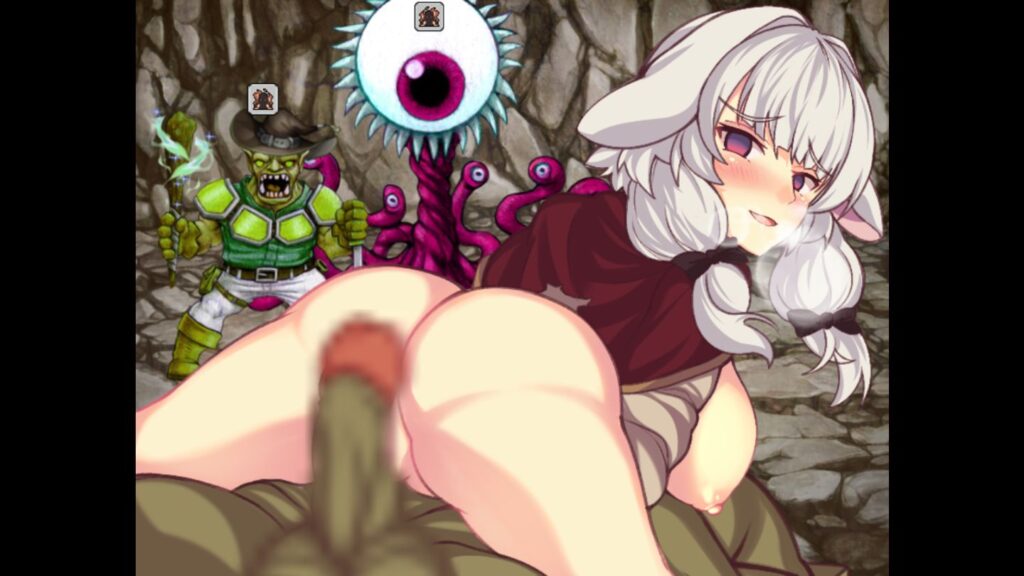 HENTAI
Melia and the Devil's Island has 17 sex scenes in total, all of which have a unique CG.
Most sex scenes happen during combat. There's a heavy focus on orc sex. There are only one or two human sex scenes. Melia is a monster-girl, so I don't think she can get pregnant by them.
This game has creampies, hypnosis, forced sex and more! Fuck orcs to raise your corruption level. When Melia becomes slutty enough, she can become a free-use cum whore for the men in town. The human sex scenes are like your reward after lots of orc sex.
Since they're orcs, they cannot talk much. Sex scenes happen often and without foreplay. There are rarely female dominant positions like cowgirl. My favorite scene was when an orc had thigh sex with Melia. He rubs against her pussy and she gets turned on, I loved it!
CONCLUDING WORDS
Melia and the Devil's Island is a hentai RPG all about slaughtering orcs before they can creampie you. The graphics are gorgeous, with tons of cute animated sprites that are fresh and unique to the game. And the animal ears on Melia's head are totally kawaii. If you're looking for a vanilla RPG experience, this would be a good fit for you.
Download Melia and the Devil's Island. If you love orc sex and want something better, check out our review of Dark Sphere.
Graphics

Gameplay

Story

Music

SFX

Hentai