Sexy Schoolgirl Hentai Game Review: School Escape
Hentai Reviews

>

Reviews

>

Sexy Schoolgirl Hentai Game Review: School Escape
Written by Rastafoo69, edited by Otaku Apologist
School Escape, a hentai game developed by Studio Neko Kick. Released on February 2, 2019. Download on DLSite for $13.00. For PC Windows. Full voice acting. Censored genitals. Free demo available.
You're a high school girl who studied in a classroom until midnight! The entire school is locked down and impossible to escape! Will you find the keys and unlock the doors? Or will you get deflowered by a horny janitor?
Read our guide how to download DLSite games.
STORY
Your name is Kasumi Miyamoto and you need to escape this school! No backstory or information is given to establish the character. She could have had no name, and the game would be completely the same.
As an exploration title, there aren't any NPCs to befriend or attack. Almost all dialogue occurs in sex scenes, with no deep explanations to why things are happening.
The janitor is a pervert, the thieves breaking into the school are horny, and your fellow classmate wants pussy too! There are occasionally other people in the school, yes, but their purpose is only to have sex with you!
GAMEPLAY
School Escape was created with RPG Maker MV. There is no way to hide text boxes or rapidly skip text. At best, you can hold the enter key to speed up dialogue a bit.
As an exploration title, the experience consists mostly of walking the halls and finding items to help you progress. Some have called this a puzzle title, but this is more like a scavenger hunt. Find keys for doors and batteries for your flashlight. It's a super simple game.
As is common for the RPG Maker engine, music is sometimes out of sync, and image transitions can stutter. Still, the game overall is well put together and remains enjoyable. Sex scenes trigger whenever you enter a room without preparation. For example, you need to have a flashlight to enter the dark room without getting into a sexual encounter. And if you do everything correctly, instead of being fucked while stuck in a wall, you'll be able to escape in time.
Finding keys, recipes, and hints can get tedious over time. I recommend using a walkthrough for when you get stuck, because trust me, you will. Also, save the game often! It is rare, but a sex scene can result in a game over.
GRAPHICS
The art is Japanese anime style. Kasumi is a slim and sexy student with great tits and thigh-high socks. She's every man's dream, a virgin schoolgirl soon to be deflowered!
There are 10 base CGs with numerous cut-in images to provide variety. Seven of these scenes have versions showing deflowering. Scenarios range from peeping in people having sex to a POV shot of Kasumi blowing dick.
The gallery is only available from the main menu, while the pause menu indicates if Kasumi was deflowered or not. The entire game takes place in a school, so there's very little to discuss. It's chairs and desks all the way, the world gets claustrophobic over time.
My favorite feature of the visuals is the motion blur that occurs during heavy thrusting. All of sudden, you feel a ton of motion and movement as Kasumi is getting her insides stirred up. It felt so realistic, I loved it.
VOICE ACTING AND SOUND EFFECTS (SFX)
Kasumi and Hanako are fully voiced by Seiki Fan and Jemiko Yamada. Hanako is the petite little cutie pie with a high-pitched voice, while Kasumi has a more standard schoolgirl moan that makes any man hard and horny. The lines in this game are fantastic. When Kasumi said "You have a filthy smelly cock", I almost came in my pants! I love realistic dirty talk, and the facial expressions made this ten times hotter.
Sound effects are generally stock assets. You hear doors opening, clicking, sexual thrusting sounds, they're all fantastic. There's even a vaguely bubbly sound when cum is filling a pussy. For a short game like this, these basic sound clips are the perfect fit.
MUSIC
There are 24 songs on the soundtrack, most of which are commonly used by this developer. Digitally synthesized chimes and beeps are only used alongside real instruments, making for a perfectly balanced experience. A piano track may develop over time to include a 16-bit melody alongside drum cymbals and string instruments. The music was so beautiful, it belonged in an anime opening! I found myself staying in the same place often, just to enjoy the tracks.
As much as I enjoyed this music, I liked that it stayed in the background. The voice acting in this game can always be heard loud and clear, because the high-pitched voice of Kasumi is contrasted by the deeper low tones of suspenseful sex scenes. When it comes to sound design, the experience of Studio Neko Kick shows! They know what they're doing!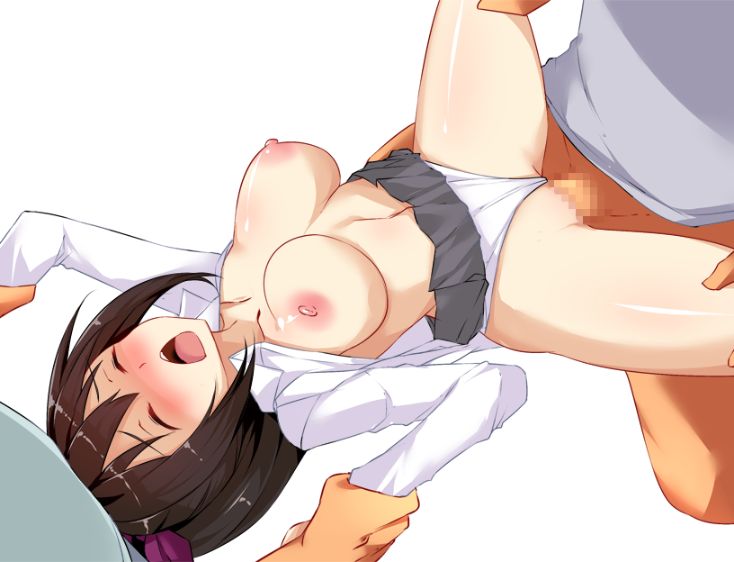 HENTAI
There are 17 sex scenes in total. Seven are base sex scenes, seven are variations of deflowering, and three feature peeing, peeping, and a blowjob.
Although there are only ten base scenes, there are numerous cut-in images to provide zoom-ins and new perspectives to keep the player hard. From a thighjob to breast sucking, this game has a variety of sexy actions to enjoy.
If you walk into a dark room, a mysterious figure will start the groping! If you cross paths with the horny janitor, he's going to drop the load! And if the two thieves catch you, they'll hold you down and fuck you senseless! And if you want to keep your virginity, stick to a blowjob and peeping.
Sex positions range from missionary to doggystyle. Dialogue is always sexy as Kasumi tries to resist the advances of the men. The actress' squealing and moaning made me cum so many times I lost count!
CONCLUDING WORDS
School Escape is a sexy little hentai game about finding keys and locks to escape the school. With horny men behind every corner, getting deflowered and creampied is almost inevitable here. With sexy voice acting and great music tracks, this game is an all around classic in the hentai genre. Bring a walkthrough if you want to progress quickly though!
I recommend School Escape to lovers of sexy schoolgirls everywhere. Download School Escape. If you enjoyed this game and want another exploration title, check out our review for Gentle Girl and a Short Escape.

Graphics

Gameplay

Story

Music

SFX

Hentai