Written by Rastafoo69, edited by Otaku Apologist
Masquerade Hypnosis, a hentai game developed by Dieselmine. Released November 10, 2017. Download on Dlsite for $18.00. For PC Windows. Full voice acting. Censored genitals.
You've found a machine that allows you to hypnotize people! Impersonate friends and lovers and creampie every pussy in town! Get busy with your shenanigans, and you can even start your very own fucking harem!
New to Japanese eroge? Read our guide how to download DLSite games.
STORY
There are three routes to choose from. Will you seduce your virgin classmate who plans to have sex with her boyfriend? Will you seduce the lesbian couple with a hidden love affair? Or will you seduce the busty milf next door? Pick your waifu and pound her raw!
Dialogue with townspeople indicates where the hypnosis machine came from. Apparently, a UFO with a scout-girl brought it here! The blue-haired Mitia is the primary waifu of the game and is only available in the harem ending. There are four endings, one for each route, and the true ending where you start your own harem.
In the true ending, the blue-haired alien girl falls in love with you and you start a family together. She also shows you her spaceship and saves you from danger! It's super cute to watch the relationship blossom from strangers to lovers over time.
Each route offers its own unique scenarios. The hypnosis allows you to impersonate someone else the girl knows. Will you impersonate Hina's boyfriend? Will you impersonate Ayaka's husband? The variety of outcomes makes the story exciting!
Best of all, the majority of sex scenes are independent of your route! Impersonate a teacher at school to fuck a bad student! Impersonate someone's brother for some sexy roleplay! You can even impersonate the coach and fuck the star athlete!
GAMEPLAY
Masquerade Hypnosis was created in RPG Maker MV. Use the arrow keys to move. Press Shift to run. Press CTRL to skip dialogue.
While the game engine might make you suspicious, the developer smoothed out any flaws you might expect. For example, pressing the alt key will not skip an entire conversation. This way, you can easily alt-tab out of the game at your leisure. For once, RPG Maker MV was used to craft a fantastic game experience!
The gameplay consists purely of walking around and talking to people. There is no learning curve or combat system. The game is best classified as an exploration title. Find every girl in town to view all the scenes! While the main three routes are archived in the recollection room, all optional content is not. If you want to creampie your classmates, you have to find them first!
The ability to write your own name was nice, but never really used. People often say "You" rather than your actual name. Still, it was a cool feature I enjoyed.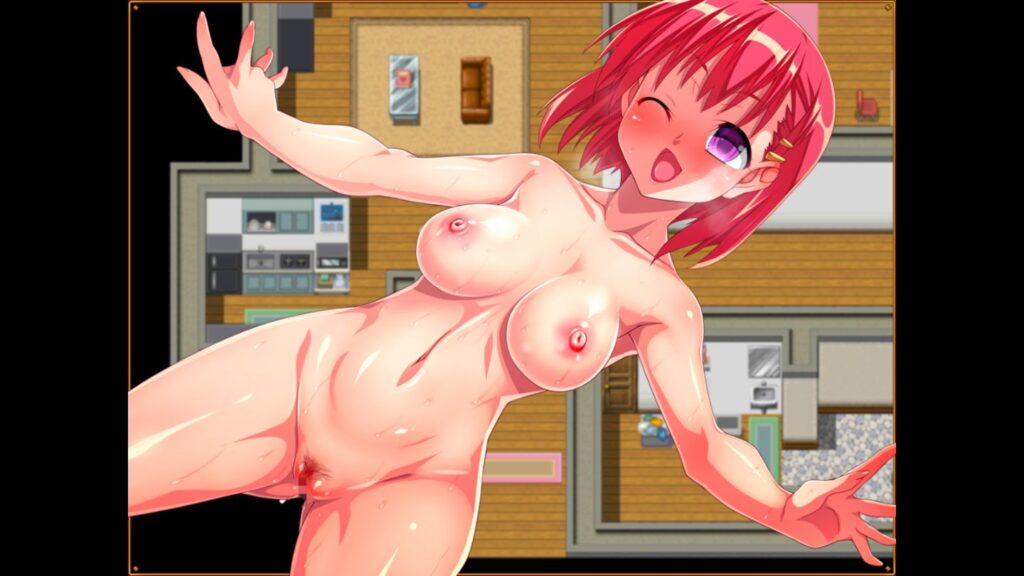 GRAPHICS
The art is in standard Japanese anime style. Deiselmine has used the same artist in all of their games, but this time around there was a strong variety of visuals.
While the main routes have highly detailed artworks with extensive shadowing and sweat marks, the random encounters are much more relaxed. Often the censorship is toned down and characters are smoothed out with more relaxed postures and expressions.
There are 37 images in total. 20 are fullscreen CGs from the main story, while 17 are random encounters featuring cut-in images at the top of the screen. Both types of artworks are gorgeous and effective. Fullscreen CGs offer more versatility with cumshots and clothing removal, while cut-in images keep things focused.
Some artworks are repeated frequently. For example, you watch the same masturbation CG of Mitia almost back to back. And cut-ins with photos of panties are often identical, which is disappointing. Still, with so many scenarios to choose from, I just moved on and easily found a unique scene shortly afterwards.
The game world is huge! There is a residential zone, a business zone, a school and more! You're going to love walking the streets hunting down hot babes to creampie! It's a game where you can fuck anyone you want!
VOICE ACTING AND SOUND EFFECTS (SFX)
Masquerade Hypnosis has full voice acting for the five main girls. Yuri Ayase voices two girls and Nachu Aizawa voices two others. The characters' personalities are so different I didn't notice until the credits rolled! While Hina is your average schoolgirl looking for some relaxed fun, Sayo is a prim and proper rich girl who outright dislikes men.
The voice acting is outstanding! From shy and embarrassed to angry and judgemental, each emotion is covered well in a believable tone that kept my eyes glued to the screen. My only complaint is that the MILF in this game has a standard cute voice. I would have loved a lower, more sultry tone as she savors a cock.
The sound effects are minimal and only appear during sex scenes. Insertion and ejaculation sounds evoke the image of sex even without the visuals. Together with the visuals, everything feels right and incredibly erotic! Obviously, more variety in visuals would have been welcome, but I was too busy fapping to care.
MUSIC
While the soundtrack includes over 100 songs, only a handful are ever used. There's a piano and xylophone track with guitar providing rhythm to a song that plays in the schoolyard. There's a digitally synthesized bass guitar track that plays in the center of town. During sex scenes, the digital synth music has no recognizable instruments.
There is no denying it, the techno digital tracks in this game were hard to tolerate. While guitar and piano can be enjoyed for hours, a 30 second repeating track of beeps and chimes is bad. I personally muted the game. Simply put, the music quality varies depending on region.
HENTAI
Masquerade Hypnosis features 37 sex scenes, half of which are random encounters across the map.
The primary fetish explored in this game is hypnosis, but all endings feature impregnation and pregnancy as well. There's also the element of cuckoldry where you're sleeping with a married woman and knocking her up without her husband knowing. Stealing a married woman is commonly called "netori".
While the artworks and descriptions sound perfect, this game does have some weird points. If you choose to date your next door neighbor, you're forced to watch her have sex with a cucumber, an eggplant, and then a corn husk. I found this completely disgusting and switched to another route.
Best girl is obviously Hina, since you get to deflower her and corrupt her into an exhibitionist whore. There's a scene where she walks outside naked that made me cum buckets! The most popular girl in school became a slave to my every whim!
Sex positions range from doggystyle to footjobs, and everything in between. Although the variety of scenarios like public blowjobs are hot, it's the voice acting that takes the cake. You can hear the girl call out the name of the person you're impersonating! "Sensei! Fill me with your cum!" It was super hot to hear their honest reactions. With a recollection room in the pause menu, I can always experience it again.
CONCLUDING WORDS
Masquerade Hypnosis is the best game in its genre on the market today. Whether you obsess over a waifu or roam the streets fucking complete strangers, this game has something for everybody! The graphics are gorgeous, the voice acting is erotic, and the scenarios varied. If your fantasy is to hypnotize tons of ladies, this game is a must-play experience!
Download Masquerade Hypnosis. If you another game like this one, check out our review of Nobleman's Retort!

Graphics

Gameplay

Story

Music

SFX

Hentai