Written by Rastafoo69, edited by Otaku Apologist
My Territory Was Witches' Island, a simulation porn game developed by Pasture Soft. Released May 17, 2020. Download on DLSite.com for $13.00. For PC Windows. Full voice acting. Censored genitals.
The King has given you an island to rule over as lord! Rumor has it that the land is full of witches and succubi! If you can tame this land, you can breed the women and create an heir to your lordship!
Read our guide how to download DLSite games.
STORY
You've become the lord of a small village on an isolated island. Build up your defenses, meet tons of women, and form a harem for creampie sex and breeding!
As a simulation style game, there is no ending or overarching story. Story is replaced by events like pirate attacks, and summoning a mystical servant. Expanding your town's population is key to long lasting stability on the island.
There are a handful of choices to be made as you play the game. If you ally with the goblins you will be unable to hire the nun as your follower. If you keep a positive reputation, you'll only see half the scenes in the game.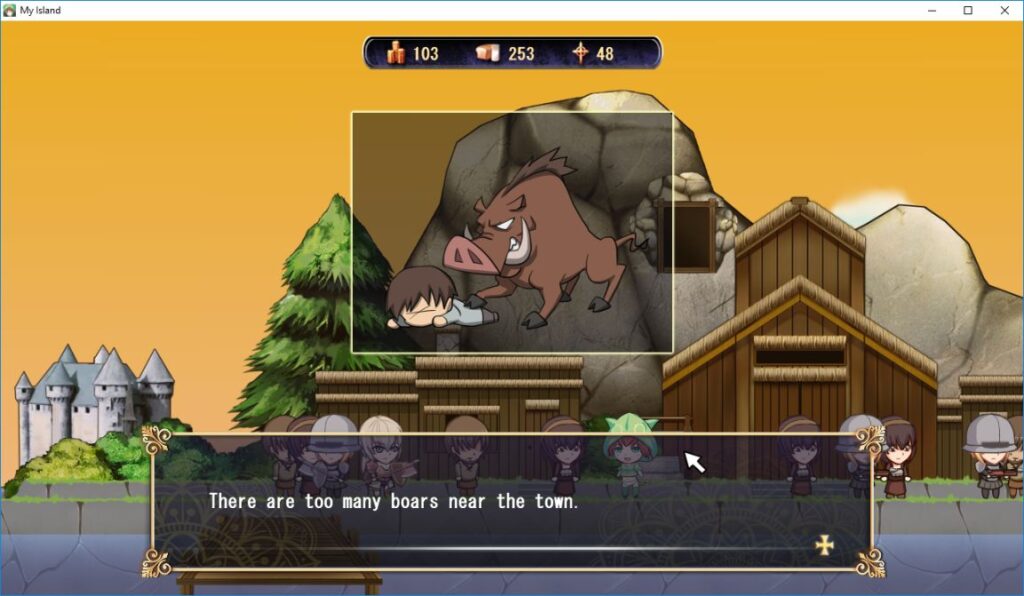 GAMEPLAY
My Territory is a simulation game. You spend the bulk of the game time strategically balancing financial and military power. Relying on one alone is a recipe for disaster in the long run.
The gameplay is super simple. You collect tax money to be used to either create buildings or hire people to help the village. Buildings have a variety of purposes like increasing max population or food production. Players can either increase the town's productivity or defensive capabilities.
While the store page calls this a tower defense game, it plays more like an automated battle game. Towers are completely optional, with walls and floor spikes being much more valuable. Like most games, the best strategy is to use heavy armor troops to delay the enemy while your archers snipe them from afar.
Outside of financial management, the town has special stats for heresy, lust, and morality. Burn witches to reduce heresy. Execute criminals to raise morality. Punish adulterers to reduce lust. Or don't, it's your town, you can do whatever you want. And some scenes actually require certain stat levels to unlock. For example, if the entire town hates you, you'll unlock a special scene.
When you're tired of dealing with peasants, return to the castle for some romance! You can have six ladies in total. Once a week you can have conversations to boost your relationship until eventually you can have sex. Even after becoming lovers, improving the relationship further will unlock new sex positions.
There are tons of random events to spice things up. From wandering traders to townspeople in need, there's always something new to do. I got super addicted to this game, but I was disappointed when it was over after a few hours!
GRAPHICS
The art is standard anime style. There are 18 women, each with two scenes to enjoy. There are a handful of exceptions with a few girls having either one or three scenes.
All sex scenes are fully animated with a few exceptions. Scenes always focus on the woman with minimal emphasis on the man. The women are almost always fully undressed, with the exception of socks and necklaces. While some love the no-nonsense approach, I actually prefer slowly stripping a woman down. For me, this approach was disappointing.
The world design is super cute! From the bedrooms in the castle to the wooden houses the townspeople reside in, the visuals are always realistic while remaining cartoonish. Still, some aspects of the visuals are total garbage. For exampple, the mineshaft is layered over a rocky background. Some of the aspects of this art design seemed lazy to me.
Cut-in images are used throughout the game to quickly convey an action taking place. From pirate attacks to prisoner executions, these small artworks give a lot of impact to your actions, making for a realistic and enjoyable experience.
My biggest pet peeve with the game was how the standing art for a girl rarely matched her appearance during sex scenes. Often times for the sake of animation, characters' faces would be simplified, which removed their individuality. I suppose this is to be expected when you have 18 waifus. I would have preferred fewer women with more personality.
VOICE ACTING AND SOUND EFFECTS (SFX)
My Territory features full voice acting for each girl. However, the game is very light on the dialogue, so you shouldn't expect much. The longest conversation you'll have is when the town mayor propositions you for sex. She's a cutie, but I wish she had more lines. Still, the unique moaning during sex made my dick rock hard!
Only one sound effect is used throughout the majority of the game. As a simulation focused experience, a menu "ding" plays whenever you click, to make clear that your click registered. Beyond that, sound effects only play during battles and sex. The vaginal sex sound is always the same, and the "whish" of wind from projectiles gets repetitive. You might want to turn on your own music instead.
MUSIC
There are a handful of tracks that play throughout the game. During sex, bass guitar and a drum line provide a relaxed and intimate tune. Meanwhile the main menu theme has a digitally made accordian style instrument that creates a quaint and rural feeling. When the flute joins in, the track becomes super relaxing. Altogether the music was forgettable, but served its purpose perfectly on the background.
HENTAI
There are over 35 unique scenes, spread out across 18 unique girls.
By the time you complete the game you'll only have half the scenes. This is because many of the scenes require bad decision making and a bad relationship with the villagers. I recommend finding a walkthrough, because many of these are difficult to find.
Sex positions range from missionary to cowgirl. As you develop your relationship with a girl, she'll be willing to try more lustful positions. While at first she wants tons of eye contact, eventually you can convince her to try doggystyle!
This game makes the ultimate sin of hentai games. You cannot find all scenes in one playthrough. If you view goblin scenes you cannot view nun scenes. If you view nature-girl scenes then you can't view psychic-girl scenes. I loved this game, but asking someone to start over like that is a pretty dick move. Feel free to disagree with me on this one.
While the animated sex scenes are nice, the lack of dialogue bothered me. I get that the moaning should be good enough, but I wish I got some full sentences so I can enjoy the scene more deeply.
CONCLUDING WORDS
My Territory is one of the best town management games on the hentai market today. With cute visuals, simple gameplay, and tons of sex scenes to plow through, this game is a premium porn gaming experience for wankers of all stripes.
Download My Territory Was Witches' Island. If you love games like this, check out our review of The Elven Educator!

Graphics

Gameplay

Story

Music

SFX

Hentai