3D Futa Porn Video Review: The Mad Doctor
Hentai Reviews

>

Reviews

>

3D Futa Porn Video Review: The Mad Doctor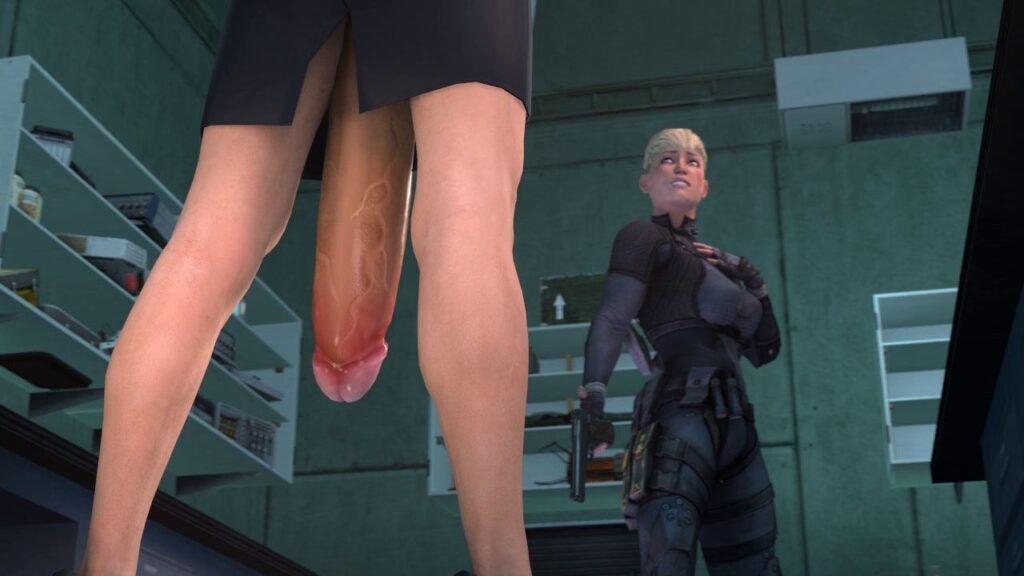 Written by Mistress Valentine, edited by Otaku Apologist
The Mad Doctor, a 3D porn video made by SirDougRattman. Released on October 28, 2018. Runtime 4 minutes. Full English voice acting. Uncensored genitals.
STORY
Special Agent Cassie Cage confronts the sinister Dr. Compel in her office. The doctor tells her off, warning Cassie that she has just injected herself with a special serum that guarantees her world domination. Cassie debunks this and vows to put a stop to Compel's plans. She is about to explain how when she gets distracted by Compel's monster cock sticking out from her skirt. She loses all desire to arrest Compel and asks if it would be alright if the two of them fucked first. Like a good girl, Compel complies!
Later, she awakens with her sexual batteries fully charged, only to discover the true power of Compel's serum: The more she fucks, the bigger her cock gets! The good doctor isn't finished with Cassie just yet.
Discover more faptastic 3D porn games and videos we've reviewed over the years!
ANIMATION
The episode looks like a NSFW cut scene from a PS3 video game. Character proportions stay consistent apart from Compel's comically large cock which grows as long as a third leg and swings erotically between her legs.
Motion is fluid with sharp, quick actions. Characters showcase a good variety of facial expressions. Complex actions such as standing-to-sitting motions are skipped over with the transition happening off-screen.
Throughout the episode Compel's body grows while she fucks Cassie. The effect is shoddy and looks fake as hell with the clothing textures absorbed into the skin textures.
VOICE ACTING AND SOUND EFFECTS (SFX)
Alexia and Milly Stern provide the voice overs for Compel and Cassie who both give great performances. The script is notably humorous with lots of awkward funny pauses before lines that the actresses deliver well. Milly Stern's moans as Cassie are incredibly sexy. Her performance makes the viewer believe that her pussy is being violated by a cock several times its designated safety size.
Alexia is great as the husky seductress with a giant penis. Her thrusts sound visceral and downright animalistic. She sounds like she truly enjoys herself in her role.
MUSIC
The soundtrack feels like something from a spy thriller. All the songs are composed using original instruments, played by an orchestra. Sharp violins are coupled with a slow piano, creating a series of ominous tracks to reflect the tense mood.
Other songs that play are dramatic and over the top with cleverly placed pauses whenever characters react to a particular event. The beat is quick with a fast-paced rhythm. The music conjures a sense of urgency as the characters fuck each other's brains out.
HENTAI
The sex is fucking amazing even with limited positions. Cassie's tight cunt gets stretched to the max by Dr. Compel's cock. She clutches the table she's bent over for support as Compel slams into her balls deep. By the end of the encounter, Cassie's face has a deliciously exhausted, blank expression.
The only position we get to see is doggystyle. The camera angles are limited but sexy. The hard thrusting sounds are combined with shots of office stationary shaking under the tremendous force of Compel's fucking. Cassie's facial expressions shift from enjoyment to blank cum dumpster. It's super lewd and beyond satisfying to watch.
CONCLUDING WORDS
The Mad Doctor is a fun sexual romp that is excellent fap material guaranteed to put a smile on your face while you empty your ball sack over the keyboard. The voice acting, sound effects, and the music are great quality. Become a patron of SirDougRattman if you're not already and help the independent porn community pump out more penis pumping, cum splurging content.
You can watch this sexy 3D animation for free on Newgrounds.com.
Animation

Story

SFX

Music

Hentai