Written by Misstress Valentine, edited by Otaku Apologist
Imolicious is a hentai visual novel developed and published by Yume Creations. Released November 2018. Download on Nutaku.net for $3.99. For Windows PC, Mac OS, and Linux. No voice acting. Uncensored genitals.
Wataru Akimiya has a huge boner for his younger stepsister Kanako. After the death of their parents they start living together. Wataru's penis overpowers his brain, and he makes a pass on his sister who secretly always wanted his dick.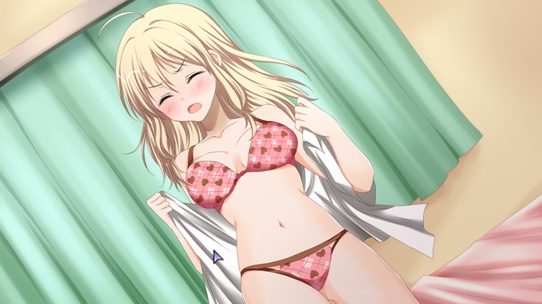 STORY
Imolicious doesn't fuck around. The narrative gets right to the point. Right off the bat, you can choose to confess to Kanako. Things escalate quickly, as the feelings of lust between the non-blood related siblings are mutual. Kanako has a secret yearning to sample her onii-chan's monster cock with her lower lips.
Imolicious is a slice-of-life story that explores the relationship between Kanako and Wataru. The narrative grabs every opportunity to show Wataru's penis churning a cavity into Kanako's oozing crotch.
The brother and stepsister have a lot of sex. In between the fucking, numerous scenes are dedicated to Wataru's internal monologue as he processes his feelings. The game contains a lot of unnecessary dialogue filled with typical anime tropes and clichés. A good example is when Kanako asks Wataru to be 'gentle' with her, even though she's a total slut. Most of the useless dialogue is between Wataru and his friend named Akira, who is a cross-dresser.
The grammar is close to perfection. Writing during sex scenes is gruesomely erotic.
CHARACTERS
Wataru is the big brother. He flirts with his stepsister constantly, teases her and often comes across as a complete creeper. He even says he wants to spend every second of their time together. The story can't decide whether to depict Wataru as a caring brother, or a sicko that should be locked up for society's betterment. The story even explores the social and legal implications of giving your sister a deep vaginal massage with your pecker, but it's mostly focused on sex.
Kanako is portrayed as the helpful, innocent sister who has a secret brother complex. Her characterization is inconsistent. She seems aware of her brother's obsession with her, but dialogue also suggests she is clueless. When the chips are down, Kanako is happy to bend over. It doesn't take much to turn this whore into a brainless fuckdoll. She wants the dick!
Save hotties and fight the Corporation! Read our review of 'Hikari! Clover Rescue'

GAMEPLAY
Imolicious is a visual novel. The gameplay is limited to clicking the screen to "turn the pages", and making the occasional branching choice. Most choices have bare minimum impact on the game. Cumming on your stepsister's tits or her face has no impact on the plot development. There is only one decision in the entire game that influences which of the two endings you get. The game has basic visual novel functionality. There is enough save slots to help you backtrack your choices. There's also a button to speed through dialogue you already read.
GRAPHICS
There are few supporting characters. Kanako takes the center stage. She is often in her school uniform, or without clothes entirely. Kanako has a lot of facial expressions during sex scenes and regular dialogue. In some art, Kanako's eyes look big and inconsistent. The art style is smooth and vibrant, if a little bland. Character artwork features a lot of detail. Lines are soft and shadows are light.
The background artwork ranges from fantastic to ordinary depending on location. Some of the outdoor locations have more depth and detail than character CGs. Wataru's and Kanako's home looks like a Japanese house from your typical anime.
Sex scenes feature good shading and well done shadows. Kanako's boobs are just the right size, and her nipples are always erect. She has sex in multiple classic positions. My only real complaint about the art is the penis design. That dick looks fake as shit. This is often the problem when hentai games that were originally censored in Japan: The artists didn't bother drawing a good-looking penis!
SOUND EFFECTS AND VOICE ACTING (SFX)
This game features no voice acting or sound effects.
MUSIC
Imolicious has like only three tracks. There is the cheerful song that feels fun and outgoing, with soft and upbeat piano and guitar playing. Your also hear strings and several air flutes. It's the kind of relaxing song that makes you pull your dick out.
During the sex scenes, there's an intimate song that plays in the background. It's pretty basic but immerses you in the sexytime of Wataru and Kanako. The tempo does not build towards the eventual climax though. I would have liked the song to pick up the pace as the characters approach climax. There's also a dark and ominous track that plays whenever something horrible is about to happen – which is almost never. This song plays very rarely. However, it was my favourite song on the limited soundtrack because of the slow, atmospheric piano playing on top of creepy drums.
The changeover between songs is almost undetectable. The songs are long and take a while to loop.
HENTAI
This game is hardcore porn and doesn't pretend to be anything else. After Wataru is done confessing his feelings to Kanako, they immediately start rubbing their genitals together. Wataru takes his stepsister's virginity and plows her little slit like a man. He gropes her boobs and grabs her by the pussy. She calls him out on the sexual harassment, but it's a case of "her lips say no, but her body says yes". The blood from her ripped hymen drips from Wataru's dick. Kanako is now his bitch. You see the vaginal blood, and the pain on the girl's face while the guy coats his dick in her juices.
After Kanako has submitted into her onii-chan's human cock sleeve, her boobs are next. Wataru pulls her tits out and sandwiches his cock in the tit crack. Barring the poorly drawn penis, the scene is sexy as hell.
Sex scenes are just the right length, and there are lots of them. The dialogue in the game's sexual encounters is bland and basic, and you have to derive your enjoyment mostly from the scenario and the uncensored imagery.
CONCLUDING WORDS
Imolicious is a deliciously fappable hentai game littered with scenes of step-siblings fucking. The dialogue is not perfect but it's dirty. It's a piece of media that embraces its subject matter regardless of its immorality. There's enough scenes exploring hardcore fetishes, including a naked apron scene and in-the-womb creampies, ensuring you'll drain your balls many times over.
I recommend this super affordable sex game to imouto fans. Download Imolicious for only $3.99.

Graphics

Gameplay

Story

Music

SFX

Hentai