Written by Rastafoo69, edited by Otaku Apologist
Jodie Owner of the Whorehouse, a hentai RPG developed by circle Shoku. Released March 9, 2018. Download on DLSite for $15.00. For PC Windows. Partial voice acting. Censored genitals. Download the English fan translation patch.
Jodie has inherited her very own brothel! But when a rival pimp wants to put her out of business, she has no choice but to hunt him down! Fight hard, kill your competitors, and become the ruler of your very own kingdom!
New to Japanese eroge? Read our guide How to download DLSite games. Also read how to apply translation patches.
STORY
This game has 3 unique endings. You can become the king, the demon king, or pursue the normal ending.
At the start of your adventure, you'll decide to play a clean route or a dirty route. This will enable or disable sexual encounters. Sex is independent from the story, and will not effect your ending.
Jodie's intelligence and personality change depending on how slutty she acts. In a clean playthrough, she easily avoids traps and talks her way out of tough situations. In a dirty playthrough, she fucks her way out of every problem she gets herself in. Do you want to play a smart adventurer or a stupid slut? The choice is yours!
The story is super simple. Go out and kill anyone running a rival brothel. Along the way you'll gather 5 companions. You decide whether or not to sell their virginity for cash. If you do, they begin getting corrupted and fucking for money.
This game is the first time the developer has experimented with story branches and choices. For once, you can complete the game as a pure virgin! You can also run out and have sex a few minutes into the game!
GAMEPLAY
The game was created with RPG Maker VX Ace, using systems and scripting carried over from the developer's previous games. Move with the arrow keys. Press Q to view the map. Press A to hide the text box.
This developer has a tendency to remove features from past games and replace them with new features. Instead of buying property in town, you build up the income of your whorehouse. Instead of doing side quests, there are multiple routes and endings. Instead of army management, you can manually instruct any of your five prostitutes to do anything you want. You can even command them to have unprotected sex and give birth to babies in the brothel.
This is the shortest and simplest game from this developer. Rather than focus on a rigid story, this is more of a sandbox experience. For example, you need 200 corruption points to unlock impregnation content. In past games, you had to do certain quests to unlock it first.
The problem is, there's only one city in the game and it's very small. There's only a handful of NPCs and not all of them acknowledge story events like becoming queen. Worse, no matter who you fuck, everybody has the exact same dialogue. This broke my sense of immersion. The developer should have edited the dialogue to reflect story events.
The addition of automatic battles makes the game incredibly short. A single playthrough should take only two hours. Obviously you'll want to replay and see all the endings, but that doesn't change how absurdly easy this is. Even if you battled manually, the enemies are still too easy. I completed the game without ever using the inn once.
GRAPHICS
The art is drawn in the anime style iconic to circle Shoku. However, the developer relied on repeated animations with different faces to fill up his scene count. Like, the women in the brothel all have the same animations, just with swapped faces.
Jodie is the main protagonist, and naturally receives the most attention. Players can customize her outfit from the default pink suit to her swimsuit or assassin uniform. You can also swap between three hairstyles and a number of miscellaneous accessories like bunny ears and glasses. Altogether I adored the customizability of Jodie.
There are over 50 erotic scenes in total, all of which are fully animated and gorgeous to view. However, recycled animations or a lack of animation at certain moments hold this game back from reaching its true potential. For example, there is no animation or artwork when characters give birth. Not even the main character, Jodie, has an artwork for birthing. All previous games by circle Shoku had this feature, but this game does not.
Outside of artworks and animations, the sprites and textures are all stock assets. With few exceptions, most of the pixel art in this game is unoriginal and unimpressive. The lack of effort put into this game is extremely obvious.
VOICE ACTING AND SOUND EFFECTS (SFX)
This game features partial voice acting in the form of moaning and sucking, all carried over from previous titles by the developer. There is nothing unique to be found here.
The circle also reused many of the sound effects from their previous titles. Although the audio and voice clips are good, this is their sixth release they used them in.
MUSIC
The soundtrack includes 44 songs. At most, four of them are used. There's the town theme, the world map theme, and the boss battle theme. All of which are stock assets from the RPG Maker Library. Even worse, the music never changes! Even when dialogue shifts to a dramatic or heroic moment, the same background tracks continue to play.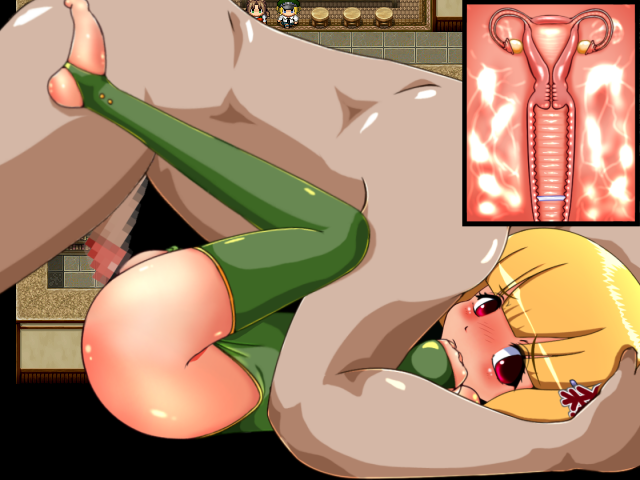 HENTAI
There are 50 scenes in total, all of which are fully animated.
In one scene, a demon pisses inside of Jodie. In another scene, Appoli the waitress gets fucked in front of her entire restaurant. And in a MILF-focused scene, Alma the teacher gets fucked by her former students! There's a wide variety of scenarios just waiting to be found.
Each prostitute has three basic scenes: handjobs, blowjobs, and vaginal sex. The busty girls have titfucks instead of handjobs. The protagonist, Jodie, can also prostitute herself in three different scenes featuring vaginal sex, anal, and handjobs.
Sadly, the developer focused on visuals alone. The dialogue is almost identical regardless of who is having sex. Even when you're pregnant, the dialogue only changes in one line! Although the scene count is high, there wasn't any attention or care put into any of them.
If you want foreplay and meaningful setup, this developer has other games that are far superior in quality.
CONCLUDING WORDS
Jodie Owner of the Whorehouse is a fun adult game, but hastily put together. The brothel management gameplay is nice, but removing birthing scenes was a disappointment. The addition of multiple story routes was nice, but why are so many animations recycled? This game is best for new players to circle Shoku's creations.
Download Jodie Owner of the WhoreHouse. If you want more from this circle, check out our review of Petite Goddess Emily.
Graphics

Gameplay

Story

Music

SFX

Hentai