Written by Rastafoo69, edited by Otaku Apologist
Anthesis, a corruption hentai game developed by Circle Shimobashira Workshop. Released December 27, 2017. Download on DLsite for $9.00. For PC Windows. No voice acting. Censored genitals. Free demo available. Download the English translation patch.
Natsu was just your average school girl until she found a mysterious vial. That vial holds the soul of a demon, and he needs her help! Using extortion and persuasion, he plans to corrupt Natsu into a slutty whore! This game was translated by Ewn on ULMF.
New to Japanese eroge? Read our guide How to download DLSite games.
STORY
After his soul was sealed away by an exorcist, the mischievous demon named Vice has been stuck in a glass vial. A clueless school girl named Natsu finds that vial. Vice manipulates her into releasing him.
With the last of his power, Vice curses Natsu! She will die in 20 days, unless she frees him from the vial. And so, they sign a contract. She will free him from the vial, and in exchange, he will lift the curse!
The writing in this game is spectacular. As a corruption hentai game, things start off slow, but slowly heat up. Your teacher found your nudes! The weird kid in class threatens to commit suicide unless you flash him! A massive amount of demonic energy has appeared in the warehouse district! Even though 20 days seems like a short time, the stellar writing fills each and every day with exciting plot-lines.
And just when you start getting comfortable, you learn that an exorcist has come to town! If they find you, they'll destroy the demon, and you will have no way to lift the curse!
The writers do an excellent job at foreshadowing. You hear rumors about the pervert teacher, you see mixed bathing is available in the residential zone, and you see strange items available in the men's bathroom! None of these things are accessible at first, but they leave you excited for the future, and ready to play more.
There are 12 endings in total. Five are good, four are bad, and three are neutral. The true ending is called "Anthesis", where your character decides to live a happy whore life for all time. The term "Anthesis" describes a flower opening up its petals to take in sunlight. And so the true ending of the game, is for your shy schoolgirl to open up and fully express her sexuality.
Once Vice is freed, he offers to erase all memories of what happened these past 20 days. After that, the game enters infinite mode. Everything is exactly the same, just no time limit! There's at least six hours of content, but you can complete the game in three.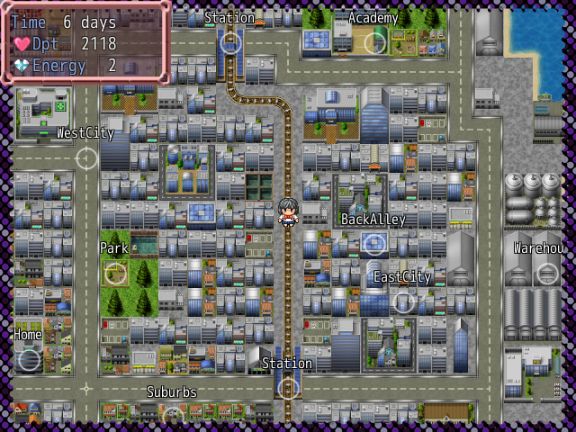 GAMEPLAY
The game was created with RPG Maker, but has minor scripting that makes it unique. You move with the arrow keys, and press the spacebar to interact with objects and people.
There are five stats and three currencies to track during play. It sounds scary at first, but it all flows naturally and easily. I have a terrible memory, and even I managed to understand it all.
The five stats are energy, lewdness, charm, popularity, and infamy. Each of them does what you think it does. Eat food to recover energy. Raise lewdness to unlock new scenes. Train your charm to get payments. Increase your popularity on the internet to get more payments online. Increase your infamy so that people will treat you like the town slut.
The three currencies are dollars, dark energy, and depravity points. Dollars allow you to purchase items like food and erotic books. Dark energy allows you to level up your character to make her a better whore. Depravity points allow you to progress the story.
The main focus of the game is to increase your depravity points. Having sex will raise your depravity, and eventually allow you to free the demon. Of course, you don't start out with sex. Handjobs, blowjobs, and titjobs will be your main source of points early on. You can also post your nudes online for some quick points and to increase your popularity. The pause menu tracks your sexual experiences. You start the game as an inexperienced virgin, but pretty soon, you'll be the town slut!
The game has too many features to count. You run your erotic social media, prostitute yourself to strangers, run away from sexual harassers, dodge discovery from the exorcist, and play a warehouse mini-game! New gameplay features are unlocked slowly during your 20 days of play.
It seems like the developers wanted to do so much more with this game. Running your erotic social media is far too simple and short. Sex partners posting videos of you online is rare and under-used. And there's a tent in the park that implies sex with a homeless person, that was never implemented into the final game.
GRAPHICS
The anime art style relies heavily on purple and other dark shades to create a sultry and erotic aesthetic. There are 37 base CGs, with over 300 art assets in total. Many images have motion blur and other design choices that create a somewhat hazy feeling. If you want crisp and hyper-realistic photos, you're going to be disappointed.
With 110 scenes and only 37 base CGs, the developers had to be creative to avoid making the content feel repetitive. One of the many ways they did this was by devoting a scene to Natsu finding out a man took video of her having sex.
The world design is very advanced. As days pass in game, more locations will be unlocked on the map, such as the academy, the park, and even a witch's Workshop! Every region has different NPC placements dependent on the weather. You can purchase an item to trigger rain to unlock new events, assuming you're going for a whore playthrough. This makes the world feel more alive.
VOICE ACTING AND SOUND EFFECTS (SFX)
Anthesis has no voice acting.
The sound effects are limited due to the residential setting, but they're still very well done! The slurping noises from a sloppy blowjob are incredibly erotic and realistic. Not too wet, not too dry, it's perfect! Other sounds include punching a molester and the sounds of clothing being rustled during groping. The overall sound quality is flawless and professional.
MUSIC
There are 28 musical tracks in the game. The majority are stock RPG Maker music tracks. The developers drew from a wide variety of tracks, with no two songs sounding alike. Whether it's smooth jazz with piano in the background, or a techno digital beat, each song conveys a different emotion. If not for how unoriginal they are, the songs in this game would be perfect.
HENTAI
There are 110 sex scenes in total, and 37 base CGs. This may sound incredibly repetitive, but there are so many variation images, you'll never notice. Adding blindfolds and handcuffs and all sorts of accessories, these variations change the meaning of the scene entirely. While the base image may feature vanilla sex, the variations turn it into a humiliating public exposure scene!
There are too many scenarios to count. You have massages, peeping toms, train molesters, blackmail, and even sex with your teacher! This game is vanilla content done right! Better still, it dips into other fetishes along the way! If you become a total whore, you can actually call your best friend while having sex with her man! It's called the "Bitch Ending" for a reason!
Players can decide just how lewd they want to be. Deviants may want to publicly prostitute themselves to everyone in school, but not me! I worked as a waitress while giving handjobs for money, but stayed a sweet innocent schoolgirl.
The corruption is incredibly detailed. Even when you consent to sex, your character will likely demand the guy pull out and wear condoms. But once you're corrupted enough, she learns that bareback is the only way to go!
My one complaint about the hentai is the lack of meaning to virginity. There are about five ways to lose your virginity, and none of them are memorable. It honestly feels like the deflowering scenes were an after thought.

CONCLUDING WORDS
Anthesis is an awesome corruption hentai game with tons of exciting content. This is the debut title from the developer, yet it was far better than anything I've played in a long time. The sex scenes are creative, the plot threads are engaging, and the gameplay allows players to make tons of choices that impact the world and change the experience!
I highly recommend this game to hentai fappers around the world. Download Anthesis. If you love corruption style games, check out our review for Kotoko is a Little Different.
Graphics

Gameplay

Story

Music

SFX

Hentai