Hentai Game Review – Pantsu Hunter: Back to the 90s
Hentai Reviews

>

Reviews

>

Hentai Game Review – Pantsu Hunter: Back to the 90s
Written by Mistress Valentine, edited by Otaku Apologist and Sexy
Pantsu Hunter: Back to the 90s, a visual novel game developed and published by Ascension Dream. Released Mar 27, 2020. Download on Nutaku for $8.99. For PC Windows. Full voice acting. No genitals.
You were a loser incel fuckface, until you set some standards. Now, you judge every girl via her panties. You go on a personal crusade to steal as many panties as you can. Somehow, some way, you convince yourself in your twisted little mind that stealing under garments will finally get you a girlfriend!
Visit our free comic site for more hardcore hentai content.
STORY
Being a handyman, you have the means of inserting yourself into the lives of various lovely women. You fix re their VHS recorders, clean viruses from their computers, go to the beach or charm them with your silver tongue.
The writing in Pantsu Hunter is interesting. The plot is bare bones. Each of the girls is friendly with their own unique personality. The writing is simple. Dialogue feels grounded in reality with unpredictable conversation routes. The game is relatively short, but in-game mechanics will make it last far longer. You'll find yourself replaying this game multiple times in order to clear a route perfectly.
SOUND EFFECTS AND VOICE ACTING (SFX)
This one is equipped with full English voice acting for all of the main girls. Of the voice actresses, Haruka Amaikawa's performance is the least convincing. Anna Sakai gives the best show with solid delivery and inflection. While the performances are cutesy and friendly, they often feel bland and uninteresting.
The sound effects library is limited, but well utilized. You hear TVs and electronic devices switch on and off, bathroom water splashing, cabinets and doors opening and closing. The audio clips are professional quality.
MUSIC
Pantsu Hunter has very limited music. The soundtrack contains loads of 80s nostalgia with synthetic instruments reminiscent of Stranger Things. The tunes compliment the feel of the period perfectly. Atmosphere is intimate and warm in almost every scene. Songs aren't a big deal or entertaining, but do their job in creating the correct mood with slow-paced relaxing beats. None of these tracks stick to memory, unfortunately. Musical changeovers are barely noticeable. At least the songs do not become repetitive during play, which is a huge achievement with generic music.
GAMEPLAY
Pantsu Hunter is a visual novel with point and click functionality. You click on the screen to "turn the page". You can save and load, but there are no 'auto' or 'skip' buttons for smoother gameplay. The aim is to seduce girls and collect their panties, for a total of 18 panties. You can also unlock up to 9 extra scenes that dive deeper into each girl's past. There are also memory puzzles and logic puzzles which you need to solve to further the plot.
Pantsu Hunter has multiple endings with at least ten different endings per girl. Throughout the story you will be presented with choices, which determine the ending. You can point and click your mouse over certain items, to examine or collect them. The design is non-linear. If you fail certain actions in a sequence you will not be able to collect the prized panties.
You can also earn trophies for achieving different things like getting a game-over 70 times.
GRAPHICS
The art style is a throwback to anime from the 80s and 90s, like Yu Yu Hakusho, Sailor Moon and Ranma 1/2. Backgrounds all look hand-drawn. The girls have more pronounced cheeks with small expressive mouths. The eyes have simplified pupils. There is attention to detail, subtle things like characters owning a VHS instead of a DVD or Blu-Ray, definitely help establish the time period. The art style is simplistic and filtered heavily through sepia which adds to the nostalgic feel of the game.
The CGs are not sexy or lewd. Most CG artwork looks generic and bland. The most ass you'll see is when a girl is sitting in her underwear or bikini.
The characters suffer from same-face-syndrome but it's managed by each girl's different hair, clothing style and personality. Proportions stay consistent between scenes. Each girl has several different poses and a variety of facial expressions. When the girls talk, there's limited animation for that.
The backdrops have a simplistic feel to them, with just enough detail drawn to not distract the player. Colors look jaded and worn. Edge lines are thin with very light shadows and consistent lighting whenever possible.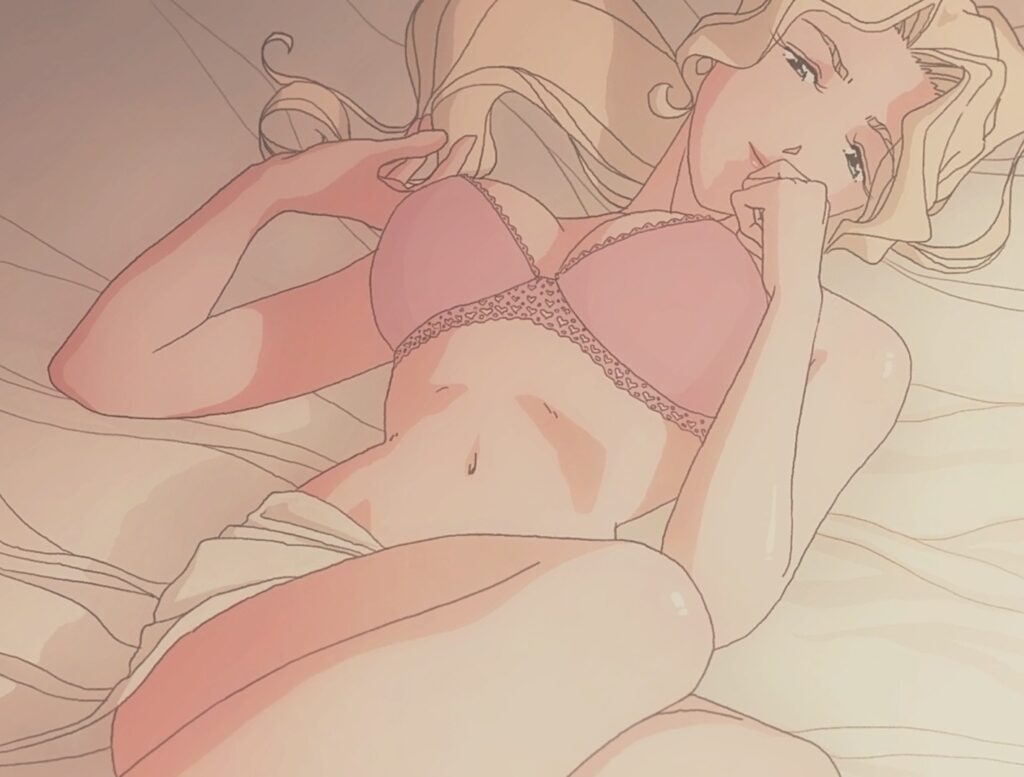 HENTAI
Pantsu Hunter has no sex scenes. The goal of the game is to steal women's underwear. The lewdest thing that happens is you get to look at them in the Panty Collection section. Sometimes a girl will be clad in her underwear and look lovingly up at you or show off her body on the beach in a bikini, but that's as far as it goes.
CONCLUDING WORDS
Pantsu Hunter is aimed at niche audiences whose dicks get rock hard at simpler erotica. The logic puzzles may hook some fans, but overall this title is not a good sex game. It's fun, I enjoyed myself, but it's not a sex game.
Story

SFX

Music

Gameplay

Graphics

Hentai