Harem Hentai RPG Review: Sister Travel
Hentai Reviews

>

Featured

>

Harem Hentai RPG Review: Sister Travel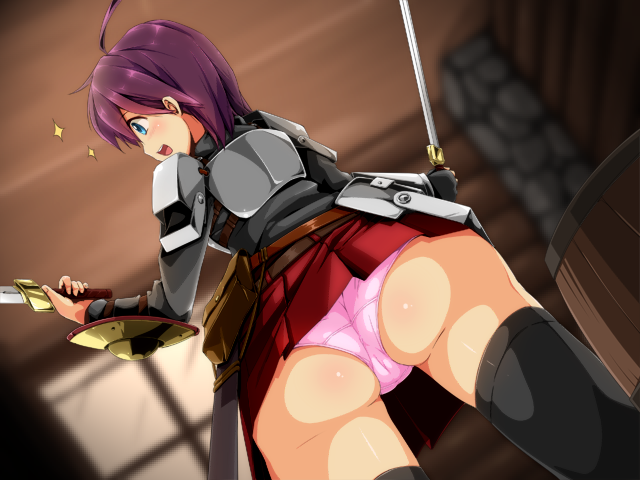 Written by Rastafoo69, edited by Otaku Apologist
Sister Travel, a hentai RPG developed by Inusuku. Released March 2, 2017. Download on MangaGamer for $15.00. For PC Windows. Available in English and Japanese. No voice acting. Uncensored genitals.
You're an adventurer exploring the new frontier! Discover the ancient ruins, destroy the monster infestations, and recruit plenty of sexy anime ladies into your party along the way!
This review contains spoilers. The game has only one ending, so read with caution.
STORY
At the start of the game, you're a duo of adventurers. But as you meet new people on your journey, like a medic and a mage, they also join your party. The girls in this game are not your biological sisters, only friends.
The story in this game is super basic. First you explore the ruins and find some clues. Then you discover a lost city where the entire population is missing. You discover the horrible truth, that the king sacrificed his people in exchange for eternal life. Once you kill him, the game is over.
The side plots are where things get really interesting. Saving Aidelle from bandits, fighting the great hero blessed by God, taking care of an injured girl, and so much more.
The main reason these side stories are far more entertaining is because they emphasize character relationships and are filled with meaningful dialogue. My favorite was helping the harpy girls reclaim their land by defeating a giant crow. You crawl onto its back and ride it like a horse!
The writing seems to emphasize that players should enjoy the moment, rather than expect a grand adventure. For example, Mana the mage randomly appears exactly when she's needed to decipher the ruins. Sylph the wind spirit disappears from the game after you save her. And although Aidelle often references her long history with the protagonist, it's never elaborated on.
For some players this will feel like lazy writing, but this game is meant to be a laid back experience. Heck, there's even a character from Rune's Pharmacy that makes a crossover appearance! You should just enjoy the game for all its silly moments, rather than expect a serious experience.
The best part is when you choose to take either Kodachi or Medina on a trip out of town. While Medina is a mild-mannered pushover, Kodachi has known you a long time. Rather than wait patiently, Kodachi tells you to hurry up and is super comfortable being blunt with you. I wish there were more moments like this to really emphasize the unique personality traits of each girl.
The ending is a reference to Alice in Wonderland. Alice became a magic librarian of knowledge who can grant any wish. After you defeat her, she returns to a normal life and becomes your little sister. This doesn't really wrap things up with all the girls, but it was still an enjoyable ending.
GAMEPLAY
Sister Travel was created with the Wolf RPG Editor, the best engine on the market. Move with the arrow keys. Q hides the text box. W shows the text log. Shift skips dialogue.
This game is a super linear experience. You must do everything in order, and cannot miss any aspect of the game. For example, having sex with Medina and Kodachi is a requirement to progress. In total, the game has ten hours of content.
There are no random encounters, you can only fight during quests, and can only do one quest per day. Towards the late game, there are more activities like fishing and random encounters in the valley area to spend your time.
Defeat monsters, earn money, spend it on equipment, and fight even more. Having sex rewards you with huge amounts of experience points which are vital to progression.
I recommend using a walkthrough whenever you're stuck. In the case of giant mold and a dragon statue, you're required to lose the battle first, in order to unlock dialogue to proceed. In the case of special bosses like the New Years Eve Monster, you are required to bring the mage named Mana to dispel the "dummy status effect" in order to win. Since the player is never told these things, it's easy to get unfairly stumped.
To be honest, the early game is the worst. Boar hides sell for shit, you're expected to pick hundreds of apples, you're constantly bordering on bankruptcy, and days often end without your consent. In some cases, money is taken from your inventory against your will in cutscenes.
Altogether this game walks a tightrope between an annoying RPG and a kinetic novel.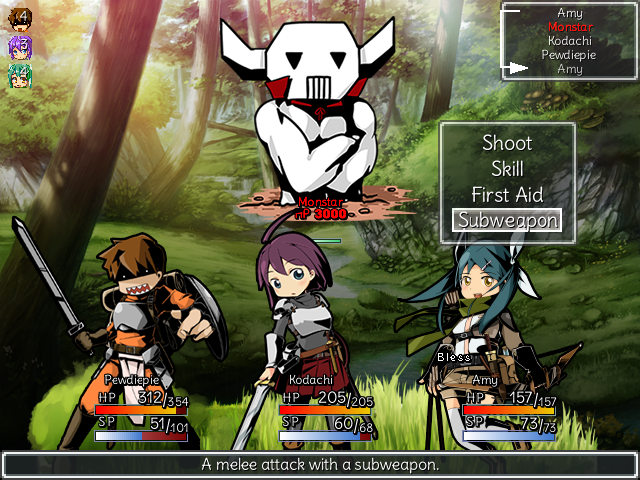 GRAPHICS
The art is classic Japanese anime style. The game is almost entirely made of unique assets and art. It's a visually refreshing experience among RPG Maker games.
Vibrant colors and beautifully expressive faces make the visuals wonderful. The artist has a talent for shadows and realistic human bodies, making for an almost photographic experience. On the flip side, battle sprites are chibi style and super cute! The versatility of this artist is simply remarkable.
Special moves in battle are accompanied with a fullscreen view of the character, like when Amy crouches to land a killing blow with her archery. Basic attacks are also heavily animated, like Kodachi's double strike and Aegis' shield bash.
Numerous variation images are used in every sex scene; starting fully clothed then slowly undressing, then fingering, then zoom-ins and so much more! The POV perspective is a wonderful change from most other titles. If you want a truly tangible experience, this game delivers!
However, there are some minor flaws. Mana looks almost identical to Amy. Sometimes you click map icons and nothing happens. If you leave the game window, there's a chance the game will randomly crash. And every time you reboot, you have to watch 20 seconds of company logos. None of these flaws are game breaking, but they are a sign that the game needed more polish.
VOICE ACTING AND SOUND EFFECTS (SFX)
Sister Travel has no voice acting.
The sound effects are fantastic! When you rescue Amy from a storm, there's plenty of rainfall and droplets on the stone ruins. When you use a super attack, there's a wonderful flashing noise that's both realistic and dramatic, emphasizing your power. Every scene is better than the last! My favorite sound effects are from the dual shields used by Aegis. Her the metallic slam as she bashes her enemies is super satisfying!
MUSIC
There are at least 30 tracks used throughout the game, and they are perfect! Tracks often accompany atmospheric sounds like torch fire to emphasize the mysterious and majestic sounds of the piano. Meanwhile another track can create a hard rock theme incorporating violent melodies on the violin that are simply unmatched! And with each map region having its own unique track, the audio is blissful. As I wrote this review, I left the music playing in the background because it was so god damn awesome!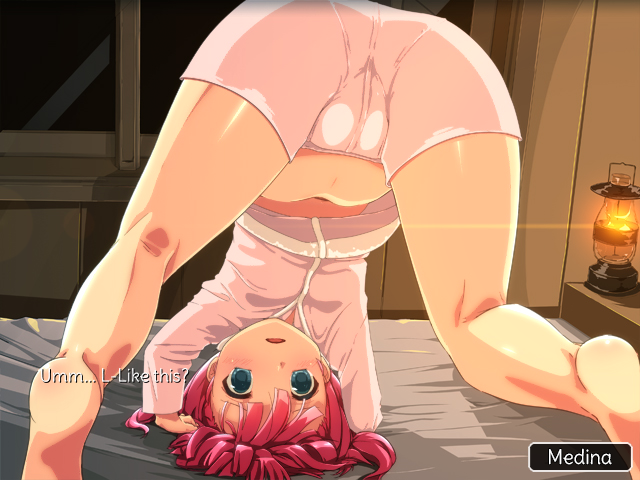 HENTAI
Sister Travel features 25 erotic scenes with over 50 base CGs and 20 cut-in images. There are also scenes where you peep on women and other ecchi scenes.
First the bad news. You cannot fuck Mana, Melody, Rune, or the mountain cat girl. Aidelle and the monster girls get very few scenes. Amy and Medina get the most attention.
As a harem game, you can have erotic encounters with every girl you meet. These scenes are recorded in the player diary found near the ruins. The expectation is for you to complete the game missing some scenes, so don't stress about it.
Peeking at panties, masturbating to sleeping girls, and anal sex with the medic, are just some of the classic scenarios waiting to be found here. Dialogue is always quirky but fun, like when you say "Bro flip!" and move a girl onto her stomach. While these scenes are vanilla, they never felt that way, because the writing was so good!
With so many cut-ins, variations, and basic animations, these scenes are a joy to watch. And the lovely sex positions and dialogue were just icing on the cake! Aegis is best girl!
CONCLUDING WORDS
Sister Travel is one of the greatest hentai games on the market today. In spite of its linear gameplay, the visuals and writing made this an unforgettable experience. The sexy babes and perfect sound design were the cherries on top!
I highly recommend this game to harem hentai fans around the world. Download Sister Travel. If you love this game but prefer puzzle gameplay, then check out our review of Dungeon of Lulu Farea.
Graphics

Gameplay

Story

Music

SFX

Hentai