Hardcore Hentai RPG Review: The Ninja Legend Ajisai
Hentai Reviews

>

Featured

>

Hardcore Hentai RPG Review: The Ninja Legend Ajisai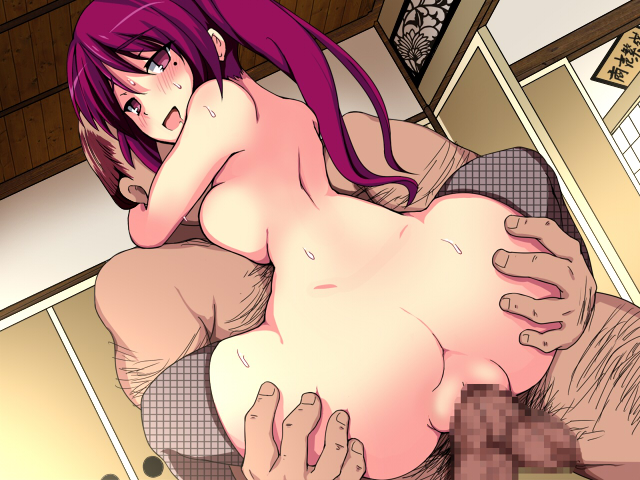 Written by Rastafoo69, edited by Otaku Apologist
The Ninja Legend Ajisai, a hentai RPG developed by Midnight Pleasure. Released November 29, 2014. Download on DLSite for $16.00. For PC Windows. No voice acting. Censored genitals. Download the English fan translation patch.
Ajisai was tasked with investigating the disappearance of multiple young women. Little does she realize that there's more than just kidnappings afoot. Can she solve the mystery? Or is she doomed to get captured and creampied like a senseless fuck doll?
New to Japanese eroge? Read our guide how to download DLSite games. Also read how to apply translation patches.
STORY
Ajisai is an obedient ninja girl. She does what she's told. She must investigate the Gamo clan regarding the disappearance of multiple women. But soon, this investigation will yield far more challenges than she ever prepared for.
The story is told in four parts, on four levels. First, you discover the Gamo clan is kidnapping women for the merchants. Second, you discover the merchants have loaded the women onto a boat. Third, you storm the boat to free the women and are attacked by monsters. Fourth, you go to the feudal lord's castle to kill the monsters and save the world. The end.
There are no side characters or plot twists, this is a very straight-forward game. Honestly, the addition of random monsters felt pretty strange. There are 15 possible bad endings where Ajisai becomes a sex slave. There is one good ending where you defeat the monster leader. Seriously, there was no setup or indication of monsters until the later half of the game.
GAMEPLAY
This game was created with RPG Maker VX Ace. Move with the arrow keys. Press CTRL to skip messages. Press S for the text log. Press Shift to run. Hold 'A' to enter stealth mode. The first half of the game is almost entirely stealth gameplay. The second half is pure combat. This is because monsters cannot be killed using stealth attacks.
Stealth gameplay is a matter of hiding behind corners to avoid the line of sight your enemies have. Hold A to go invisible and cross their line of sight. You can instantly kill them from behind, but if you're caught, you will be in a prolonged battle. The game has three difficulties from easy to hard. I recommend normal mode if you want a well balanced experience. Hard mode practically requires New Game Plus to beat it.
The gameplay is very linear. Kill enemies to earn money and clear the path to find items. Once you fight the boss of the stage, you go home. There, you can spend money on healing items and equipment. While you cannot replay stages, the final level has a function to go back and train if you feel the need.
Altogether the game is a well-crafted two-hour experience. There's a notorious glitch if you activate stealth mode before a cutscene, but as long as you avoid it, your playthrough should be smooth as silk.
GRAPHICS
The art is Japanese anime style. There are 30 scenes in total, the vast majority of which focus on Ajisai.
Ajisai has a perfectly round ass, emphasized by her long ponytail that falls along her back. Her thighs are thick and juicy. She has the perfect breeding hips for the impregnation scenes. She also has a cute mole under her eye, which is missing in some scenes.
The lack of animations or on-screen graphics makes this much tamer than most ninja-style games. While Kunoichi Botan features a lot of blood, this game simply shows your kill count whenever you sneak up on an enemy.
The first area of the game has a wide open space with numerous enemies moving on patrol. The RPG Maker engine stutters a bit, but overall can handle it. Thank goodness the developer didn't use RPG Maker MV, or this game would be a repeat of Kunoichi Tsubaki.
Some scenes have very questionable body proportions. One in particular shows that Ajisai has no butthole, and her waist is two inches wide. Maybe it's something about the idealized female form, but I found it distracting.
VOICE ACTING AND SOUND EFFECTS (SFX)
Ninja Ajisai has no voice acting.
The sound effects are generally stock assets with a few exceptions. For example, in one scene a group of men pee all over Ajisai. But rather than sounding like liquid on skin, it sounded like water dripping onto floor tiles. It broke my sense of immersion and sounded really weird. That's the danger of realistic sound effects! You could tell the water was landing on the floor rather than a real person.
MUSIC
There are 18 songs on the soundtrack.
Remember when I said the game has only four levels? The music tracks are also labeled that way. The tracks are named "Level 1", "Level 2", up to "Level 4". This was pretty funny, especially because they're all so similar. I swear it felt like one track played through the entire game. The song featured a simple guitar and drums. Although there is a large number of tracks, they all felt the same.
HENTAI
Ninja Ajisai has 30 scenes in total, many of which escalate over time.
There are two types of scenes. One where Ajisai is defeated in battle and takes enemy cock. The other, where Ajisai rescues women who were kidnapped and in the middle of a good fucking. The ninja branding should have warned you, there's no romance involved here.
Some scenes are pretty hardcore, including violence like men punching Ajisai. In another scene, she's impregnated and gives birth to toad babies. Thankfully, the vast majority of scenes are classic one-on-one human sex.
Sex positions range from cowgirl to doggystyle with a variety of variations. The dirty talking men enjoying Ajisai's tight pussy is always a glorious addition to the visuals. I only wish the monster scenes were more varied than orcs and toads.
CONCLUDING WORDS
It's a high-quality hentai stealth game. The story and gameplay are simple, providing a unique ninja-style adult gaming experience for the player. With 30 scenes in total, you get to see Ajisai losing it to lust in every way imaginable.
I highly recommend this game to fans of stealth RPGs everywhere! Download Ninja Ajisai. If you want another stealth ninja game of a similar style, check out our review of Kunoichi Botan.
Graphics

Gameplay

Story

Music

SFX

Hentai