HuniePop 2: Double Date, Review + Outfit Codes
Hentai Reviews

>

Reviews

>

HuniePop 2: Double Date, Review + Outfit Codes
Written By Sexy, edited by OtakuApologist
HuniePop 2 is a well known dating sim with match-3 gameplay and some extra gimmicks to spare. Developed by HuniePot. Launched February 8, 2021. Download at Nutaku for $20.00. Full English voice acting. Uncensored pussy (with side patch).
For fans that have been following this and missed the recent release due to life. Let me quickly get you up to speed – HuniePop2 is a bigger and better HuniePop in most regards.
That being said, HuniePop 2 is the least satisfying game I've played in a long while. The match-3 core gameplay solidly centered inside, just so happens to be the least engaging version of a match-3 game I've seen to date.
Obviously the devs have moved away from their attempt of trying something different and left behind their previous lackluster game "HunieCam Studio". Which was an experiment that seemed interesting enough, but badly planned and way too short and repetitive for its own good. Leading to a general waste of resources, short lived gameplay and understandably lukewarm player reception compared to Huniepop.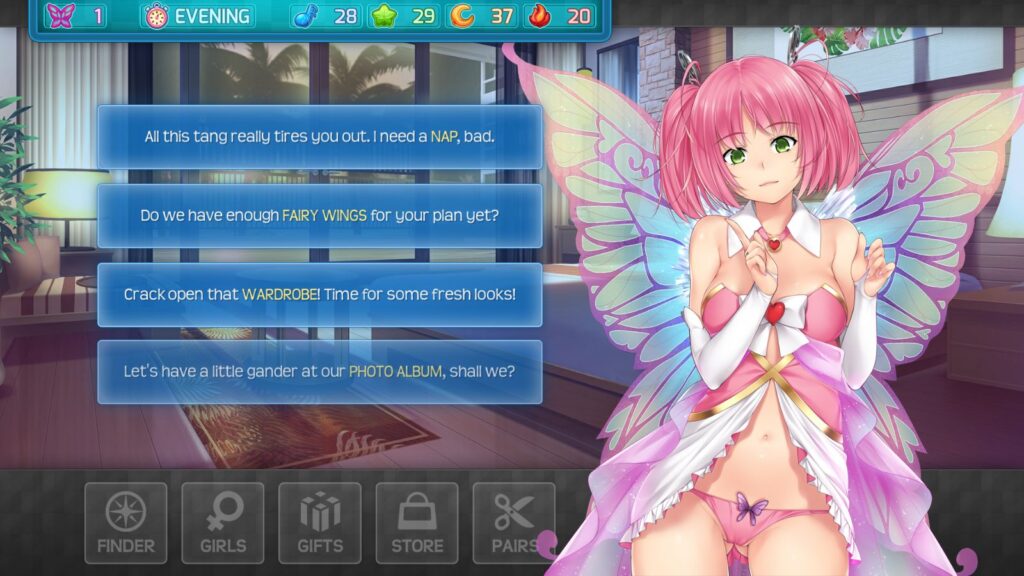 Production wise, HuniePop2 is much higher quality and by the looks of it, quantity as well. It is all well and good until you crash into that match-3 game, which is infuriatingly slow, tedious, and so far as I'm concerned even degraded compared to its predecessor.
They've tried to complicate the game by having you swap girls you are interacting with, but my god is it annoying. The interface is needlessly obtuse. The tempo of the match-3 game is just horrible. We don't even have to mention crushing candy. This game appears inferior to the first versions of Bejeweled and even a two dollar game by the name of Mirror.
The girls, voice acting and settings are excellent. They have plenty of outfits and haircuts, which add quite the extra value to each of them. However the release seems to be inept. Not all stores offer the uncensored version and even though the Steam one is Adult Rated, the nudity has to be downloaded off site at their developer blog. Something that even sleezier adult games now do via free DLC for the convenience of players.
The payoff scenes are fine but feel cheap. Especially if you compare them to the world that they have created. Some crazy slick and detailed places filled up with proper furnishings that have great views. Conversation with a bit animated girls, versus a static image payoff sex scene. They could have at least bothered with the minimal procedural animation they are using during the rest of the game.
Instead, the actual sex scenes have the lowest production value of all the features, which is fucking nuts. Given that they've animated the girls when they are just sitting in some hotel lobby. Clearly they have little idea what went well in the first game, and have tried to remix things a bit here, but ended up making it worse.
The tutorial is annoyingly unskippable, can't even open settings to adjust sound, or even exit to the main menu, not until you push through minutes of exposition.
Whoever designed the user experience seems to have an active desire to kick players in the balls given the opportunity.
Maybe I've played too many games and I'm picky. While I hate to say it, it seems to me that even greedy free to play games on nutaku are putting more effort into their sex scenes and core gameplay. I played four hours into this thing and it's 1/6 completed, making it not even long. Would have been better off if I browsed random hentai videos on PornHub.
Keep in mind – Steam ratings are still in the upper 90% so, its core fanbase likes it a lot. They have great graphics, good music, sound effects, decent conversations, pretty good production. But that fucking match-3 game is the stone in my shoe and is infuriating me the more I play it. The hentai in it is just not that good for me to bother. These folks are literally better off using open source match-3 code.
To me, it's not worth the $20 bar to entry. But clearly, I have a fringe opinion on the matter. You can download this game at Nutaku for $20.00.
To close things off, here are a bunch of outfit codes that you can swap out in your room at the wardrobe. (Proving how once again the UX design is stupid, because you change clothes of all the people in the world only from your own room)
OUTFIT CODES:
Unlocking Abia's "Morning Delight" outfit, is the code: CHERRY ON TOP
Unlocking Ashley's "Clamoflague" outfit, is the code: SISTERS IN LEGS
Unlocking Lillian's "Candy Corn" outfit, is the code: LICK OR EAT SMELL HER FEET
Unlocking Lola's "Afrikini" outfit, is the code: CAFFEINE QUEEN
Unlocking Brooke's "Stars & Stripes" outfit, is the code: FROM C TO SHINING DD
Unlocking Candy's "Onahole" outfit, is the code: IN A HOLE
Unlocking Jessie's "Naughty List" outfit, is the code: CHECKING HER OUT TWICE
Unlocking Lailani's "Koimono" outfit, is the code: YELLOW TUBERCULOSIS
Unlocking Nora's "Spiral Scout" outfit, is the code: SEX BADGE EARNED
Unlocking Polly's "Tuxedo" outfit, is the code: EXCUSE ME ITS SIR
Unlocking Sarah's "Cow Girl" outfit, is the code: MOOOOOOOOOOOOO
Unlocking Zoe's "Scarehoe" outfit, is the code: ALWAYS STICK IT IN CRAZY
Graphics

Gameplay

Story

Music

SFX

Hentai