Mass Effect 3D Porn Video Review: Curious AI First Times
Hentai Reviews

>

Reviews

>

Mass Effect 3D Porn Video Review: Curious AI First Times
Written by Mistress Valentine, edited by Sexy and Otaku Apologist
Curious AI: First Times, a 3D porn video made by Big Johnson. Visit the creator's Patreon. Released February 5th, 2021. Runtime 23 minutes. Full English voice acting. Uncensored genitals.
STORY
Tali and Edi are working alone on a planet outpost. Edi discusses Tali's species while Tali grows curious about Edi's body. To her surprise, Edi informs her that she possesses both female and male genitals. Tali wonders what sex would be like with her and Edi is all too happy to oblige. She grows a nice, stiff futa cock that is pulsating with anticipation.
Despite the risks, Edi lets Tali fuck her. Once she has experienced her first organism, she eagerly works Tali's dick a second time. The episode features a lot of dialogue between Edi and Tali to help viewers understand each character's background. The interplay between the two establishes a good foundation that makes the sex more wholesome. A lot of the dialogue in the opening sequence relies on viewers being familiar with the Mass Effect games.
Discover more faptastic 3D porn games and videos we've reviewed over the years!
ANIMATION
First Times features some top tier quality animation with nice, organic movements and high frame rate. It feels like you're watching a Mass Effect movie on the big screen. The visuals are gorgeous. We are treated to a beautiful sci-fi opening with a space ship journeying through the cosmos while the credits roll. The character models look sexy as hell with no clipping. The attention to detail is extraordinary.
The camera work in First Times is out of this world. You can tell Big Johnson went the extra mile to make sure this feels like a cinematic experience. There are several, slow pan shots that introduce the characters and the world. The camera lingers in unusual places in order to show off Edi and Tali's sexy bodies.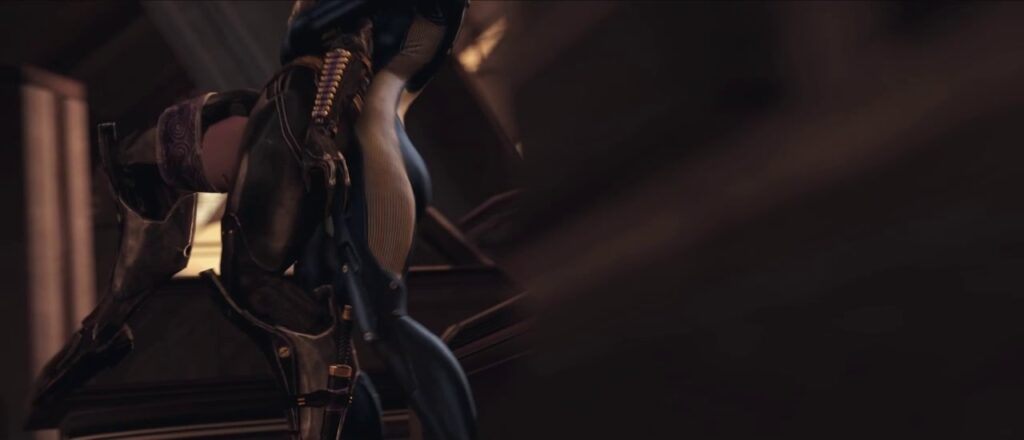 VOICE ACTING AND SOUND EFFECTS (SFX)
The voice acting is excellent. The best of the best NSFW VAs are used to make the voice over sound as sexy as the visuals look. Dorn voices Tali. Her accent is cute and makes her moans during penetration super lewd. Alexia provides the voice for Edi. She does a magnificent job giving the robot a monotone speaking manner, but also combines it with a healthy dose of deadpan humor.
The episode is also filled with a library of sounds to make the world feel realistic. Fabric rustling, space engines, footsteps and computer screen navigation will make you feel like you're in a movie. There are plenty of sex noises when Tali and Edi bang. Pussy pulsating, dick thrusting and cum shooting make up a few of the numerous sound effects Big Johnson uses that make sex in the episode feel organic.
MUSIC
The music in the episode is lifted from the Mass Effect video games. The songs have a good variety but the focus is on slow, intimate numbers. Most of the music I heard use synthetic instruments. The songs are uninteresting compared to the sexy visuals and wonderful voice over. It might as well be background noise.
HENTAI
Big Johnson delivers another intimate romp with this episode. The setup between Tali and Edi perfectly sets the mood. The sex is dirty, but wholesome. It takes two sexy ladies and puts them to work fucking each other's brains out.
Tali is almost in shock from seeing Edi's monster futa dick, but she soon takes it like a pro. The thrusts are hard and long. The sequence is made better by the numerous camera angles. We get several closeups of Edi's cock penetrating Tali's dirty cunt. The motion is fluid and feels realistic.
The combination of voice acting, dazzling camera work and initial set up make the episode a beautiful work of art. It leaves you wanting more. The level of detail is amazing and the sex is rich enough to empty your ball sack effortlessly.
CONCLUDING WORDS
Curious AI is a sublime piece of erotic media that sports wonderful visuals, hot lesbian robo futa sex and jaw-droppingly lewd characters. The voice-over is out of this world and leave you wanting more. On a personal, we need more creators like Big Johnson putting out more content like this. This was a really good fap and I truly recommend it to everyone.
You can watch Curious AI: First Times on Newgrounds.com.

Animation

Story

Music

SFX

Hentai