Written by Mistress Valentine, edited by Sexy and Otaku Apologist
Sweet Story Bunny Club, a puzzle game developed and published by Pen in Apple Studio. Released for Windows on April 7, 2021. Download on Nutaku for $1.60. Moans only. Uncensored genitals.
STORY
Sweet Story Bunny Club is about a young man who visits a strip club one night. He finds an attractive, but lonely girl trapped there. He decides to take her home. She is overwhelmed and immediately falls in love with him. Because of course they do… this is hentai, and no-one has any emotional baggage or insecurities encumbering an impromptu sexual encounter.
Like most Pen in Apple games, there is no text to read. The plot must be surmised from the CGs you unlock while playing. If you like to imagine, you should be able to fill in the blanks the story presents with its visuals.
GAMEPLAY
Sweet Story Bunny Club is a puzzle memory game. It has nine stages to clear. At the start of every stage, a board of tiles will momentarily flash on-screen. Make sure you memorize their positions because after they are turned over, you have to match tiles in pairs of two until the entire board is clear. Tiles include martini and other cocktail glasses, fruits and lewd imagery.
If you're too lazy to play, you can cheat your way to victory by pressing Control + F. After you have cleared a board, a new CG is available to fap to.
GRAPHICS
The art in Sweet Story Bunny Girl looks and feels different from other Pen in Apple titles. The CGs are sometimes shifted behind background artwork while other times laid on top of it. The imagery really pops when it is cleverly blended in with the rest of the art. The game uses Pen in Apple's 2.5D visuals which makes their sprites look alive. Hair, ears, clothes, face and tits sway hypnotically as you play. Bunny Girl has a lot of expressions.
The background art is amazing. The bright lights and neon signs create an intensely cool atmosphere inside the strip club and a beautifully cinematic one outside. It is so amazing that it can easily get in the way of the gorgeous CGs the game provides us with. In-between the CGs or in the background, you will see other babes getting fucked in the club. It's a really enticing atmosphere.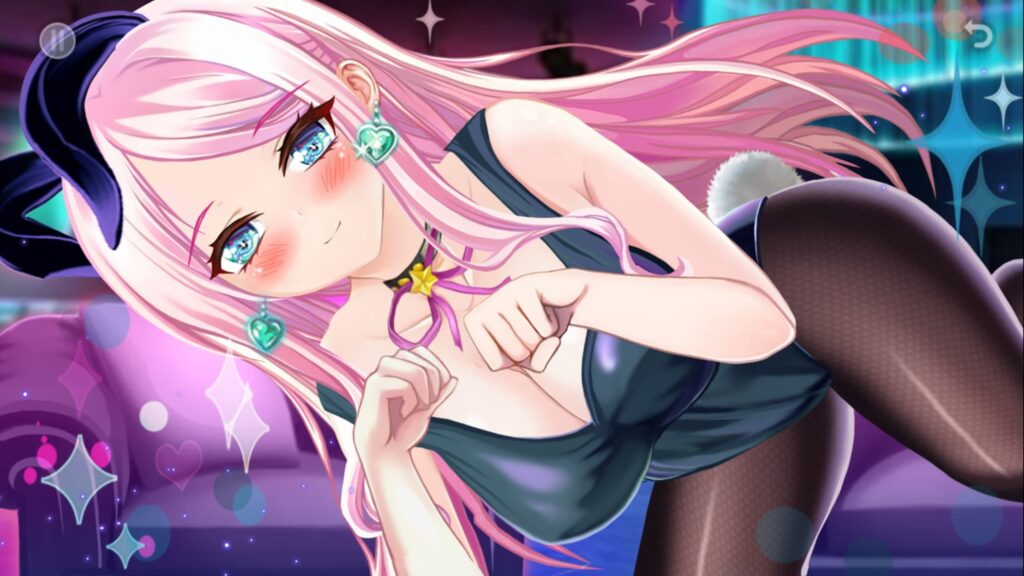 VOICE ACTING AND SOUND EFFECTS (SFX)
Sweet Story Bunny Girl has no voice acting. You just hear Bunny Girl and various other girls moan as they are fucked from head to toe. The grunts and moans sound generic but I did get wet listening to some of them. They are believable enough that you think someone is actually getting their brains pounded out of their pussy.
Sound effects are very limited. Other than tiles being flipped up and down throughout the game and dicks thrusting into pussies, I couldn't hear anything else.
MUSIC
The opening theme is beautiful. It is sung by a Japanese artist and manages to hype you up for the rest of the game. The soundtrack has ten songs. The in-game music isn't as impressive. A lot of the worded songs sound muffled. The tune all blends into one after a while.
Songs are either slow or medium-paced and use original and synthetic instruments together. Music tries to mimic the kind of songs you'd expect to hear at strip club, or at least what the developers believe strip clubs play.
HENTAI
The Bunny Girl's breasts flop around regardless of what she does. Her nature is timid, but she willingly gives herself to you, like she was born to fuck. Your dick is huge with sweet bulging veins that just scream to puncture Bunny Girl's pussy. The CG where you unload into her with your meat stick is one of the best pieces of artwork Pen in Apple has produced.
The camera angles are very vanilla. Often times events in the foreground are overshadowed by what is happening in the background. Whores get fucked, their pussies rocked. It's far more exciting than seeing Bunny Girl act cute towards you.
CONCLUDING WORDS
This game has some fantastic artwork that encourages you to play all the stages through, but it features very little else that makes it stand out from other eroge on the market. It's also a rather generic entry into the library of Pen in Apple. A little more innovation would be nice, thank you. You can download Sweet Story Bunny Club at Nutaku
Graphics

Gameplay

Story

Music

SFX

Hentai