Written by Mistress Valentine, edited by Otaku Apologist
Sakura Sadist, a hentai visual novel developed and published by Winged Cloud. Released May 25, 2018. Available for download on Nutaku's digital store for $9.99. Available for PC Windows, Mac, and Linux. No voice acting. Genitals strategically hidden for no discernible reason.
Sakura Sadist follows three high school girls Azusa, Mari and Mamiko. Each of them is dealing with a personal problem. Azusa loves Mamiko and is skipping her studies to be with her. Mari is finding it difficult to be Azusa's friend because of her feelings towards her. Mamiko is tired of trying to be perfect. Little do these bitches realize they're about to learn to know each other much more intimately.
We've reviewed the following other titles from this developer: Sakura Space, Sakura Santa, Sakura Halloween, Sakura Dungeon, Sakura Gamer, Sakura Nova, Sakura MMO.
STORY
Azusa is an upbeat, perverted high schooler madly in love with the school idol Mamiko. One day she receives a text message from a mysterious person named 'Venus'. Venus promises she can make Azusa's sexual dreams a reality. All she needs to do is take pictures of Mamiko's panties and send them to her.
Mari is Azusa's best friend from childhood and her 'wife' in name only. It's obvious she is in love with Azusa, but is insecure because her friend is in love with someone else. Fact that they're both girls also complicates things.
Mamiko is the school's smartest student, but underneath her prim and proper appearance lurks the soul of a cold-hearted dominatrix who will do anything to make others into her pets.
After a number of false stops, Azusa finally manages to snap some pictures of Mamiko's panties. A hint of guilt makes her stop to contemplate whether to send the photos to Venus. Her pussy itching for action, she gives in to temptation and clicks "send". With one text message, it's as if a magic spell was cast on Mamiko. The tables are completely turned, and Mamiko is suddenly interested in her.
However, Azusa doesn't get love on her terms. Mamiko permits her presence around her, but she no longer acts like sweet and innocent. Mamiko is a sexual deviant who dominates her partners. She forces the poor love-struck Azusa into all kinds of embarrassing escapades, like dressing up in maid uniforms, and acting like a dog.
Azusa struggles to tell Mari what is happening, straining their relationship further. All of this culminates in Mari confessing her feelings to Azusa and putting her in a position where she must choose which girl she'll date: Her childhood friend, or the girl she's in love with that's treating her like a slave.
The exchanges between the characters makes you impatient wanting to see them realize they like each other and kiss already. The story is less about sex and more about relationships and cock tease.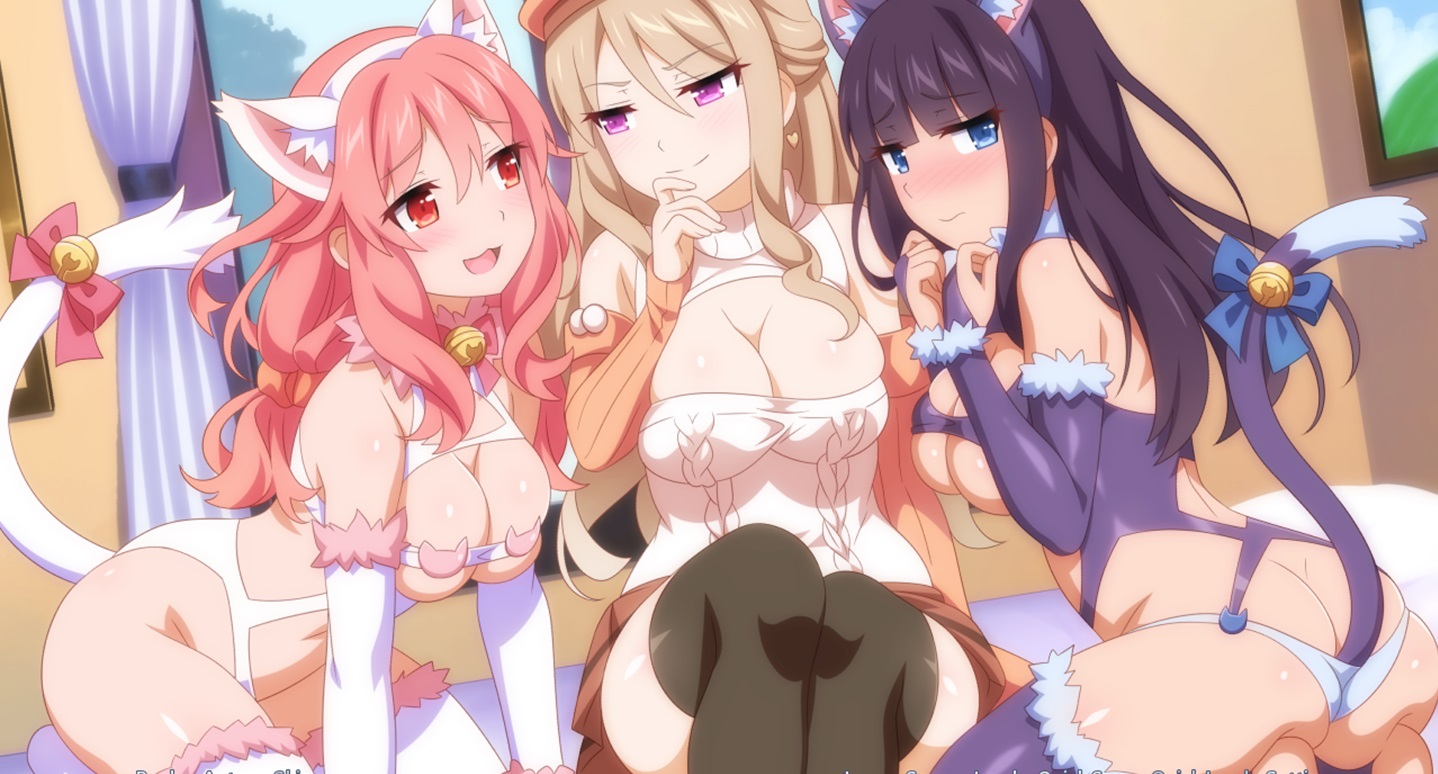 GRAPHICS
I love the art style. The graphics look sharp and detailed with almost no low quality artwork. However, only main characters have sprites while side characters are only represented in text format. The girls look like big-breasted lesbian sluts, even if they don't know it yet. Mamiko, Azusa, and Mari all have distinguishing features, clothes and personality. Body proportions and head shapes stay consistent, although breast sizes change depending on the hijinks taking place.
The backdrops similarly have a vibrant, joyful feel to them with bright colors and depth that is sometimes enough to steal attention away from the characters standing in front. There is also a wide variety of environmental artwork with a good balance between interior and exterior locations, creating a vivid world for these characters. The lighting of the artwork is mostly bright and colorful with almost no scenes showcasing night time.
The artwork is sexy and takes full advantage of typical anime tropes like hands on breasts, panty shots, and cute girls kissing. You can see the amount of work that went into these visuals.
GAMEPLAY
Sakura Sadist is a visual novel. You click the screen to "turn the pages". Every so often, the player is presented with choices during dialog. Depending on the player's decisions, the story branches into different directions. There are three endings that I have discovered, including a 'fuck them all' ending with a juicy threesome.
There are more than enough save slots to help you backtrack your choices. There's also a button to speed through parts of the dialogue you already read. The game has basic visual novel functionality, and runs without glitches.
VOICE ACTING AND SOUND EFFECTS (SFX)
This game features no voice acting or sound effects.
MUSIC
This game is peppered wonderfully with an assortment of upbeat cello and piano tracks. Some of them are fanciful, and evoke warm, friendly feelings while others are darker, reflecting the vengeful features of certain characters. There is a lot of music in this game. Almost every location has a unique track and atmosphere.
The music is great during scenes when things are getting more romantic. A playful jingle plays during perverted anime moments. These upbeat tracks don't distract from the dialogue or the amazing visuals.
HENTAI
There is no actual sex in this game, just plenty of lewd, sexual escapades and people dominating each other. Mamiko dominates Azusa to be her 'pet'. She makes her strip and put on a dollar. It's sexy as hell, accompanied by gloriously erotic artwork of Azusa on her hands and knees like a slut ready for cock.
There's also hijinks between Azusa and Mari. Some scenes include Azusa falling and squeezing Mari's boobs. She once drops ice cream down her blouse, making it look like some lucky bastard shot a huge moist load all over her torpedo tits.
There's some great foreplay in this game. Mamiko spills juicy, creamy chocolate syrup all over her breasts before inviting Azusa to come lick it clean. Unfortunately none of these scenes last long enough to make you blow a load, but they do make for some fantastic artwork.
CONCLUDING WORDS
Sakura Sadist is yuri visual novel that explores homosexual romantic relationships between young, virile women. The game makes up for the few number of sex scenes by bombarding the player with a slew of sexy artwork accompanied by sexually enticing dialogue. It's a genuinely good love story about lovely lesbians who desperately want to bang each other's brains out, but are too neurotic to just fuck.
I recommend this game to yuri fans worldwide. Download Sakura Sadist.
Graphics

Gameplay

Story

Music

SFX

Hentai