Sexy Puzzle Game Review: Hentai Story Jasmine
Hentai Reviews

>

Reviews

>

Sexy Puzzle Game Review: Hentai Story Jasmine
Written by Mistress Valentine, edited by Sexy and Otaku Apologist
Hentai Story Jasmine, an adult puzzle game developed and published by Pen in Apple Studio. Released for Windows on April 18, 2021. Download on Nutaku for $2.00. Partial voice acting (moaning only). Uncensored genitals.
STORY
The game's plot is told through the images you unlock as you play. Basically, an Arabian princess named Jasmine meets a genie who gives her a juicy orgasm.
The game has no text to read and leaves what happens to the player's imagination.
GAMEPLAY
You unlock CGs by matching tiles. At the start of each stage, the screen flashes with a series of tiles before flipping face down. These tiles have different images like an elephant, reed plant, Egyptian heads and sphinxes.
You have to quickly memorize the positions of all the tiles before before they are hidden. And then flip them over in pairs. Once the board has been cleared, one CG will be unlocked. The game has nine CGs to unlock. Remembering the positions of so many tiles can be difficult if you don't have a good memory. Thankfully for you and unfortunately for the game, there is only a limited number of sequences. During the last three rounds I played, I received the exact same spread of tiles so pairing them proved very easy. You can press Control + F for an easy win.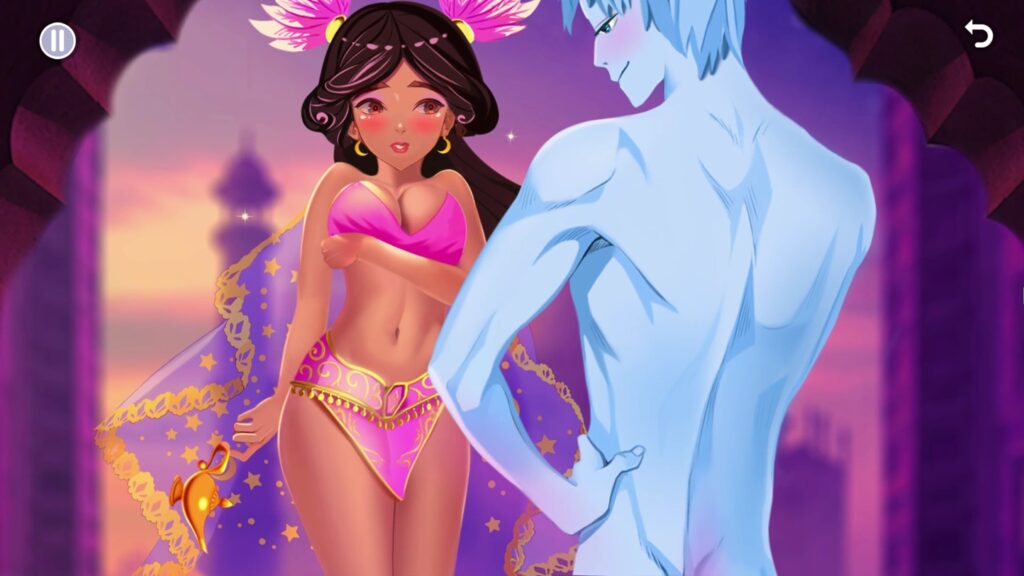 GRAPHICS
Hentai Story Jasmine features alright graphics. The art style has a western look, but feels very basic. Lines are thick while colors look painted on. The game tricks you into believing Jasmine's on-screen sprite is alive when the developer team simply contorts the image dimensions to make it look like she's swaying her hips. Jasmine's sprite looks like a stereotypical Arabian girl. She has moderately sized breasts but doesn't come off as particularly attractive. Her face looks very doll-like. Her features don't pop even when she has a dick inside her.
Each CG you unlock depicts Jasmine in a different sex position. The positions are varied, but lack sex appeal. The opening animation that plays at the start is wonderfully done for a game that was obviously made on a very tight budget.
VOICE ACTING AND SOUND EFFECTS (SFX)
Hentai Story Jasmine has no voice acting. After you complete a puzzle, you will hear Jasmine make a series of random pleasurable moans and groans that last until you go to the next puzzle.
The game's sound effects are limited to generic thrusting and squelching noises that can only be heard once you complete a puzzle. The most featured sound is when you flip over a tile.
MUSIC
The title is rich with a beautiful Arabian soundtrack. The music isn't intrusive or distracting. It relaxes you as you think your way through the puzzles. The game uses original instruments typically heard in Arabian Nights and other titles of the same genre. Listen closely and you'll hear reed instruments, drums, lyres, tambourines, even zither. Songs are lengthy and varied. Changeovers are very noticeable due to how unique the music is.
HENTAI
The sex is both the primary focus and an afterthought in Hentai Story Jasmine. You can always see Jasmine's body through the flipped tiles, but the difficulty of matching the tiles means you don't always have the focus to appreciate it.
As you unlock more CGs, the relationship between Jasmine and the genie progresses. He charms her, then sticks his dick in her cunt and cums inside. He takes her from behind and rides her like the Arabian whore she is. The game ends with her out of breath with a pussy leaking thick genie juice.
The sex isn't creative or unique. The lack of voice over and onscreen text makes it feel like you're just fapping to a JPEG on your computer. The music doesn't change when Jasmine is fucked. The generic dick thrusting noises that play over the sex does not improve the quality of the hentai content.
CONCLUDING WORDS
Hentai Story Jasmine will appeal to folks who wish they could have sex with Disney's Jasmine from Aladdin. The CGs are good enough, supported by the fantasy of cumming gallons into your own Arabian princess. You can download Hentai Story Jasmine on Nutaku.

Graphics

Gameplay

Story

Music

SFX

Hentai