Pirate Hentai RPG Review: Artemis Pearl
Hentai Reviews

>

Featured

>

Pirate Hentai RPG Review: Artemis Pearl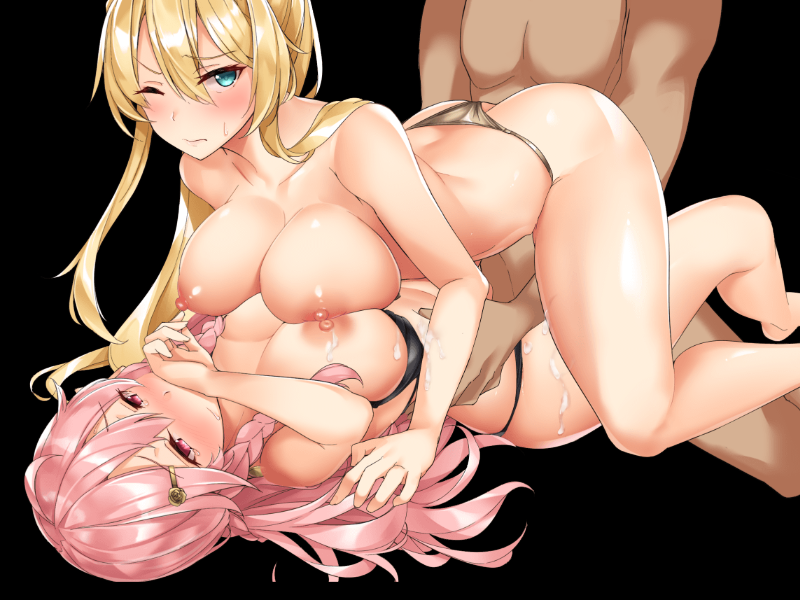 Written by Rastafoo69, edited by Otaku Apologist
Artemis Pearl, a hentai RPG developed by Triangle. Released February 8, 2020. Download on DLSite for $10.00. For PC Windows. Full voice acting. Censored genitals. English fan translation patch here.
Ten years ago, the great Pirate King died. Now, his daughter Rubina has saved up enough money to set sail on her own. With hard work and perseverance, she will find the Artemis Pearl, and uncover the truth of what happened to her father all those years ago.
New to Japanese eroge? Read our guide How to download DLSite games. Also read how to apply translation patches.
STORY
The Artemis Pearl is said to have the power to conquer the world and grant any wish. Without spoiling anything I'll say, the ending is fucking incredible. The dialogue, the action, the emotional stakes! This game truly was an unforgettable experience.
Throughout the game, Rubina upgrades her ship and grows closer to her crew. Early on, a caveman named Osaru joins, and he is surprisingly lovable and funny. A female knight named Stilia joins in the midgame, hoping to find and destroy the Artemis Pearl. While the game is heavy on the light-hearted humor, it balances that out with some delicious drama.
This was far from a linear game! There are tons of locations where you know the Pearl is not nearby, but you can explore them at your leisure for the sake of crafting ingredients and leveling up. There are also five bounty hunter missions if you're looking for sex and gold. I love games that provide you a break from the high tension main story.
Side quests are available as mini-movies with choices and various outcomes. These quests can be repeated to see how your choices brought different events into play. Although the hunt for the Pearl is the primary focus, these miscellaneous stories make you feel like a growing explorer and pirate.
The post-game is fully playable with new dialogue and a unique side story as a reward for your success. This, like all quests, gives you unique items to expand gameplay possibilities. Will you get your own horse? Or a magic fishing rod? Will you pay with gold or your body? Will you get into a fight, or find another way? The choice is always yours.
Although Rubina is the main character, the pirate ship also feels like the star of the story. The status menu updates you on the net worth of your ship at all times. At first, it's worth 5000 gold. But by the end of the game, well, I won't spoil it! Safe to say, the dialogue about the ship really moves you, because you're the one who built it. When the ship is under attack and Osaru says "We must protect our home", I felt that.
GAMEPLAY
Artemis Pearl was created in Wolf RPG Editor. Press CTRL to skip text. Hold Z to activate your golden eye vision. Press S to view your map. More features like pressing A to fish will be unlocked as you progress.
The level cap is 30. If you stop to grind for levels, you'll end up playing a lot of the game overpowered, earning no experience. Similarly, the bounty hunter missions and pirate recruitment system should not be ignored. They're a great way to make money early on, so you won't have to grind enemies or forage nonstop.
There are three difficulty modes, but they have no effect on the story. Forage for crafting ingredients on the map to craft stronger weapons. Upgrade your ship to unlock new side stories, bounties, and regions to explore.
The Pirate Recruitment system requires 1000 gold or sex to convince someone to join your ship. The pirates are completely randomized, and sometimes it's funny. I recruited a 96 year old to join my crew! Pirates can become party members or passively find items for you, so they're well worth the cost!
This is an RPG title done right! Go foraging, craft some stuff, upgrade your ship, recruit new pirates, complete side stories, hunt down bounties, or continue the main story. The game never gets boring, because there's always something new to do! And with impactful level-ups to boot, you're in for 4-6 hours of pure bliss!

GRAPHICS
The entire game is fully animated from h-scenes to standing art! Variation images for facial expressions and other poses are absolutely wonderful! By activating auto-dialogue mode, this game can effectively be enjoyed as a movie, perfect for fapping in between dungeons!
Rubina and Stilia are the two primary waifus and they are gorgeous! For every still image in this review, remember, it looks even better fully animated! Seeing Rubina's girly hand grab hold of a dick, Stilia's massive milkers sway back and forth, it is amazing! Camera angles from above and below, a side view and a front view. Sometimes the focus is tits, other times you get full body artworks. The blushing, the bouncing, the thrusting! Everything is fully illustrated and animated realistically with beautiful anime artworks. This is quite possibly, the most visually impressive game we have ever reviewed.
The animations lend themselves to a 3D feeling for each character and the world around them. All animations can be played at 16 or 32 FPS depending on your settings. There are 21 base animations spread across 54 scenes. Although they repeat, scenarios vary wildly. For example, the first scene with Osaru is just pussy grinding with no penetration, while a later scene offers a similar pose but finally shows his caveman cock in Rubina's pirate pussy! Even if animations repeat, they build off each other in the most wonderful way possible!
Outside of CG images, the world in-game is downright incredible. Birds fly away when you get too close, torches can be used to illuminate dark caves, horses can speed across the screen and trample foes! Even the small details of the game are near perfect. Diagonal movement across the map! So many games neglect this feature, but this game has it all!
The peak of stellar visuals, is when they work alongside the gameplay. By holding Z on the keyboard, Rubina activates her golden eyes vision. This allows her to see things hidden and unseen by normal human vision. At first it simply allows you to find bags of gold hidden away, but as you play, you'll learn new uses for it. I'm not referring to new abilities! I'm saying, you as the player, will realize how useful this ability is. Like the ability to detect enemies in the dark with the golden eyes! Or the ability to see which enemies have disguised themselves as rock and crystal formations. This game actually rewards you for exploring your abilities and your surroundings!
VOICE ACTING AND SOUND EFFECTS (SFX)
Artemis Pearl features full Japanese voice acting for Rubina and Stilia. The voices can be toggled on or off depending on your preferences, but I highly recommend keeping them on. Rubina has a youthful and girlish voice while Stilia has an experienced and womanly voice. This is reflected in the character designs with soft cloth versus hard steel, but is made even more clear by the voices. Seriously, there is so much character building in these lines!
The voice patch is a separate purchase from the base game, but it is well worth it! I can't imagine the game without it! However, since some players will go without, let's emphasize the sound design! A quick glance at the readme-file will prove this point, the sound effect in this game are awesome. The sheer variety is incredible! From little footsteps, to thrusting sounds during sex, it's magnificent! Each skill has a unique sound, and each character has unique skills! I didn't even notice the hours passing as I played!
MUSIC
Although there are +50 tracks in total, they're mixed between ambient background noise and music tracks. For example, one side story has Rubina walking around the countryside at night. You hear bird chirps and other sounds fit for the environment. Meanwhile the final battle is an upbeat rock track digitally synthesized perfect for the scene. Often times, like in the main menu track, ambience and music are combined. Ocean waves fill the background, while a mystic theme provides the melody. One of my favorite tracks mixed harp and piano into a truly magnificent rhythm.
HENTAI
Artemis Pearl features 54 erotic scenes in total. All scenes are animated and unlocked once the game is complete. There is no virgin playthrough, but that's fine, since the game usually has a comedic and relaxed tone. Nearly all scenes feature vaginal sex, there actually isn't a single scene of basic groping or humping.
The sex scenes are perfect. The thrusting sound effects matches the moaning which enhances the immersion provided by the vivid animations, creating a truly unforgettable fapping experience. While Rubina is inexperienced, Stilia is more of a tease. This is especially hot when her womanly charms go wrong, like when her junior knights finally fuck her! She's their boss, their superior, but she's also a woman who needs to learn her place!
Sex positions include cowgirl, pronebone, and doggystyle. Sometimes the visuals don't match well with the dialogue. Like when anal and vaginal scenes feature the same image, or orc sex shows a human male in the scene.
My absolute favorite scene in the game is when the caveman, Osaru, fucks and creampies the proud knight. Stilia was literally used as a cum dumpster and discarded, like a used tissue afterwards! I love this game, it's so dirty and hot!
CONCLUDING WORDS
Artemis Pearl just might be the magnum opus of circle Triangle. The visuals are incredible, the gameplay is addictive, the ending made me cry, and the pro voice acting made my dick rock hard! This is among one of the greatest adult games we have ever reviewed, I recommend it whole-heartedly to everyone.
Download Artemis Pearl. If you like quality adult RPGs, then also check out our review of Demon Sword Snakes.

Graphics

Gameplay

Story

Music

SFX

Hentai