Romance Hentai Anime Mini-Series Review: Ore no Yubi de Midarero
Hentai Reviews

>

Reviews

>

Romance Hentai Anime Mini-Series Review: Ore no Yubi de Midarero
Written by Mistress Valentine, edited by Otaku Apologist
Ore no Yubi de Midarero, a hentai anime made and published by Studio Mausu, Picante Circus and Suiseisha. Released April 6, 2020. Runtime 8 minutes. Full Japanese voice acting. Censored genitals.
STORY
The plot follows a girl named Hoshiya who dreams of becoming a professional hair stylist some day. She has come to Tokyo to shadow a very douchey stylist named Nanase. Unfortunately Hoshiya is a shrinking violet who gets flustered very easily, especially when Nanase gets too close. The series deals with their budding romance as Hoshiya learns to be a more confident stylist. She opens up and lets her hair down. There is no character development for Nanase. He starts off as a douche and ends that way.
Every episode is only 4 minutes long with the rest devoted to credits. The anime feels like a typical rom com, but only Hoshiya comes across as likeable. She accidentally splashes a lady with water while washing her hair because Nanase touches her. The same thing happens later on, but instead of owning up to his sexual creepiness, Nanase gaslights Hoshiya before pulling her in for a kiss, playing with her nipples and turning her into a love-sick mess.
Nanase is an awful character. He is charming and good-looking and the show makes it feel like he's entitled to do what he wants because of that. Hoshiya is hopelessly in love with him even before he starts paying attention to her. In a later episode it is revealed that as a child, Hoshiya cut Nanase's hair when he was fat and ugly and that's why he likes her. It gives the character some background, but doesn't cure his douchiness. If you're a fan of lovey-dovey romances, this hentai is your ticket.
SOUND EFFECTS AND VOICE ACTING (SFX)
The voice acting in Ore no Yubi de Midarero is professional level. Hoshiya shows a range of emotions. You feel bad for her when she is sad, you are happy when she is happy. During sex, the performance is weaker. She has a cute voice and her moans are soft and sweet, but it always feels like she's halfheartedly enjoying it. Nanase's voice actor plays up the character's charming prince persona and excels at delivering a performance where I wanted to punch his face multiple times.
The hentai features a collection of sound effects that make the world feel more realistic. Fabric rustling, busy streets, crowds, water rushing, there are multiple anime-esque abstract reaction noises whenever something funny happens. When characters are out in public, you hear the different ambiences that go with them.
MUSIC
The soundtrack for Ore no Yubi de Midarero is large and varied. Every kind of occasion has a song dedicated to setting the mood just right. The music helps sell you on the relationship between Hoshiya and Nanase.
Tracks are cleverly positioned to highlight comedic moments with fast, silly and upbeat music. Emotional or intimate moments feature slow songs that use piano and violins.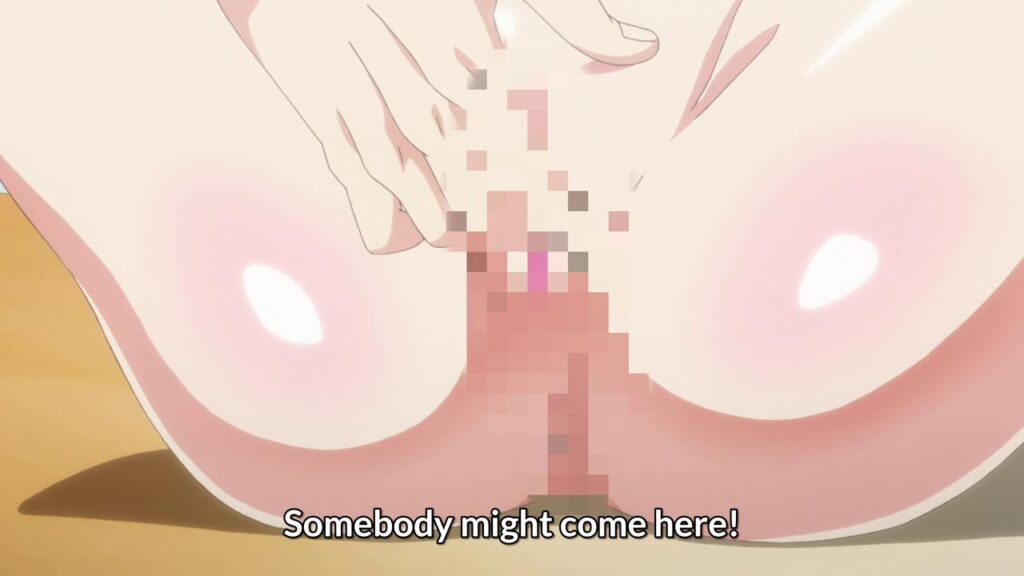 ANIMATION
The colors are slightly faded with thin edge lines. The character designs are unique like in the case of Hoshiya, but generic in the case of Nanase. The episode format allows the series to show off a wide variety of locations. These backdrops are well lit, with enough detail to make the world feel expansive. The anime is filled with typical emotional overreactions and abstract backgrounds with sparkles. These tropes occur often and make the hentai feel safer than it is.
HENTAI
Almost every episode features a short sexual encounter, but nothing stands out. Hoshiya and Nanase's relationship builds up slowly. He starts by kissing her out of nowhere and pulling her in, so he can play with her nipples. He graduates to fingering her pussy in the next episode before finally taking her back to his place. He fucks Hoshiya but the episode ends before we can see her cum.
In another episode Nanase eats out her pussy in the backroom at his store while she tries to keep her voice down. Another episode has him playing with her body while they're out drinking with friends.
The sex feels so boring and tame. It's too vanilla for my tastes, showcasing no creativity to make you aroused. I didn't get wet once watching the entire series which is something that doesn't happen to me with hentai.
CONCLUDING WORDS
Ore no Yubi de Midarero is a beautifully drawn anime trying to tell an interesting story. It fails more times than it hits the mark. The main leads are weak while the sex feels unromantic. The vanilla sex lacks of imagination. The creators played it safe, too safe in my opinion.
You can watch this hentai anime mini-series at many streaming sites, including HentaiHeaven.
Animation

Story

Music

SFX

Hentai