Written by Mistress Valentine, edited by Sexy and Otaku Apologist
Call of Hentai Neko, a hentai puzzle game developed and published by Pen in Apple Studio. Released for Windows on April 14, 2021. Download on Nutaku for $1.60. Partial voice acting (moaning only). Uncensored genitals.
Read more of our coverage of Pen in Apple Studio's games catalogue.
STORY
Call of Hentai Neko is a copy and paste of Call of Hentai Kitty. The game has no text to read. The only plot you'll find is by reading the game summary on Nutaku's website. Essentially nine cat girls are alone at home and need some dick to feel good. Do not expect any of the girls to be named or their personalities explored. They are blank states with plain generic faces to match their plain, generic pussies.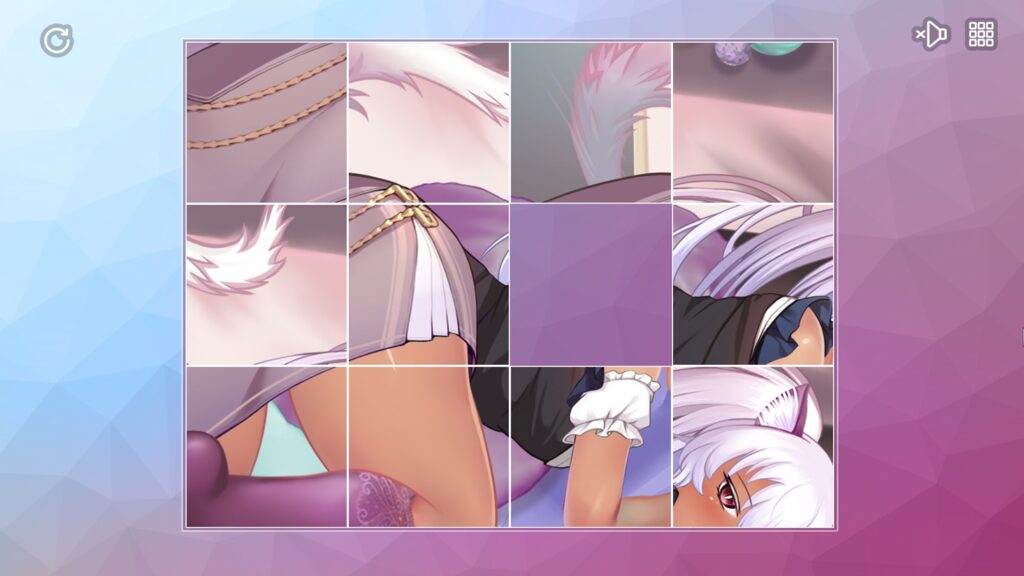 GAMEPLAY
Call of Hentai Neko is a puzzle game. Each of the nine girls you play against have three stages that must be cleared. In the first round, you have to reorganize tiles into the correct slots, so you can unlock the cute girl hiding in it. You can be a dick and cheat by pressing CTRL + F, which instantly reveals the image.
The second stage is a tile matching game. A board of tiles briefly flash on-screen and are then flipped face down. You have to remember their positions and flip them face-up in pairs. Once all the tiles have been matched, you move onto the third level. After completing the second round, the girl loses all her clothing.
In the third round, you have to tap buttons on your mouse or keyboard quickly in order to fill up the catgirl's pleasure gauge. When you do, she cums. The The CTRL+F cheat does not work in the third stage where it is most needed.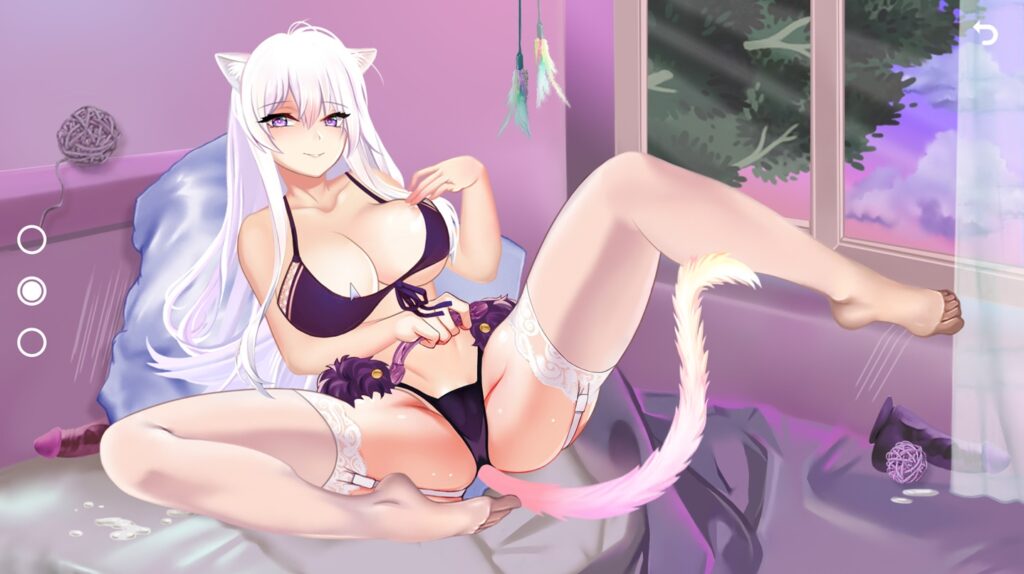 GRAPHICS
Call of Hentai Neko features hand-drawn anime art with western influences. The character sprites are hit and miss. Sometimes they will look like they're melting when the camera zooms in. This is the result of the sprites not being drawn in high enough definition.
The art style for the game makes the character look painted with a brush. All nine girls have the same face and bodily proportions. Some girls are tanned and are only distinguishable by looking at her outfit, hairstyle and ear shape. Lines are thin while shadows look flat on the sprites.
Sprites have looped animation in the third stages. Their feet, legs, hips, breasts, head and hair all move. Sometimes they will move faster to match your button pressing. Character bodies do not arch or shake in rhythm with their orgasm. Cum in the game looks like milk stains.
VOICE ACTING AND SOUND EFFECTS (SFX)
Call of Hentai Neko has no voice acting. The game uses a library of sexy grunts and moans that do not make masturbating to this game easy. The grunts all sound the same. The developers could not be bothered to hire more than one actress.
Occasionally you will hear a stray 'meow' whenever you accomplish something. The rest of the game's sounds are limited to tiles moved around or flipped up and down.
MUSIC
The soundtrack in this game is atrocious. It is some of the most generic music I have heard in a while. When I first started playing, I could have sworn the songs were lifted from Call of Hentai Kitty. It isn't, but that doesn't help this title.
The soundtrack features two or three songs, but the tracks are uninteresting. They have a vibe that tricks you into believing the music is romantic, but it isn't. The music in this game feels like something you'd hear in a movie sex scene from the 90s. The game uses original and synthetic instruments. Neither compliment each other. The lowkey 20s jazz blasting into your ears is a complete turn-off. One song actually ends with an owl hooting. Another song has hand clapping and piano together. Yuck.  
HENTAI
You are rewarded for your troubles with sexiness! You can make each girl climax in the third round. A hand on screen will grope their breasts or spank their asses. In some stages you lick their juicy cunts or their nipples. After that you plunge your dick into their snatch and make them cum for you.
The CGs show off the girls in the lewdest possible positions. The camera work is good but the sex is unimaginative and basic. The same sequence plays out with every girl with some minor alternations. When a girl cums, you feel blue-balled, because you have to take your hand off your crotch in order to tap the key board buttons quickly enough. The girls do show different expressions when they cum. One will close their eyes, the other will blush in shame and some will give you a cute smile after getting off.
It's clear the developers copy and pasted the same things they used in previous titles but forgot to add some new flavor for their audience. As a result, the sex feels boring and repetitive. I'm better off grabbing a dildo by the bedside and doing it myself.
CONCLUDING WORDS
Call of Hentai Neko is a passable hentai title that exercises your mind more than your cock. The title has some noteworthy lapses, like the icky soundtrack and very limited game audio. Rub one out or have fun wracking your brain solving sexy puzzles. You can download Call of Hentai Neko at Nutaku.
Graphics

Gameplay

Story

Music

SFX

Hentai