Hentai Animal Girl Game Review: Wanko of Marriage
Hentai Reviews

>

Reviews

>

Hentai Animal Girl Game Review: Wanko of Marriage
Written by Mistress Valentine, edited by Otaku Apologist
Wanko of Marriage ~Welcome to The Dog's Tail, a kinetic novel developed by Alumi-soft. Released October 20, 2020. Download on Steam for $4.99. For PC Windows. Full voice acting. Censored genitals.
Toya Inuzuka wants nothing more than to leave his family shrine behind and become a famous pâtissier. When two fluffy-eared and bushy-tailed girls appear before him one day, Toya changes his mind. Now he wants nothing more than to fuck Koharu and Azuki until his dick falls off!
Visit our perverted online download store for more hardcore porn games.
GRAPHICS
You can tell a lot of effort went into making this game because the graphics are top tier. Right off the bat you bear witness to a cute, anime-styled opening with Japanese vocals and excellent visuals.
Background art is plentiful with rich deep detail that looks gorgeous. Some of the settings have realistic detail that hold your attention long after the scene has shifted to a new locale. The game also features a lot of different locations to make the game world feel bigger. Locations include the city, the café, parks with interiors such as kitchens, bedrooms among others.
Not only are the sprite designs cute with a wide variety of expressions and poses, but they also move around on the screen, making them feel livelier. Throughout the game, sprites will take on super deformed, cute chibi appearances that showcase how far the developers went into making this game look and feel like you're watching a comedy anime. The girls also have a good selection of clothing.
H-artwork is sexy, every still image has variants that showcase the progression of the scenario. The girl's expression changes along with the clock placement and amount of bodily fluids. Scenes sometimes use multiple different CGs to showcase different sex positions. Some CGs draw close-ups of penetration or focus on specific female body parts.
MUSIC
Music in Wanko of Marriage is fun and enjoyable. The upbeat tracks imbue you with uplifting feelings, like you're going out into the world to explore, instead of jacking off while staring at a bleak screen in your dark room. The game uses a combination of original and synthetic instruments that work well together. The keyboard, drums and guitar are the most heard instruments in the game. There is a good balance of wild and wacky tracks and intimate and calm ones. The more intimate songs rely on the piano to carry the emotion. Needless to say, they sound wonderful.
HENTAI
The game takes its sweet time building the relationships and emotional tension before the characters engage sexually. There's a good balance between plot and porn that allows the player to really feel his relationship develop with Koharu and Azuki. The sex is tame and plays around with animal themed fetishes. For example, you take Azuki for a walk in the park while she's tied to a leash. After some mild embarrassment, you play with her pussy and fuck her against a tree.
Koharu, jealous, offers to suck your dick like a good girl before climbing on your hard dick and riding you both to orgasm. You also get to experience a double tittyfuck from the girls while they gently lick your shaft. This being a hentai game, the story doesn't beat around the bush too much, it's not long until both girls are lying on their backs, asking you to take turns pumping them full of fucksauce.
GAMEPLAY
Wanko of Marriage is a kinetic novel. You click on the screen to "turn the page". The game has basic VN functionality with enough slots to save your progress. You can use the 'auto' and 'skip' option to have the game play itself. The story is linear with no branching arcs.
One interesting feature of the game is that you can't view any CGs until you have completed the game at least once. This forces you to experience the entire game before allowing you to fap to your favourite parts.
SOUND EFFECTS AND VOICE ACTING (SFX)
The game has full-on Japanese voice acting. There is even voice acting for supporting characters. The actresses voicing Azuki and Koharu do an excellent job making them sound as adorable and cute as humanly possible. Their delivery is on point and their range allows the player to quickly become attached to them. When they engage in sex with Toya, their cuteness turns into lewdness. Azuki is my favourite as she sounds more embarrassed when Toya plays around with her body.
Sound effects in the game are limited and could have used more attention. The only sounds you're likely to hear are bells ringing, doors opening and closing and impact thuds. The game doesn't use sex noises other than Koharu and Azuki moaning.
STORY
You play as Toya Inuzuka, successor to the family shrine and your typical bland anime protagonist. He and his parents are at odds over his future since he wants to become a pâtissier instead of looking after the shrine. He owns a small shop that is not doing too good. One day two cute animal girls, Koharu and Azuki, appear before him. They tell him they've lost their magical powers due to being exiled from the spirit world.
Toya takes pity on them and offers them employment at his shop as waitresses. The plot becomes more complicated when he learns that both of them are competing to become your bride. The rest of the game revolves around tropes you'd find in traditional slice of life anime that follow food-themed plots such as working nine to five, working in the restaurant and dealing with customers, going out on dates and eating crepes together. The plot is extremely padded, like the author just wanted to pump up the word count. After completing the game, you unlock two additional Azuki and Koharu side stories as a reward.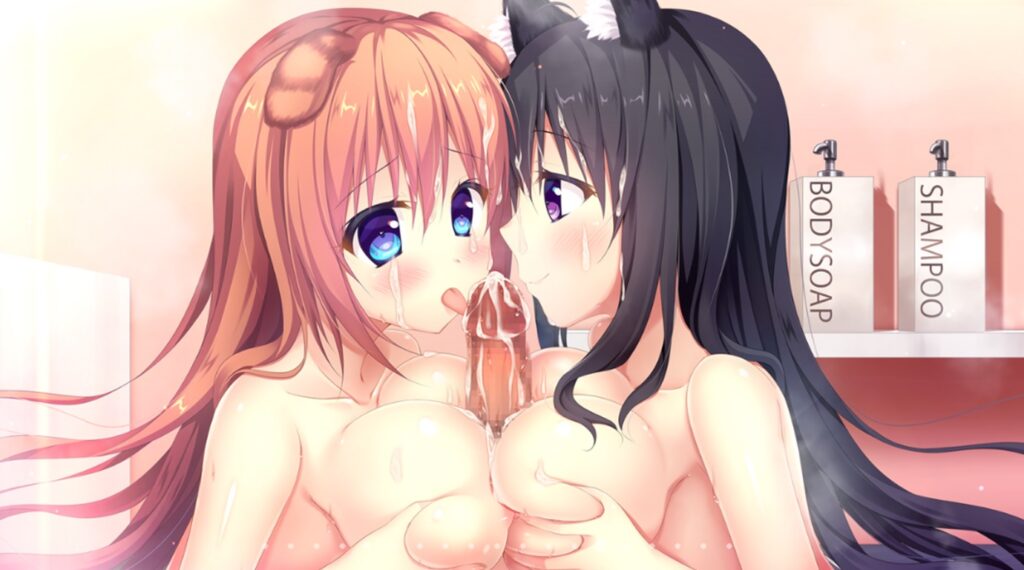 CONCLUDING WORDS
Wanko of Marriage is a good game with plenty of vanilla vibes to it. The girls are cute, but the plot has weaknesses. The story suffers from padding and events don't always feel meaningful. Luckily, the feel-good atmosphere more than makes up for any spottiness in the plot. The production values are high and leave little to desire for. I can recommend this title for h-game enthusiasts. Download Wanko of Marriage now!
Story

Gameplay

Graphics

SFX

Music

Hentai