Lesbian Hentai Visual Novel Review: Sakura Space
Hentai Reviews

>

Reviews

>

Lesbian Hentai Visual Novel Review: Sakura Space
Written by Otaku Apologist
Sakura Space, a hentai visual novel developed by Winged Cloud. Released in September 2, 2016. Available for PC Windows, and Linux operating systems. Download on Nutaku for $10.00. No voice acting. Genitals hidden.
The Sakura series is the "50 Shades of Gray" of hentai. There is no plot, the sex scenes suck, but somehow these damn games print cash like a central bank.
See our reviews for Sakura Halloween, Sakura Santa, Sakura Gamer, Sakura Dungeon, Sakura Nova.
STORY
Captain Shika is the commander of a group of female bounty hunters. They traverse the final frontier on a space ship. When they get bored, they engage in spontaneous lesbian sex. Captain Shika's comrades are Kotori and Nami. They're all exhibitionist lesbians that prance around with their tits bared, thirsty for a romp.
One day, Shika reads the ad for a gig with an insane bounty. The gig is to hunt down a girl named Akane. The plot follows the girls as they try to track down the girl. Little do they know, Akane is also tracking down them. She suddenly shows up on their ship and starts sabotaging the place. After a short game of cat and mouse, Shika and the girls finally pin down Akane. That's when the game throws a lackluster plot twist at the player. You shouldn't go into this expecting anything less than super safe and cute hentai porn.
The characters occupy very basic tropes: Nami is the reserved emotionless girl. She's not really conservative, as the first time you meet her, she's tapping her computer's keyboard naked, slumped on her desk. She gets embarrassed about it when Shika scolds her for not taking things more seriously. Meanwhile, Kotori is swimming at the space ship's pool. When her captain walks in on her, she just wiggles her wet naked ass while smiling gleefully. When she gets out, she immediately starts flirting with her captain. From swimming in the pool, to swimming into your boss' panties, nobody has any workplace ethics on this godforsaken ship.
Shika is the blandest of the bunch. She's a rational, reserved girl without an interesting backstory that would give her character any depth. She tries half-heartedly to keep the wheels running on her ship, while everyone else is fucking around. She barely succeeds at keeping order and things quickly spiral out of control. The girls start having sex with each other at the pool, in their cabins, everywhere, completely messing up the group dynamic, setting up for massive relationship drama down the line that could rip apart the entire group. I'm just kidding, this space ship is a progressive utopia where sex has no social consequences.
The writing is basic, but polished. There were no grammar mistakes I could find.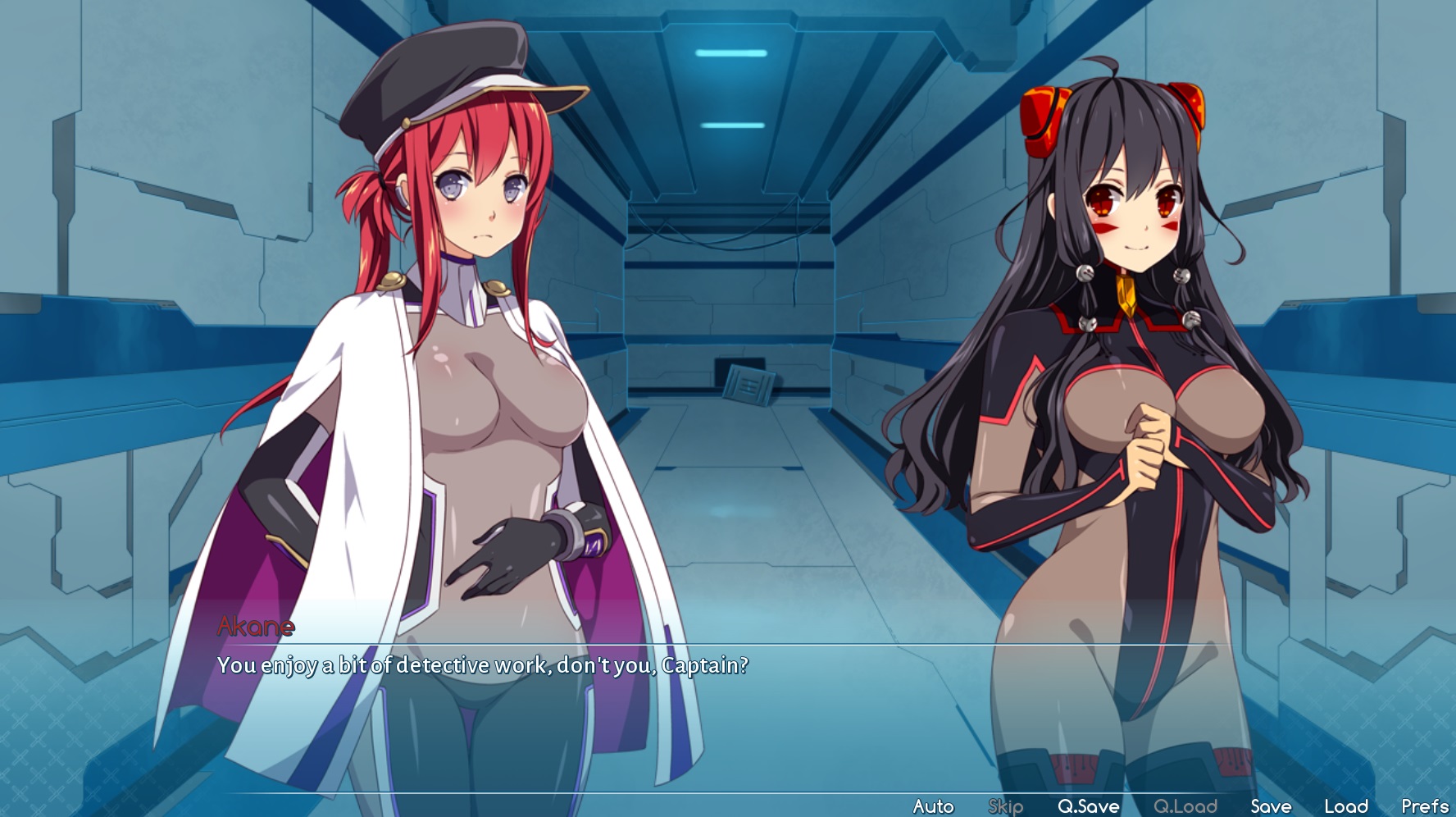 Everything about this game is just very basic. It has no depth, no drama, the characters don't seem to have any gripes from their pasts. In this story, actions have no dramatic consequences. I don't personally enjoy this kind of story-telling, but I understand that people sometimes need bland media for escapism. With nobody's life in danger, the story has no stakes. Sakura Space offers an escapist experience where life is super chill.
GAMEPLAY
Sakura Space is a visual novel. You click the screen to "turn the pages". Save your progress into several save slots. The game offers multiple choices throughout the play that impact the story and the ending you'll get.
GRAPHICS
The art of Sakura Space is pristine and beautiful. The art is modern anime style, and delightfully fresh-looking. The girls are plump and out of control. The art from Wanaca has always kept this company going, as countless anime fappers worldwide just love his style. The coloring is simple but vibrant, the wholesome feminine body shapes of the girls are bone-inducing. Their breasts deserve a special mention for being practically perfect: The girls' chests are big, but realistic. I like that the boobies are affected by gravity. Their nipples are like rockets.
The sprite art is consistent with the CG artwork. It seems that everything is drawn by the same artist, which is great for immersion. The girls will smoothly transition from standing around to fucking each others' brains out.
My favorite character was the cheerful Kotori. I've had a weakness for short-haired blondes for decades, and this babe hit my fetish spots. Her personality and design are contrasted by the other girls who are more reserved. Her clothes were also the most erotic of the bunch. Her tit crack is wide open. Kotori is always smiling, flirting, having sex with everyone. What a lovely girl.
The backgrounds are a little dull, but manage to convey the futuristic sci-fi feel of the premise. The pool area was the sexiest, with incredible lighting and romantic coloring. I enjoyed the scenes that took place there.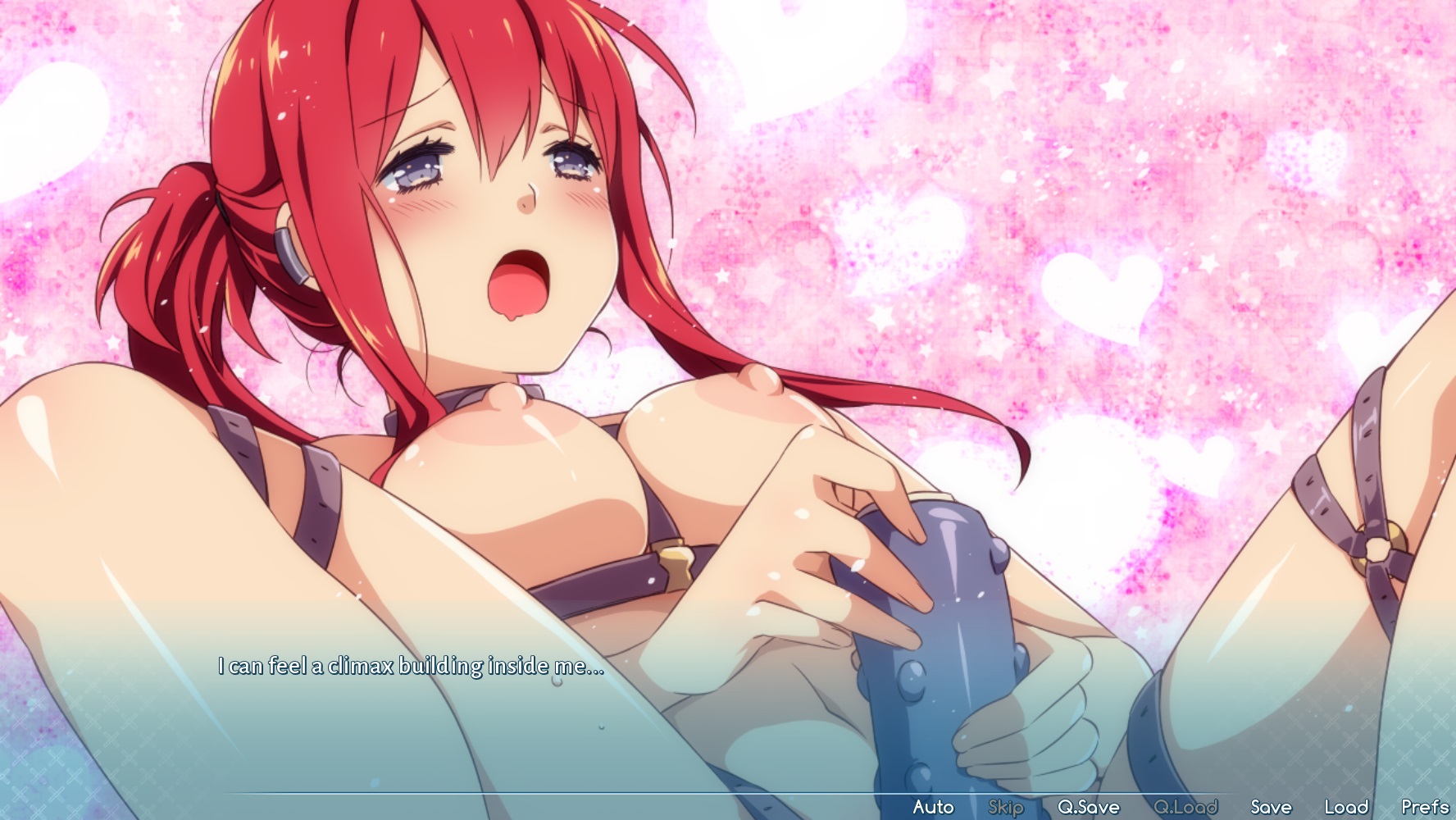 VOICE ACTING AND SOUND EFFECTS (SFX)
Sakura Space has no voice acting. The game has barely any sound effects.
MUSIC
The soundtrack is average eroge fodder. It's safe and inoffensive to the extreme. The songs are so mild, they won't be sticking with you. The opening song is the perfect forgettable composition that shoots for a militaristic vibe, like you're in for a great adventure that will test your skills, smarts, and discipline. The final frontier… to go where no bishoujo has gone before.
The casual song you hear most of the time during story sequences is just a simple beat made with an electronic keyboard. The romantic song that plays during hentai scenes is a literal lullaby, encouraging you to swip your hand into your panties and stroke yourself towards a blissful orgasm. The soundtrack works for its purpose, which is emptying your head from disturbing thoughts and worries about the future. Empty your head, empty your balls.
HENTAI
The hentai in Sakura Space is very ecchi. Before the girls start getting down and dirty, their wholesome bodies are shown off in singular CGs that reveal just how well-developed their bodies are. You also get a good look of their nipples through their skin-tight outfits. Nobody apparently wears any brassiere on this ship. Their nipples are particularly puffy and erotic.
Meanwhile, the genitals are tastefully not shown. The porn is more emotional wank than carnal actualization of primal lust. There's plenty of sex scenes littered throughout the game. The frequency almost seems mathemical, because I've seen this same formula executed in every single Sakura game I've ever reviewed. The artwork in the scenes is amazing. The storytelling during the boning is slow, and relaxed, putting you in the mood for an emotional ride. It's not all about throbbing genitals grinding against each other. It's also about kissing, fingering, gentle caresses on the body, as two people swap body heat.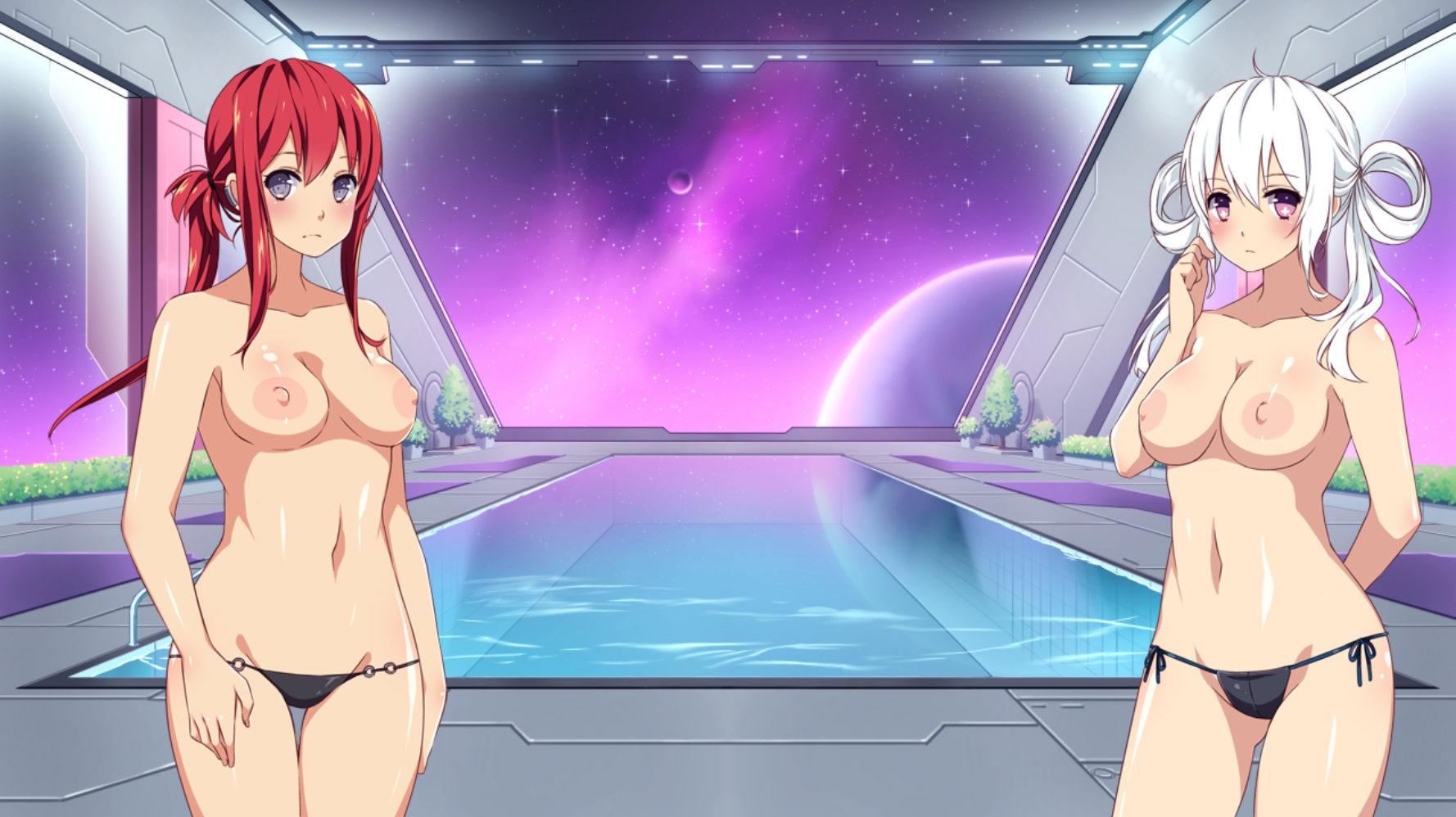 CONCLUDING WORDS
f you're a fan of the Sakura series, and this style of writing and characterization get your genitals oozing, then go fo it. This game is in the same mold as every other visual novel from Winged Cloud. Nothing about this game will offend your sensibilities, nothing about it will change how you feel or think about the world. It's a cute, mushy lesbian erotica disconnected from reality.
I recommend this game for blue-pilled millennials. Download Sakura Space.
Graphics

Gameplay

Story

Music

SFX

Hentai